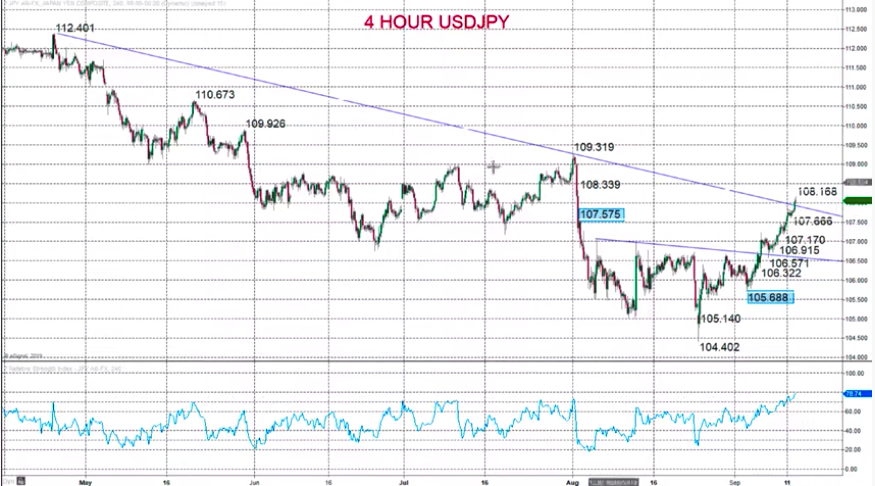 Hi there traders, this is Steve Miley for forextraders.com and here we're gonna take a look at the US dollar versus the Japanese Yen both on a short term day trade basis, but also then on a slightly more intermediate term outlook.
Well we've had this whole basing effort in here go on through from August through into early September and the strong rally in early September has created an inverse head and shoulders pattern.
That first of all neutralised any continuing bearish theme from the whole selloff from May of this year. But the more recent push up through this 107.57/58 level in here was enough for us to signal then a shift on a more intermediate term basis for a more bullish theme.
Over the last 24 hours we've also reversed above the down trend line that comes here from April.
So all of this points to more of a positive tone. Up to 108.17 over night. We've gone into more of a risk-on mode.
Trade talks are due to resume in October between the US and China. Trump announcing the delaying of trade tariffs going on over the last 24 hours has helped markets higher – equity markets recovering and then we're going to risk-on mode. The Yen weakening: so Yen weakening equals Dollar:Yen higher.
So we've pushed above, say, this trend line. Next upside target now aiming at this 108.34 target and then potentially even above 109 going into the end of this week! Even potentially challenging up towards this 109.32 peak.
So certainly at a bullish tone both for today and going into the balance of this week and through mid September.
Again I've been Steve Miley for forextraders.com and I wish you a great trading day.