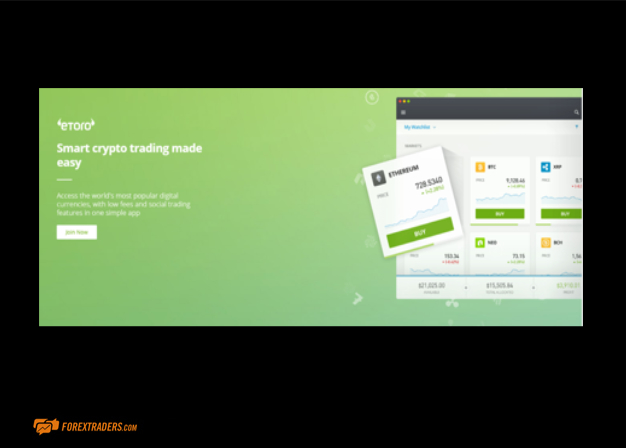 Meta description
Interested in trading cryptocurrencies in the USA? EToro US is now trading. Read our detailed review of eToro US.
Pros
Cons
Wide range of assets
Limited customer service options
Social trading available
Not available in all states
Risk-free demo account
About eToro US
The well-known online brokerage, eToro, is coming to America. Depending on your state of residence, it may have already arrived. As many worldwide traders are already aware, eToro is a popular brokerage with a global client base. Founded in 2007, the broker already has offices in London, Cyprus and Australia. In 2018, eToro announced a plan to launch the brand in the USA, with a gradual rollout across as many US states as possible, and has now established a US office in Hoboken, New Jersey.
The rollout is certainly gradual, but eToro are getting there slowly. The US eToro site is now live, and in July 2019, eToro announced that real trading was available to residents in 39 states across the US, plus Washington DC. If you are a US resident of a state that is not yet covered, you will be able to access the site, but will simply see an invitation to sign up and be notified when the exchange is available in your region. Even in the regions covered, not all markets are available yet, and certain features may be disabled for some US site visitors. As the system rolls out, it is also possible that you may find you can open a demo account, but not yet a real account.
If, however, you are a US trader interested in the opportunities offered by eToro, including the cryptocurrency trading they are so well-known for, you should find that you are either able to start trading now, or will be able to soon. If you are resident in one of the states where eToro is already available, you may decide its worth getting in on the platform now, even if you don't have full access to all markets and functions.

Who does eToro US appeal to?
The eToro brokerage appeals to a wide range of clients for a number of reasons. It is a multi-asset broker offering trading in stocks, indices, commodities, ETFs, Forex and cryptocurrencies. They are particularly well-known for their crypto expertise, having pioneered Bitcoin trading as early as 2013, initially via CFDs. They later expanded their digital currency offerings in 2017, to add Ethereum, Litecoin and a range of other popular virtual coins. The US version of eToro will no doubt attract US crypto traders, who have never had quite the same options as their peers in Europe and many other parts of the world.
The broker is also known for its innovative copy trading software, a feature that will make it attractive to newer and less experienced traders willing to learn from the experts. Other benefits for new traders include a low deposit requirement, competitive fees, demo accounts, and easy account opening.
EToro does, however, provide for more experienced traders as well. It has to, because apart from anything else, its famous copy trading software only works if it also attracts trading experts eager to profit from allowing others to copy their trades. In short, eToro appeals to traders of all types and levels of experience, especially crypto traders and those who want to diversify across a few different products and instruments.
Account types
EToro does not currently offer a wide range of account types. You will basically be opening a retail account, unless you meet strict criteria that will allow you to open a professional account. Retail clients receive access to all tradeable assets available, and can opt to either trade manually or use the copy trading option, if it is suitable for their needs. Demo accounts are available for all, along with a free $100,000 virtual portfolio to experiment with. A demo account is always a good idea if you are new to trading, or even just new to the eToro platform, as it will allow you to get familiar with the features of the platform and the copy trading system.

Account opening is easy and quick. US clients can now fund their eToro accounts using online banking and wire transfers. You can get started, and open a demo account, with just your name and a few details, but in order to fund a live account with real money, you will need to verify your account. Then you will be ready to add funds to your account, with a minimum deposit of just $50.
Markets and territories 
As of July 2019, eToro has announced that real trading is available to US residents in 39 states, plus Washington DC. You will be able to open an account at eToro US if you are resident in any of the following states: Alabama, Alaska, Arizona, Arkansas, California, Colorado, Connecticut, Florida, Georgia, Idaho, Indiana, Iowa, Kansas, Kentucky, Maine, Maryland, Massachusetts, Michigan, Mississippi, Missouri, Montana, New Jersey, New Mexico, North Dakota, Ohio, Oklahoma, Oregon, Pennsylvania, Rhode Island, South Carolina, South Dakota, Texas, Utah, Vermont, Virginia, Washington, Washington D.C., West Virginia, Wisconsin and Wyoming.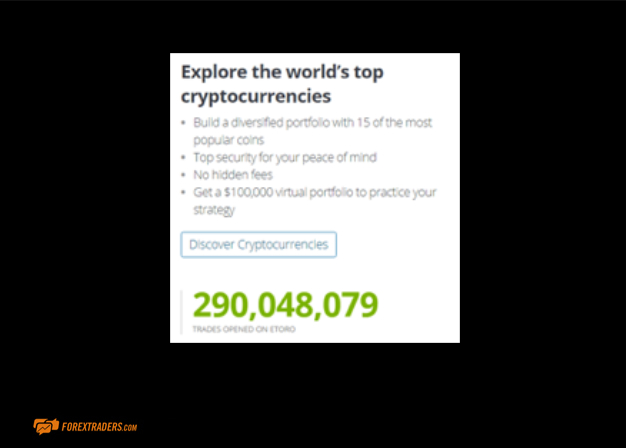 EToro US is not able to serve US citizens who are not currently resident in the US. This is due to restrictions around trading regulations and is unlikely to change any time soon. You will also find that right now, not all markets and features are available to all states. If you see a button that is greyed out and does not appear to function, this means that feature is not yet available in your area.
Instruments and spreads
The eToro platform provides investors with a range of instruments, including stocks, indices, commodities, ETFs, Forex and cryptocurrencies. The broker allows clients to build a crypto based portfolio with some attractive benefits that are not always available at a typical cryptocurrency exchange, such as almost immediate execution of market orders. The broker is known for its impressive list of cryptocurrencies, and most of these are either already available in the US, or likely to become so in the future.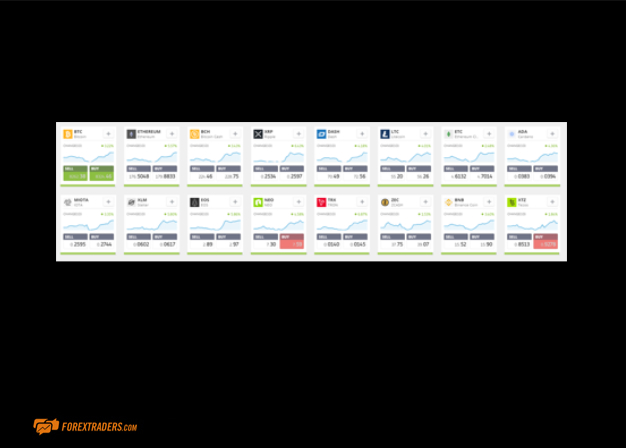 The US platform is relatively new and will no doubt continue to grow, probably quite rapidly, so our eToro review will look at what's available now, and what to expect as the platform develops. It's reasonable to assume that the US platform have much in common with the European one, but there will be some differences due to the different laws and regulations in the USA. EToro originally pioneered crypto trading via CFDs, and has always offered Forex trading via CFDs, too. However, the US platform will not be able to offer CFD trading, due to restrictions by the Securities and Exchange Commission on over-the-counter financial instruments. These restrictions currently prohibit the trading of CFDs in the US, and this is not likely to change anytime soon.
The broker clearly displays spreads, along with other fees, on the website, and they are fairly competitive. Current quoted spreads on the US cryptocurrency page are 0.75% for Bitcoin, 1.90% for Litecoin and 2.90% for Dash.
Fees and commissions
EToro employs a commission-free model of trading, but this does mean of course that the profits are taken from the spreads. As already mentioned, these are fairly competitive at eToro. If you are brand new to trading, the spread simply refers to the difference between the current buying price and the selling price of any currency or other financial instrument.
All other fees are displayed on the website. The US eToro site is currently stating that they are not charging. any direct deposit or withdrawal fees for US clients, but be aware that banks and credit card companies may apply their own fees to these transactions. The broker does charge a fairly low inactivity fee of $10 a month and this does not apply until an account has been inactive for 12 months. Unlike other brokers, eToro only charge an inactivity fee on completely dormant accounts, so usually logging into your account will count as activity, and let you avoid this fee. There will also be conversion fees on currencies. The current crypto-to-crypto conversion fee is quoted at just 0.1%, with all conversion rates set according to live eToro market rates.

Platform review
The eToro platform is intuitive, robust and user friendly. It is, however, a system built on its own proprietary software, and therefore eToro clients are not able to use MT4 or MT5 software, which may disappoint all the established MetaTrader enthusiasts out there. The eToro platform is simply not compatible with MT4 and MT5 and the company implies this is because of their innovative copy trading system CopyTrader™ which is also built on propriety software and designed to integrate with the overall platform.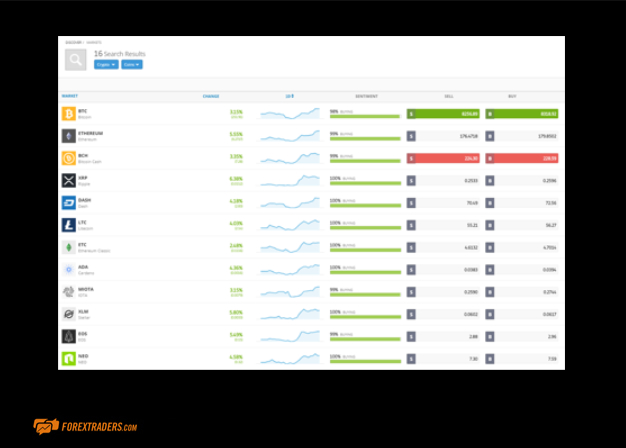 The eToro trading platform is web-based and responsive, making it accessible from any device, though there is a mobile app too if you prefer that. The platform is easy to navigate with a handy built-in search function. There is a customisable watchlist and extensive charting tools, with over 60 indicators, and a range of drawing tools as well.  The eToro trading platform is intuitive, robust and flexible, and those new to the platform tend to quickly find their way around. The demo account is helpful in this respect too, allowing new clients to practice trading and get familiar with the platform before risking any real money.
Mobile trading
Like most online brokers, eToro provides a mobile app for both iPhone and Android devices. As already mentioned, the web-based platform is responsive and can also be accessed from any compatible browser on any mobile device, so trading on the go with eToro is simple. It really is just a case of deciding whether you prefer the mobile version of the site, or the app, as navigation and functionality is slightly different with each.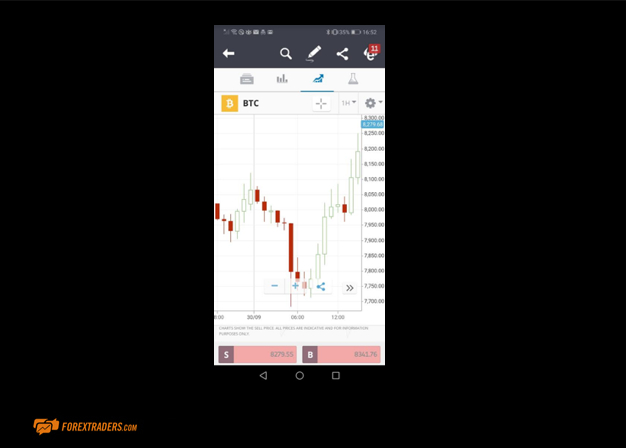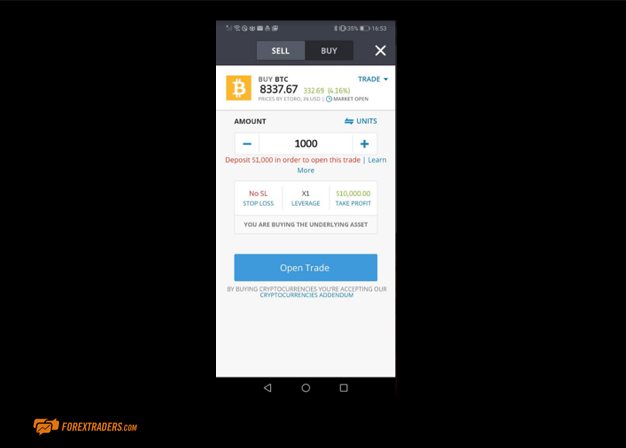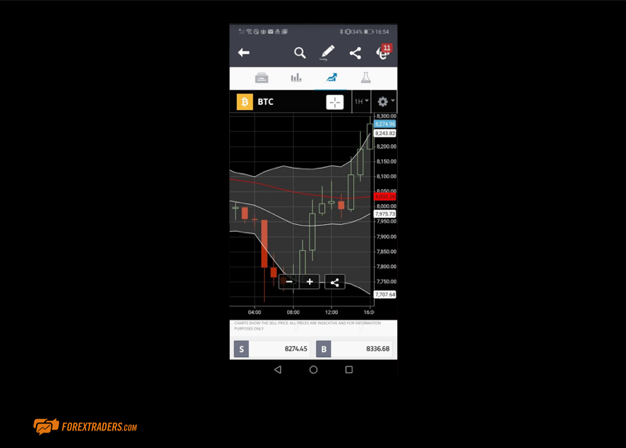 The eToro app has the ability to set customized notifications and alerts, for example push notifications that will alert you when a certain asset reaches a specified price. The mobile app has a clear, intuitive design and a very clean and simple interface. You simply swipe left or right from your portfolio screen to access various other functions such as order placement, charts, and other trading tools. It is easy to access the copy trading function from the app as well, so eToro clients always have the convenience of social trading on the go.

Social trading and copy trading
EToro is one of the leading names worldwide when it comes to social trading and copy trading, and its renowned CopyTrader™ system is well-respected and widely used. It allows clients to follow successful and experienced traders within the network, and copy their trades. Beginner traders find that this is a great way to learn, and may help them avoid the mistakes new traders typically make, so eToro is generally considered a great place to start if you are new to trading, and interested in copy trading.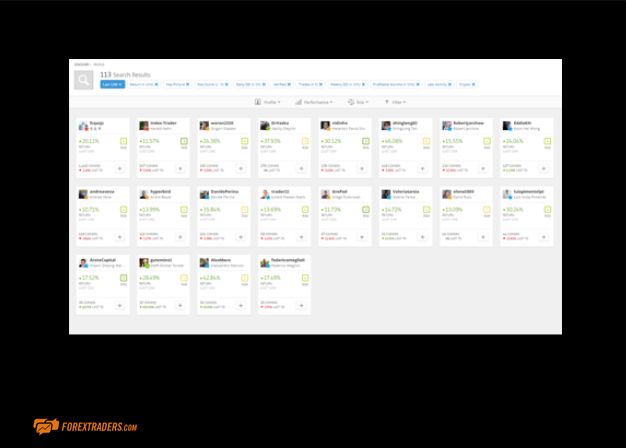 The commitment this broker has shown to social trading and copy trading has certainly paid off. The platform attracts not only lots of newer traders wishing to follow and copy the experts, but also plenty of experts who trust the system and are happy to make a little extra profit by participating in the social trading network. Brokers who focus on copy trading do need both, after all.
Crypto
The eToro platform is known worldwide for its expertise in crypto trading, and its wide range of digital currencies. The broker offers a more extensive choice of virtual coins than most others, although not all of them are available yet in the US. For now, the US platform will offer around 10 different digital currencies, including Bitcoin, Bitcoin Cash, Dash, Ethereum, Ethereum Classic and Litecoin.
EToro has stated that more virtual currencies will slowly become available to US clients, though there is no guarantee that the broker will be able to offer everything it currently has in place for European and other clients. Keep in mind that the cryptocurrency market does not have the regulation and protection that other market sectors do, and this should always be considered before investing in digital currencies.

Charting and tools
EToro platforms, both mobile and desktop, integrate with a wide range of trading tools and technical indicators. Charting features are extensive, although the charting platform does not allow for back testing. There is, however, performance data available from CopyTraders and Copy Portfolios. In addition, watch list entries show client buying and selling percentages in real-time, and over 60 technical analysis indicators allow for plenty of combinations, depending on individual trading strategies.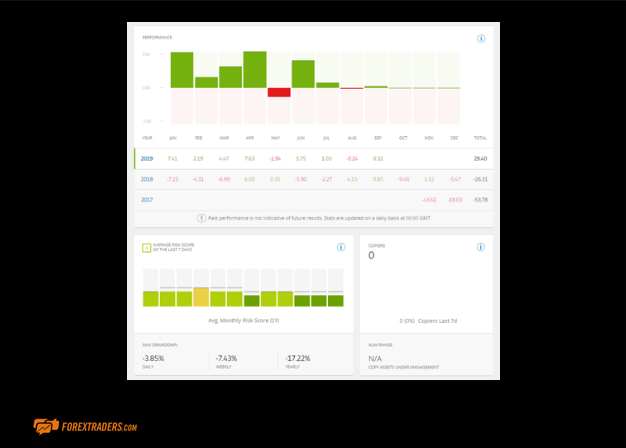 Once again, the area in which eToro stands out is with its innovative social trading and copy trading options. The patented and exclusive CopyTrader™ system is one of the most popular and widely used aspects of the platform.
Education
This eToro brokerage is not known for its training and education offerings. It does, however, have a useful and searchable help section, split into sections, covering everything from account queries to trading and investing, and troubleshooting common issues. There is an education section within this area, addressing issues such as how to get started with copy trading and how to manage watch lists.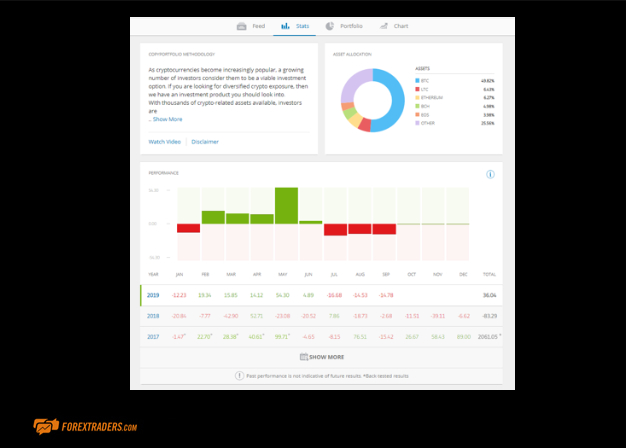 There is not, however, much general trading information or crypto specific education. Most education seems to be specific to the eToro platform, although there is also a separate 'in the news' section, covering general trading news and developments relevant to the financial markets.
Trader protections by territory
In the footer of the US website, you will find a link to 'licenses and disclosures' which will allow you to access licensing and disclosure information for the individual US states in which eToro is currently operating. The brokerage operates, for example, under a Money Transmitter License in Alaska, Arkansas, Mississippi, New Mexico, North Dakota, Ohio, South Dakota, Vermont, and Washington. Each state listed here also lists a licensing authority for that state. Not all states are in the list, however. If you are in an eToro served state, but not listed under 'licenses and disclosures' you may want to contact them and find out why. It may simply be that separate licensing arrangements are not required in your state.
To make sure that client data is secure, eToro encrypt data across the website. The eToro disclosure policy rightly draws attention to the fact that cryptocurrency markets are decentralized and non-regulated, and indicates exactly what the risks are, as part of their disclosure policy.
How to open an account
Opening an account with eToro US is a straightforward process, as long as you live in a state they serve. Select 'join now' in the header of the home page, and then simply follow the on-screen prompts. You will be asked for some basic information, and given almost immediate access to the platform. Initially, you might want to open a demo account in order to get familiar with the platform and practice making trades.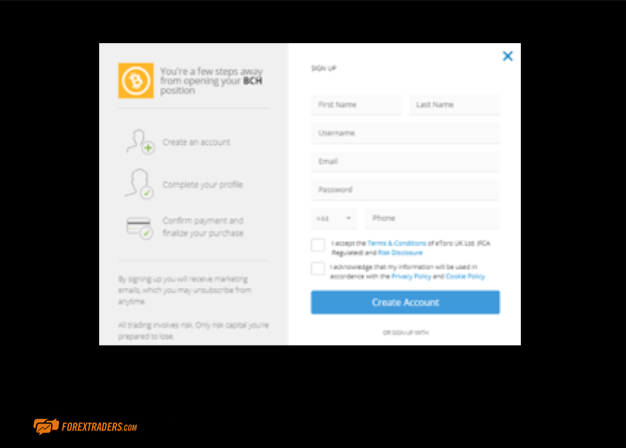 Next, you will have to verify your account, a necessary step before you can access a real account and deposit actual money. You will need to upload proof of identity and proof of residency. This is usually in the form of a copy of your passport or other government issued ID, plus a recent utility bill or bank statement clearly showing your name and address.
The next step is to fund your account. To do this simply log in to your account and select 'deposit funds'. Enter the amount you want to deposit and select a deposit method. Currently your choices are either online banking or a wire transfer. Once your funds are in your account, you are ready to start trading. There are no deposit or withdrawal fees for US residents, unless your bank charges a fee for the transfer.
Customer Support
At eToro, customer support is available by email, and is accessed via the site, by opening a support ticket. Support is available 24 hours a day, Monday to Friday. There is, however, no weekend support, no dedicated support phone line for the US, and no live chat on the website. This is definitely an area where eToro need to improve. The support team, however, do respond quickly, and are very helpful and courteous.
The eToro US website does have a comprehensive Help section, with the answers to many questions new customers and inexperienced traders may have. So that, at least, is a handy first stop for clients who need answers to questions. Important customer information, such as terms and conditions, are also easy to find on the website, clearly displayed in the footer of the home page. The broker also runs active social media profiles, which does provide another way to get in touch with them.
The bottom line
The eToro US brokerage certainly provides an interesting choice for traders who are looking for a broker with a range of assets, including cryptocurrencies. Many US online brokers don't yet include digital currencies in their list of tradeable instruments, or can only offer a few of the major coins. The broker attracts both beginner traders, who are eager to take advantage of social trading and copy the trades of other successful investors, but also to more experienced traders, who might want to benefit from the extra income stream of allowing their trades to be copied.
The eToro brokerage is not yet available in all US states, and not all functions are available to all customers, which is no doubt frustrating to those affected. However, this seems to be a case of eToro slowly working to get everything in place so they can serve their US clients effectively, and hopefully more new states will be covered by the end of the year. Customer service also has its limitations, although support staff are polite and knowledgeable. EToro has a lot to offer, with a range of assets, a risk-free demo account, and its copy trading opportunities. It will doubtless be a popular choice for US based traders as it continues to build its presence in the country.

Please be advised that certain products and/or multiplier levels may not be available for traders from EEA countries due to legal restrictions.