Forex Brokers in Nigeria
Nigeria has always been a significant economic power on the African continent. It is the largest oil exporter in Africa, and according to the International Monetary Fund (IMF), projected Real GDP growth is forecast to be 3.2% for 2023. The population of Nigeria exceeds 202 million, and the World Bank states that it also has one of the largest youth populations in the world.
The economic downturn brought about by the Covid pandemic has also put pressure on Nigeria, its economy, inflation, and employment. The Nigerian Naira has declined since 2020 versus the US Dollar by 18.5%, and many individuals in Nigeria, especially the young unemployed, have begun to explore forex trading as another avenue to generate income.
Forex trading in Nigeria may be a relatively new activity in the country, but it is witnessing a rise in popularity. Forex brokers in Nigeria are now abundant, but trading foreign currency pairs involves high risk. It is not easy, and it is not for everyone. Choosing a safe broker with a good reputation that complies with regulations from a respected regulatory organization is paramount. We have made your selection task easier by providing a list of the best forex brokers available in Nigeria today.
---
Related Articles
---
Is it Legal to Trade Forex in Nigeria?
For individuals, forex trading is legal in Nigeria as long as a reputable broker is chosen that adheres to the central bank's guidelines. Since regulatory oversight is light by industry standards, it is imperative that a trader chooses a safe and secure broker. It is also important to remember that income from forex trading is taxable, so be sure to check with your tax professional.
Forex trading in Nigeria may be a new phenomenon, but the brokerage industry has taken note, and a multitude of global forex brokers will seek your patronage. Unfortunately, a subset of these brokers may not be your best choice for a business partner, often resorting to fraud or unfair business practices. Take your time and choose wisely from the list below.
Forex Regulation in Nigeria
The Central Bank of Nigeria is the national regulator responsible for the foreign exchange industry; however, it only establishes minimum requirements for brokers to follow when providing services to Nigerian residents. Unlike the UK's Financial Control Authority (FCA), the Central Bank of Nigeria does not have heavy regulatory oversight. However, Nigerian residents are allowed to open accounts with brokers that are regulated elsewhere.
To find a safe and secure broker, it is best to choose one regulated by a "Top Tier" regulator. These organizations include the FCA, CySEC, ASIC, and the CFTC in the US. Due to stiff regulations in these regions, many global brokers attempt to bypass these rules by offering exaggerated marketing terms to get your attention. Fraud is highly probable when dealing with a broker that does not adhere to strict forex trading regulations.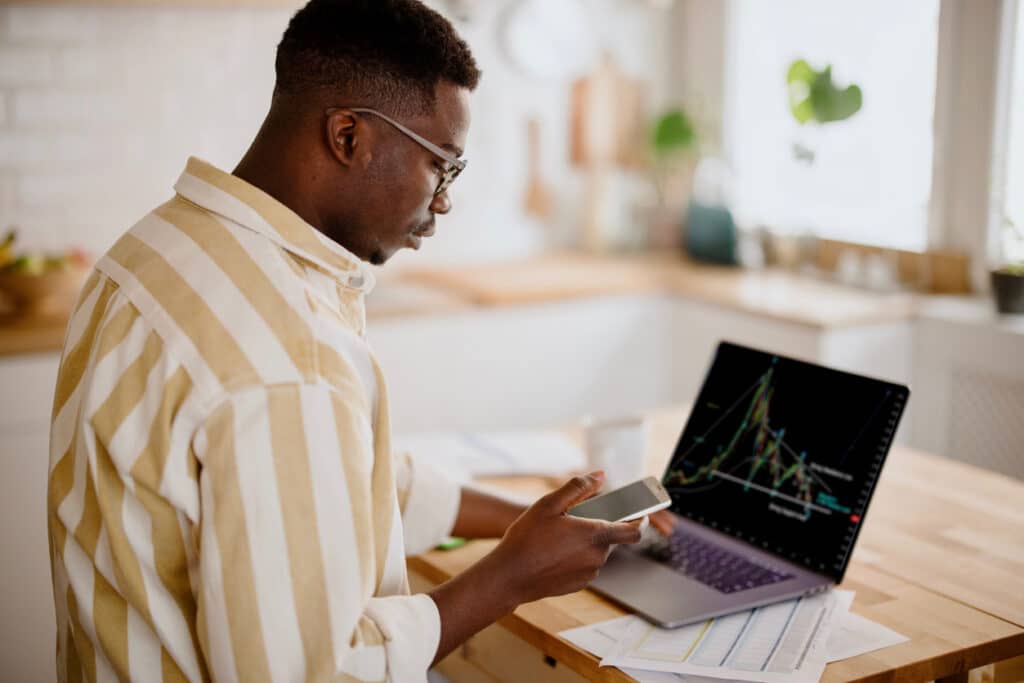 How to Start Forex Trading in Nigeria
If you are a newcomer to the field of forex trading, there is a recommended learning process for all beginners. It requires patience and a willingness to prepare for the risks involved before you open your first trading position in real-time with real money. Awareness is vital, which requires a broad understanding of how the forex market operates, what a broker provides, and information related to the fundamental and technical aspects of foreign currency trading.
The steps to get started are sequenced below:
Preparation: There is much to learn before you put your money at risk. Information can range from charts and technical indicators to risk management techniques that will protect your capital and allow you to trade even after a losing streak. Your goal is to learn how to move the odds in your favour to win consistently.
Choose a Broker: You are now aware enough to be able to choose a safe and secure broker that will support your trading experience. Your best bet will be to partner with a highly regulated broker with an excellent industry reputation. The best ones will give you access to a free demo system to evaluate their trading platform and products and to learn how to trade before investing real money.
Open and Fund an Account: Each broker will provide an easy path for opening an account, and most will offer several ways to fund the account. Check with your local banker to determine which payment method will work best for you.
Develop a Strategy: Successful traders always approach the market in a disciplined fashion using a carefully thought-out strategy. Get comfortable with the types of trading orders on hand and how to open and close a position. Veterans spend hours on free demo systems perfecting their step-by-step strategies before putting real money on the line. A good broker will help you develop this strategy, so choose wisely.
Make Your First Trade: The best advice is to start with a small amount of money and build confidence before risking higher sums. Monitor your position and accept that in the forex market, there is always another opportunity around the corner.
The Best Forex Brokers in Nigeria
Select a safe and secure forex broker since cross-border fraud remains a problem in this industry. A licensed broker that complies with a strict regulator will be your best choice, and we have prepared this list of the best forex brokers in Nigeria to guide you.
Broker
Features
Regulator
Platforms
Next Step
77% of retail CFD accounts lose money

Founded: 1996


Your capital is...

Choose from four high-quality platforms.
Good trading conditions with fast execution speeds
Excellent research and analysis
Strong client protection
Winner of Most Popular Broker award for three consecutive years.

Fees and commissions are inline rather than market-leading.
Satisfactory rather than impressive range of instruments.

ASIC, CFTC, FCA, IIROC, JFSA, MAS
fxTrade, MT4
74% of clients lose money. Capital at risk.

Founded: 1999




- Trusted Global Market Leader
- Online FX & CFD Trading
- 180+  Global Markets, 84 FX pairs, 65 shares, 17 popular indices and more
- Forex, Indices, Commodities, Equities & Bitcoin
- Available to US traders

CFTC, CIMA, FCA, FSA, IIRO, NFA
FOREXTrader & MT4 for PC, MAC, iPhone, iPad and Android, WebTrader
Your capital is at risk

Founded: 2019




- Trade 15 cryptocurrencies
- Beginner friendly

-
eToro
Summary
Forex trading in Nigeria is increasing in popularity among the people. The brokerage industry has responded by offering Nigerian consumers a great deal of choice when choosing a forex broker. Forex trading, however, involves high risk.
Selecting a safe and secure broker from the multitude of offerings in the marketplace can be daunting. To help, we have continually reviewed the brokerage industry and arrived at our list of the Best-of-the-Best. Each broker listed is worthy of your consideration.
---
Related Articles
---