Pepperstone is a regulated Forex/CFD brokerage, which prides itself on the attractiveness of its trading conditions and the multitude of trading platforms it offers. In this review, we shall take a closer look at these claims and more. Does Pepperstone shape up as a decent overall trading destination?
Let us first consider the corporate background of the operation. The company behind the Pepperstone brokerage brand is Pepperstone Group Ltd, and it was founded back in 2010. As such, it is obviously not what one would call an industry veteran, though by now, it has obviously amassed a certain amount of experience. Pepperstone Ltd, the company behind the UK branch of the operation, is a much younger entity though: it was only launched in 2016. It is based in London, while the Pepperstone Group is based in Melbourne, Australia, maintaining offices in Shanghai, Bangkok and Dallas, TX, in addition to the London branch. With that in mind, it is safe to say that the Pepperstone brand has indeed grown into a global one over just 8 years. All in all, Pepperstone currently serves retail clients in some 65 countries around the world.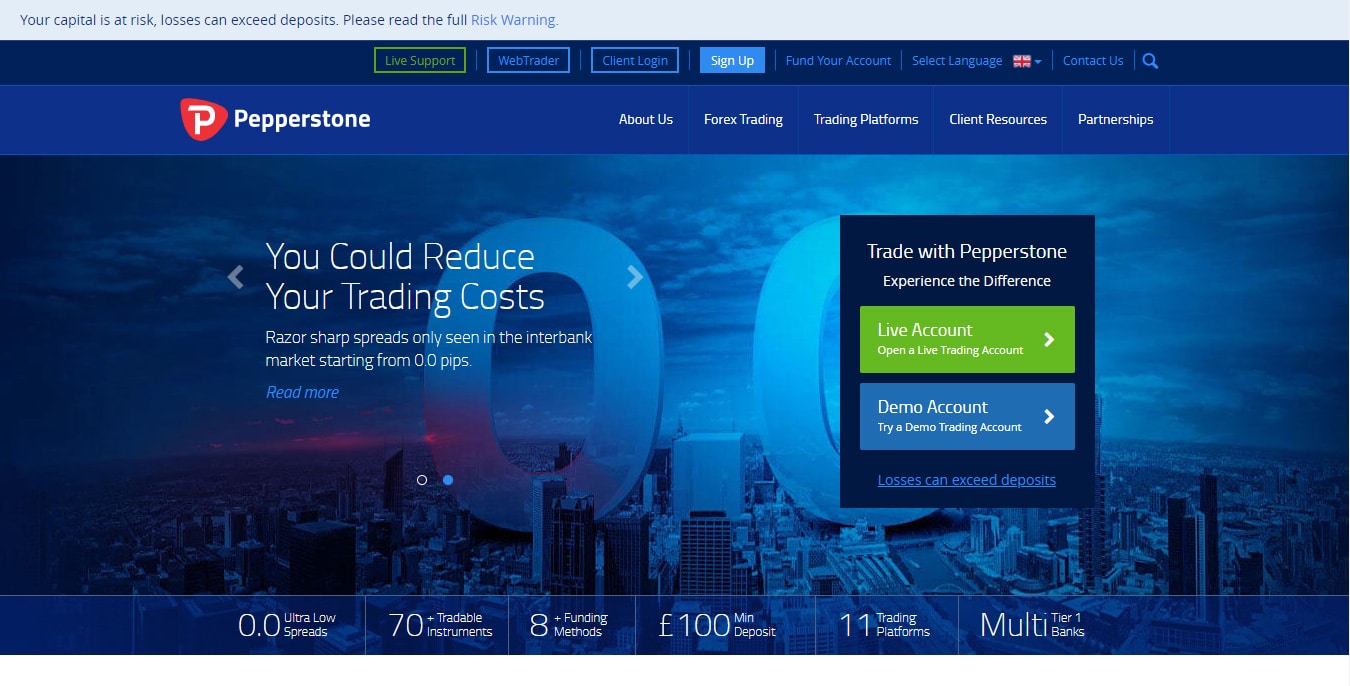 Pepperstone Regulation
For those residing in the UK and the EEA, the regulatory coverage of interest is that of the FCA (Financial Conduct Authority) of the UK. The company which is regulated by the FCA is Pepperstone Ltd, a registered UK company. The official address of the operation is 68 Hanbury Street, London, E1 5JL, UNITED KINGDOM.
Its Company Number is 08965105 and its FCA license number is FRN 684312.  Client funds handled under this operational branch are held in segregated accounts, with top-tier UK banks. Clients covered by this regulatory umbrella are also covered by the FSCS, the UK's Financial Services Compensation Scheme, which is set to refund clients up to a limit of £50,000, in case of broker insolvency or a default.
The other regulatory body that has signed off on Pepperstone's operations is none other than Australia's ASIC. The company responsible for the provision of financial services to residents of Australia and other countries under the ASIC license, is Pepperstone Group Ltd. The company is registered in Australia under number ACN 144 055 703. The ASIC license number is AFSL 414530. Client monies deposited through this operational branch are held in segregated accounts as well. The bank used by the operator for this purpose is National Australia Bank. The AFSL of the Pepperstone Group only applies to the Australian operations of the brokerage. Those accessing the site/using the services offered by the operator should be fully aware of this.
Why should you, a retail/institutional investor, choose Pepperstone as your primary broker?
According to the official site of the broker, their main selling point is that they "understand what traders want". While in this form, this slogan does not really say much, it has to be pointed out that Pepperstone do indeed have an impressive range of trading platforms, and they boast some outstanding trading conditions, at which we shall take a closer look below. These superb trading conditions largely translate to spreads of 0.0 pips on the EUR/USD pair, and minimum account sizes of just AUD 200.
In addition to the above, the brokerage offers institutional style trading to retail clients, in regards to execution and trading tools. Pepperstone boasts the industry's #1 customer service too. Whether that claim holds water indeed is debatable. What's certain though is the fact that in their 8 years of existence, these people have racked up an impressive number of industry awards, for a diverse range of accomplishments.
Pepperstone Trading Products
The trading product selection offered by Pepperstone is not particularly outstanding, but it does qualify as decent. They currently have more than 70 currency pairs and their Forex selection does indeed feature great trading conditions. On major pairs, such as the EUR/USD, AUD/USD and GBP/USD, the spreads start from 0.0 pips, as said above. The maximum available leverage on such trades is 1:500.
The Index CFD selection covers some 13 global indexes, such as the AUS200, the US30 and the HK50. The Indexes section is allegedly optimized for institutional traders.
Precious Metals, Energy, soft commodities and even cryptocurrencies are included in the product selection. The crypto section is rather interesting indeed: Bitcoin, Ethereum, Dash and Litecoin are supported. The maximum available leverage is 1:5 and there are no commissions involved. In regards to this asset class, it has to be noted that cryptocurrencies are notoriously volatile and that – as any leveraged product – they can induce losses that may exceed traders' deposits.
Pepperstone Trading Platforms
In this regard, the brokerage is indeed very well-endowed. Their main platform is obviously MT4, with all its features and perks. In addition to it, they also have an impressive suite of mobile apps, as well as MT5 and two web traders (the Pepperstone web trader and the cTrader web trader).
The Pepperstone Web Trader is the easiest and quickest one to access through a demo account. It is MT4-based and as such, the functionality it offers is unquestionable. It comes with preinstalled technical indicators, drawing tools and various other trading tools, which allow for one-click trading straight off the charts.
The virtues of the full MT4 and MT5 platforms don't really have to be detailed here. They have scores of trading tools, indicators and other such knick-knacks included, together with full support for EAs and VPS.
MAM/PAMM account options are available too, allowing users to trade block orders from a single master account, through the MT4 client terminal.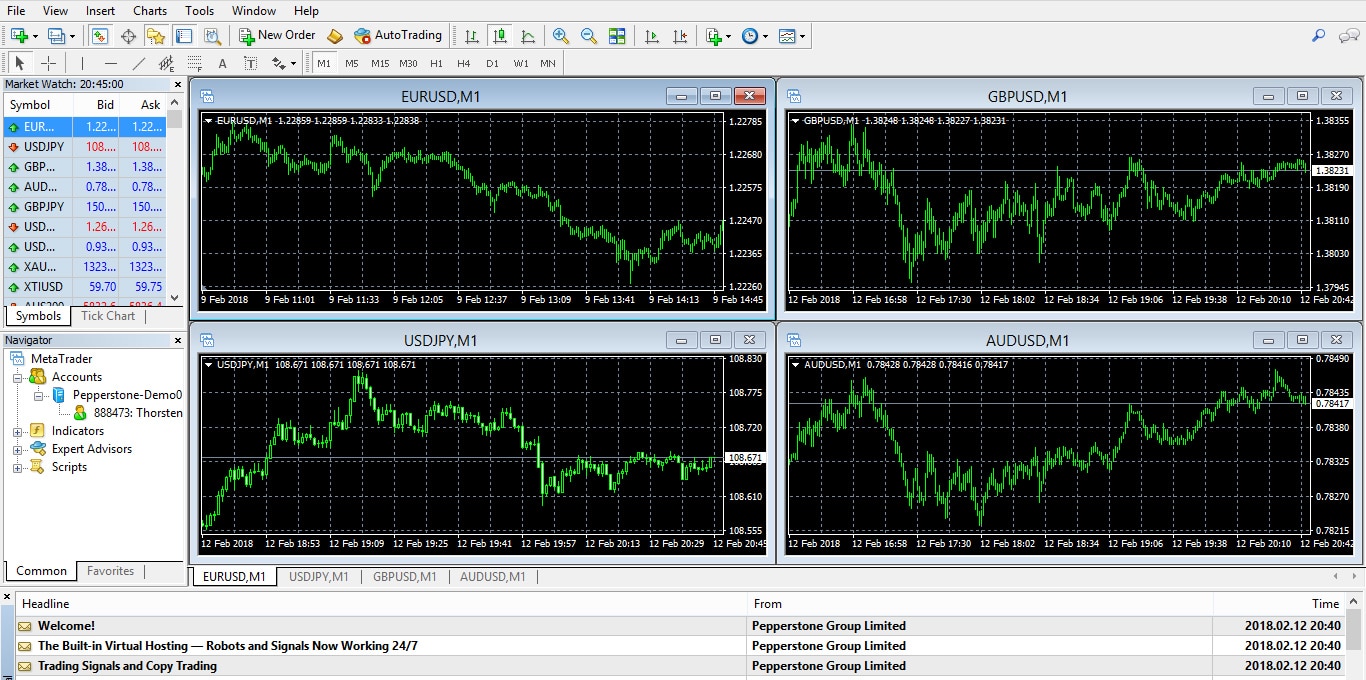 Pepperstone Account Types
The Edge Standard account is the most basic option at the brokerage. Featuring no commissions and institutional grade STP spreads, the standard account is what one would call an "entry-level" account at the brokerage.
The Razor account comes with a commission of $3.5, but unlike the Standard account, its spreads start from 0.0 pips. On the EUR/USD, the maximum spread is only 0.8 pips, and as said above, it can be as little as 0.0. The minimum required deposit for this account is AUD 200.
The Edge Swap Free account is a Swap-Free account option and as such, it is the broker's Islamic account. The average spread on the EUR/USD is in the 1.0-1.2 pips range and there are no commissions. The minimum required deposit is USD 200 or equivalent. EAs are allowed, as are hedging and scalping.
The Active Traders account is aimed at institutional partners and high volume retail traders. In addition to spreads starting from 0.0 pips, this account offers access to dedicated account managers, superior ECN execution, as well as advanced reporting features. A proper VPS hosting service is also included in this package. Active Traders account users have access to custom means of trading: API-based, FX GUI and third-party platforms.
Pepperstone Conclusion
Everything accounted for, Pepperstone is indeed a decent trading destination for EEA-based and Aussie traders. The platform offer is great, the product selection is quite standard, and the trading conditions are indeed quite attractive on some of the accounts.
User feedback is mixed on the quality of the services, but overall, the ratings are positive.
Read reviews of more forex brokers
Please be advised that certain products and/or multiplier levels may not be available for traders from EEA countries due to legal restrictions.