Originally founded in Tel Aviv, Israel by two brothers, Ronen and Yoni Assia and partner David Ring in 2006, eToro began as a vision of a popular financial trading and investment platform suitable for everyone. The company specializes in the field of social trading and has grown considerably since its inception, with eToro currently enjoying a top position among social trading networks and online forex brokers.
eToro's oversight comes from two agencies in the European Union and the UK. eToro (Europe) Ltd. is based in Limassol, Cyprus and is a registered Cypriot Investment Firm or CIF registered under the number HE200585. eToro (Europe) is regulated by the Cyprus Securities and Exchange Commission or CySEC under license number 109/10.
In the United Kingdom, eToro (UK) Ltd. is based in London and is a registered UK firm under registration number 7973792. eToro (UK) is authorized and regulated by the Financial Conduct Authority or FCA under the firm reference number 583263. Both eToro (UK) Ltd. and eToro (Europe) Ltd. comply with and operate under the EU's Markets in Financial Instruments Directive or MiFID.
Currently, eToro has over 5 million users from over 170 countries who enjoy access to trading in currencies, CFDs, indexes and commodities via the broker. The company's online platform attracts thousands of new accounts on a daily basis and theirs is considered one of the world's largest social investment networks.
eToro's previous trading platforms have recently been replaced with an updated all-in-one platform that is also available on Android and iOS for mobile devices. A screenshot of its homepage appears below: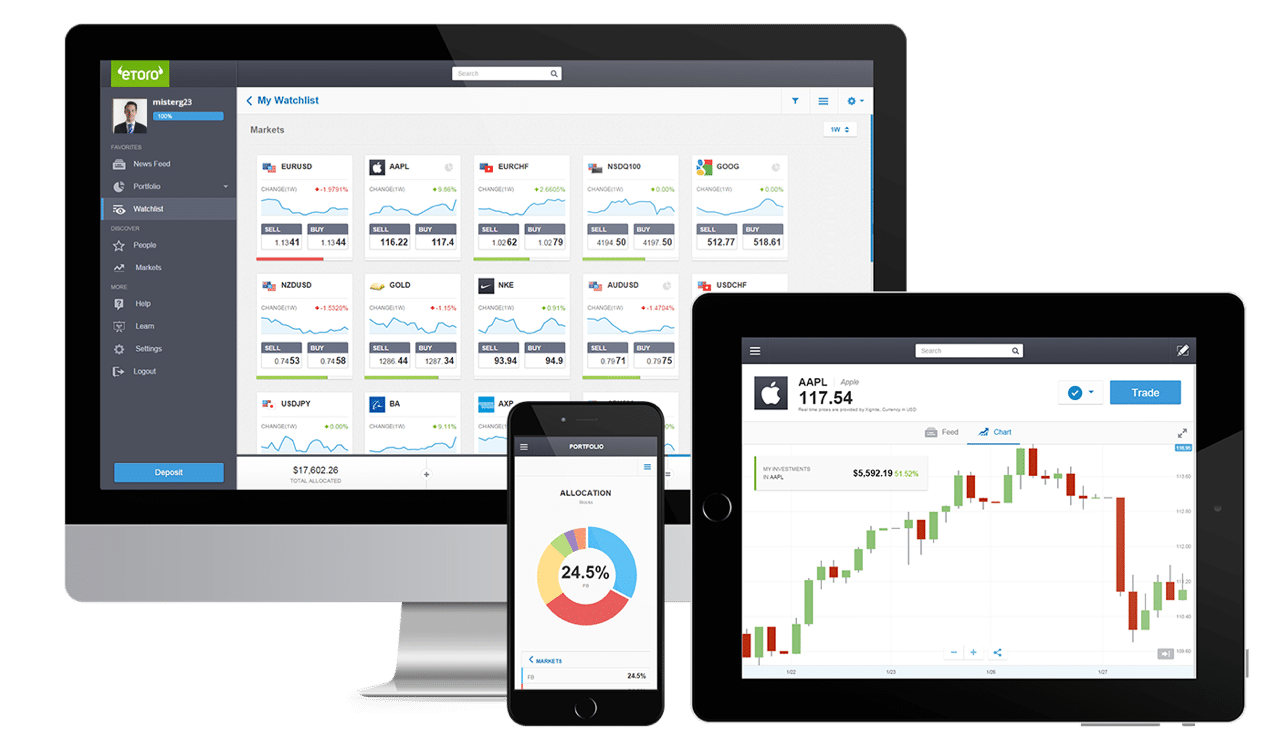 In the United States, eToroUSA is not currently active, therefore eToro does not accept U.S. based customers.
Features at eToro
One of the most striking features about eToro is the company's online financial trading community, which is ranked among the world's largest. The company recently replaced its two popular WebTrader and OpenBook trading platforms and integrated their functions into a new all-inclusive platform that gives clients access to all of their services from both desktops and mobile devices.
First time deposit minimums depend on what region and country the customer is domiciled in, with a minimum deposit for a live account ranging from $200 to $1,000, in addition to traders being able to fund an Islamic account with a minimum deposit of $1,000.
eToro also offers a demo account  to practice trading with, and this feature can be accessed by simply registering, and without having to actually fund the account. eToro also offers up to $100,000 in virtual currency for potential customers to try out their trading platform with.
eToro does not charge commission on trades, but instead relies on quoting a slightly wider dealer spread to compensate themselves. A survey of the broker's real time dealing spreads showed that they start at two pips for USD/JPY, three pips for EUR/USD, USD/CHF and USD/CAD, four pips for GBP/USD and AUD/USD, five pips for NZD/USD and seven pips for USD/RUB.
Dealing spreads for other less traded currency pairs widen to as much as 20 pips, while spreads in Bitcoin trades are apparently 225 pips, according to the broker's website.
As of April 29th 2018 eToro has moved from trading stocks as CFD to real stocks on their platform. All the countries will now be real stocks and only the listed countries will remain CFDs: Afghanistan Angola Australia Belarus Macedonia Iraq Liberia Libya Nauru New Zealand Nigeria Sierra Leone Zimbabwe Cote d'Ivoire Congo Congo Republic Myanmar.
As of August 1st 2018 eToro is fully compliant with new ESMA rules. Read more here.
Supported Platforms
The original eToro trading platform targeted novice traders, with animated graphics depicting currencies in a race or tug of war. eToro's previous OpenBook and WebTrader platforms were integrated in 2015 to become its current, award winning platform now called simply eToro. In addition to the eToro platform, the broker also has a new app for iOS and Android to replace its previous mobile app, known as The Mobile Trader. The new eToro app is currently available at the iOS App Store or Google Play.
The screenshot below shows the basic functionality of the web-based eToro platform with menus on the right side for regular and social trading, investment in CopyPortfolio, as well as a watch list, a portfolio tracker and a news feed.
eToro social investment network

eToro has added some NEW FEATURES… eToro CopyPortfolio! Hear all about it Here
Platforms: eToro platforms.
Deposits and Withdrawals
The minimum deposit required to open a live trading account at eToro is $200 to $1,000 depending on the payment method and country the client is domiciled in. Since eToro only allows trading in U.S. Dollars any deposit in another currency is converted at the prevailing exchange rate to USD upon receipt.
Deposits can be made through Visa, MasterCard and Diner's Club credit and debit cards, by bank wire transfer, Wirecard – Wire and Credit Card, Yandex, Neteller, Skrill Limited UK, China Union Pay, PayPal, Wire Card and Webmoney UK.
Deposits also have a minimum and maximum among depending on the payment method. Credit and debit card deposits have a $20,000 maximum, while wire transfers have an unlimited deposit amount. PayPal and Skrill deposits have a minimum of $200 -$1000 and a maximum of $5,000 and $10,000 respectively. Neteller deposits range from $200 – $1,000 with a maximum of $10,000; while Webmoney and GiroPay have a $200 – $1,000 minimum and a $50,000 and $30,000 maximum respectively. Russia based Yandex has a $200 minimum and a $5,000 maximum deposit.
For withdrawals, the user must fill out a withdrawal form in the Cashier section of the website, clicking on the "WITHDRAWAL" tab. The amount is entered on the form, and eToro will then notify the client via email of the withdrawal process.
For first time withdrawals, clients must submit a clear color copy of their Passport including their written signature, as well as a clear copy of a utility bill not older than three months and that is mailed to your address of residence. Also, if the deposit to fund the account was originally via credit card, a clear copy of both sides of the credit card must be submitted.
eToro charges a $25 fee for withdrawals. Withdrawals take up to five days to process and may be delayed due to third party withdrawal payment methods.
Customer Support
Customer support is available 24/5 throughout the trading week via telephone and email. Also, a personalized digital customer service feature by a company called "Nano Rep" is available on the bottom left corner of their customer service page, although no live chat service seems to be available.
The company also features a "Customer Service Wall", where customers can interact with customer service in a forum type format. Most customer service queries are handled by referring customers to Online Guides and eToro's Knowledge base, which does not require a service representative.
If a client wishes to speak to a representative, a ticket is opened and a representative contacts the customer as soon as possible. Customers can choose their customer service representative by clicking on their photograph, which is included with a brief bio of the representative on eToro's customer service team page. Customer support is currently available by region and in the following languages: English, German, Spanish, French and Italian.
eToro – Conclusion
eToro has become a premiere network for social investing among online brokers. With their newly integrated eToro trading and social investment platform, as well as their mobile app, eToro offers traders an excellent service in the field of social trading.
The eToro trading and social investment platform is easy to use and integrates all of the features previously available on the company's two other platforms. In addition, the company offers a Trading Academy, a Blog, a Trading eCourse and live webinars to help educate novice traders.
As well as offering a free practice or demo account just for signing up, eToro also rewards its most successful clients. In addition to making money in their own accounts, successful traders at eToro can also win in competitions, earn cash prizes, and get money by having other traders follow their activities. The larger the following of a trader, the larger the proceeds from eToro, which can significantly increase a trader's income versus just their trading activity.
The only significant drawbacks with this broker is the rather long five day fund withdrawal period.
Read more forex broker reviews
Best Features
Additional cool features at eToro include mobile apps and stocks trading
The mobile apps that are available make quick trades on the go incredibly easy. Apps such as the eTrader mean that you don't require to be at a computer to make your trades. Versions are available to run on a variety of different phones and androids, and they have some great technology on the app, such as the way in which it can prevent your phone from hibernating when you're actively trading – just in case you need to make a split second decision.
Unlike other social trading platforms, eToro also has functionality when it comes to investing beyond currencies – with the option to trade in a variety of stocks.
Risk Warning
All trading involves risk. Only risk capital you're prepared to lose. Past performance does not guarantee future results.
This post is for educational purposes and should not be considered as investment advice.
Cryptocurrencies can widely fluctuate in prices and are not appropriate for all investors. Trading cryptocurrencies is not supervised by any EU regulatory framework. Your capital is at risk.
Please be advised that certain products and/or multiplier levels may not be available for traders from EEA countries due to legal restrictions.