Ava Capital Markets Ltd., the retail forex arm of the international investment firm Ava Group, is a forex broker headquartered in Ireland. It is regulated by ASIC and the Irish authorities in accordance with MiFiD, the EU's investment regulations under reference number C53877.
The forex trading platform and the retail currency trading branch of Ava Capital Markets Ltd. were launched in 2006 by a group of financial experts and IT professionals under the organizational umbrella of Ava Group.
AvaTrade is also available in Canada by collaborating with the local broker Friedberg Direct which is regulated by IIROC, the main regulator in Canada (Investment Industry Regulatory Organization of Canada).
Features at AvaTrade
There a number of great advantages that result from becoming an AvaTrade client, but perhaps the most exciting of them is the powerful package of auto-trading tools that are offered as part of the standard AvaTrade trading platform. There are three options: AvaAutoTrader, which AvaTrade claims to be the world leader in automated trading solutions, ZuluTrader, which offers custom-made strategies for traders, as well as algorithmic trading through AvaAutoTrader, an approach often utilized by hedge funds and other large institutional players in the forex market. Finally, there is the customary API trading option where the trader devises his/her own methods.
Clearly, this is unmatched in the market in terms of both the depth and power of the automation solutions offered. Even if you are inexperienced in auto-trading, the intuitive and friendly interface of AvaTrade makes this broker an excellent choice for becoming acquainted with the basics.
AvaTrade is a registered and regulated broker in full compliance with the regulations of the European Union. There is a wealth of information at the broker's website on such details as the large market capitalization of Ava Group, its headquarters and history. According to the disclosures of the firm, the holding company backing Ava Capital Markets Ltd. has a capitalization of about $17 billion and has a rating of A+ by the rating agency S&P.
The motto of AvaTrade is "Integrity, Service, and Functionality". Towards realizing this slogan, the firm implements the standard procedures of the retail forex business towards ensuring account safety and the security of client's private data, while monitoring developments in the technological field closely in order to implement any improvements as soon as they become available.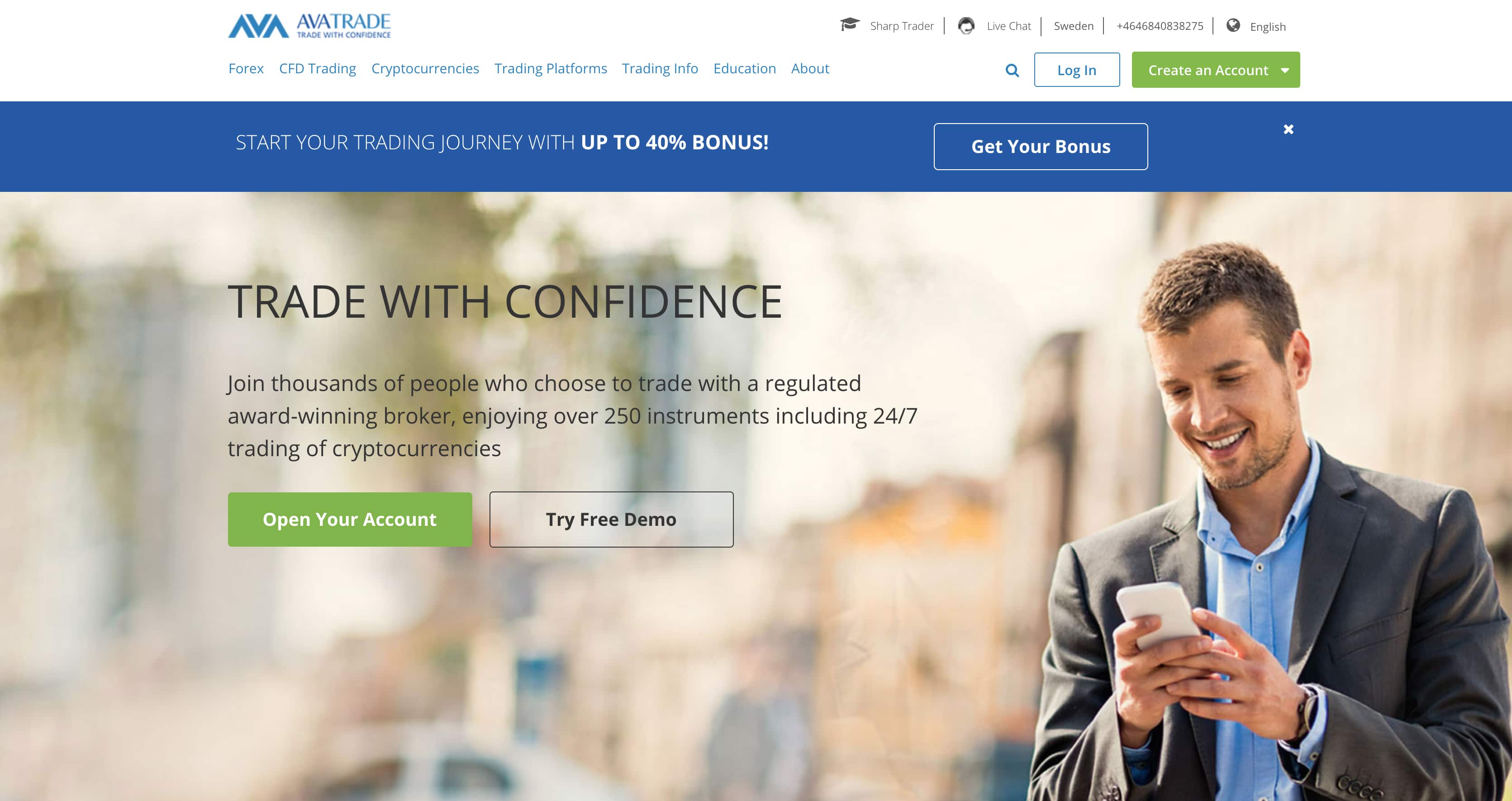 Other Services:
Trade for your mobile
Analysis and signals: Technical Analysis, Market Reviews, economic Calendar, Free FX Signals and News to mobiles for deposits over $1000
Affiliate Program: – AvaPartner – Special Affiliates Program IB'S,  Money Manager, White Labels.
Training tools  – Free Live webinars for people just getting started with Forex trading. Guided tutorial, real time market updates to help understand Forex trading and improve trading skills.
As of August 1st 2018 Avatrade complies with the new ESMA rules and have changed their leverage limits for European Clients to:
30:1 for major currency pairs.
20:1 for non-major currency pairs, gold and major indices.
10:1 for commodities other than gold and non-major equity indices.
5:1 for individual equities and other reference values.
2:1 for cryptocurrencies.
Supported Platforms
The AvaTrade trading platform is based on MetaTrader4, the popular choice of the best forex brokers in the world. The charting package includes all the standard tools that come with MetaTrader, and you also have the option of designing your own indicators when you feel confident and knowledgeable enough to do so. Dozens of currency pairs are offered, including all the major and popular minor pairs, in addition to metals such as gold and silver.
Avatrader: A multi-faceted, fixed spread trading platform that is easily adaptable to the trader's individual preferences and tastes.
AvaTrader gives you the opportunity to trade multiple instrument types quickly, seamlessly and easily with its 1-click trading feature.
AVA's floating spread platform offers attractive conditions for experienced clients traders; dynamic spreads on all Forex and CFD instruments with quotes starting from as low as 0.9 pips
Auto trading Programs: Mirror trader, Zulutrade, Currensee
It is possible to test the AvaTrade platform with a demo account where you'll be able to trade $100,000 in virtual currency.
Deposits and Withdrawals
AvaTrade offers leverage up to 400:1 with a minimum deposit requirement as low as $100. Keep in mind, the higher the leverage you choose, the greater risk of loss is involved. It's possible to have your account processed immediately and commence trading following a credit card deposit. Other forms of payment include PayPal, NeTeller, WebMoney, and Moneybookers, as well as bank transfers. Withdrawals can be facilitated with the "Ava Debit Card" feature of the broker, this process can take up to five days.
Risk disclaimer: Forex trading involves substantial risk of loss and is not suitable for all investors. You may lose more than your initial investment.
Customer Support
The core concept that inspired the foundation of AvaTrade is the adoption of a user-oriented perspective, instead of the banking or business-oriented approach of most forex brokers. The firm implies a professional support staff fluent in many languages that is available on a 24-hour basis in order to help resolve any issues that may arise. The aim of the firm is building up a business around the client so that every feature of the software package is focused on improving an aspect of the trading experience. Towards this goal, the AvaTrade platform is coupled to a highly competent and disciplined customer support team.
AvaTrade – Conclusion
AvaTrade claims its strongest point to be its user-oriented perspective. The main focus of the website and the software platform are ensuring that the client feel privileged as an AvaTrade partner, creating that unique edge to set the firm apart from all of its competitors. The exceptional automated trading solution of the company is certainly unique in the retail forex world as far as retail currency trading is concerned, while the flagship MetaTrader4 system is so well-established as the sign of competence that it doesn't need any further elaboration. The fact that the company is part of a larger framework under Ava Group reinforces the safety aspect as much as the regulatory oversight by the authorities. In short, AvaTrade is an exceptionally well-qualified firm that has also the promising qualities of a rising star in the forex market. Giving this broker a try with a demo account, you'd lose nothing, but the potential benefits are unlimited.
Best Features
Regulated by MIFID & ASIC
Holding company is rated A+ by S&P
Exceptional automated trading solutions
Customizable MetaTrader 4
High Max First Time Deposit bonus + free webinar and signal!
Please be advised that certain products and/or multiplier levels may not be available for traders from EEA countries due to legal restrictions.