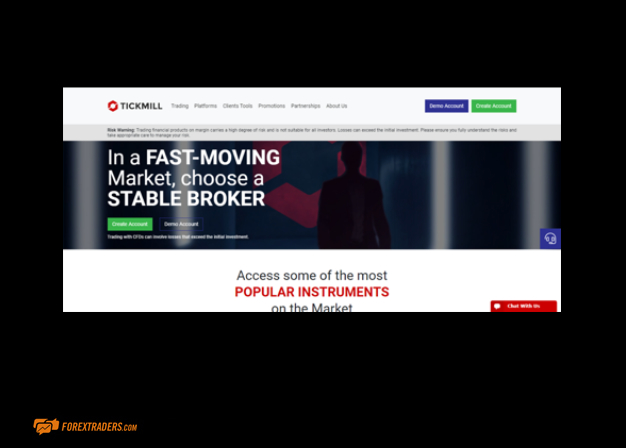 Tickmill Pros
Tickmill Cons
Well regulated
Relatively limited number of markets
Comprehensive research tools
Does not accept US traders
Excellent customer services
Easy to navigate website and trading platform
One of the lowest-cost brokers in the industry
Traders' Viewpoint
Tickmill is a strong online trading platform suitable for both beginner and experienced traders. The demo account is free to use and does not have a time limit on it, so it can continue to be used to develop strategies even after you have set up a live account. Entry-level traders benefit from the Tickmill minimum deposit being set at a very low level of US$25. This helps you as once you complete the Tickmill sign-up process, it is advised to start trading in small size and not burn through your capital. At the other end of the scale, high-volume traders with accounts of US$50,000 or more can enjoy VIP account status and institutional-grade T&Cs.
Tickmill is very much about the trading experience. Registering now for a Tickmill demo account will take you through to the virtual platform where you can find out quite how good online trading can be. The user-friendly customer interface sits on a high-spec infrastructure – the tech framework ensures that you get the best access to the markets. A particularly positive feature of Tickmill is that it provides access to the heart of the market but also backs this up with Negative Balance Protection (NBP). NBP safeguards you from losing more money than you deposit. A lot of other ECN brokers don't offer an NBP and ECN combination, so Tickmill scores highly by combining the two.
Client protection is a key part of the package. The firm is licensed by Tier-1 regulatorsand feedback from the trading community marks Tickmill trustworthy.
The Tickmill platform offers a variety of traceable instruments in forex, CFDs and bonds. The forex offerings include over 62 currency pairs, which competes well with its peers. Importantly, Tickmill allows all forex trading strategies and offers an average execution speed of just 15 seconds. In addition, Tickmill is market leading in offering a typical spread for the EUR/USD pair of just 0.2 pips (the industry average is 0.7 pips). A VIP-level account offers 0.0 pips.
In addition to forex, Tickmill offers trading on its platform in energy products, such as oil, and precious metals, such as gold and silver. More recently, on demand, it has started to offer bitcoin, and investors can trade the crypto against major currencies.
Like some of its peers, Tickmill offers MetaTrader 4 (MT4) and a web-trader on its platform, as well as the ability to download the app on iOS and Android. MT4 comes with advanced technical analysis tools, including over 50 indicators, customisable charting tools and an extensive back-testing environment. As a differential, Tickmill has a partnership with Myfxbook that offers clients advanced robot-trading options through the AutoTrade platform.
Again, like some of its peers, Tickmill provides its users with tools to copy the trades of more experienced traders. This is an attractive function for beginner traders, and in addition, they are welcomed on signing up with a free eBook titled 'The Majors – Insights and Strategies'. There are also Tickmill webinars available in English, Italian, German and Arabic and a unique blog that aims at supporting both beginner and experienced traders.
Tickmill ticks the boxes on many levels. It appeals as being one of the cheapest brokers in the market to trade on. It has a very fast and stable registration process backed by a strong regulatory framework, and it is getting strong positive feedback on its customer service.
This Tickmill review will provide an insight into the pros and cons of the platform, but as it is rated 'safe', a hands-on trial of the service using the free Tickmill demo account is highly recommended. Trying out the service will aid your understanding and give a glimpse of how good the trading experience can be.
About Tickmill
Tickmill is an award-winning ECN broker founded in 2014. The broker is operated by Tickmill Group, which is registered and monitored by the Seychelles Financial Services Authority (FSA). In the UK, Tickmill operates under Tickmill UK Ltd and is regulated by the Financial Conduct Authority (FCA). The broker also has operations in Cyprus under the monitoring of Cyprus Securities and Exchange Commission (CySEC).

Tickmill accepts clients from all countries except the United States, Iran, Iraq, Cuba, Sudan, North Korea, Syria, and Myanmar. These countries have restrictions or sanctions in place that prevent this broker from operating there.
Tickmill is compliant with the EU GDPR and also the KYC-AML global regulations. This means that users must verify their identity through a government ID check and prove their residence by providing a utility bill or a bank statement during registration.
Tickmill has won several prestigious awards including International Business Magazine's Best CFD Broker Asia, the Forex Awards Most Transparent Broker, the Online Personal Wealth Awards Best Forex CFD Broker and CFI.co Awards Best Forex Execution Broker.
Tickmill UK clients are protected by one of the best-regarded regulators in the world, the FCA. Clients from other domiciles may be able to access Tickmill bonus plans, which are updated regularly but even include a $30 Welcome Account.
Who does Tickmill appeal to?
Tickmill is a good broker for both beginner and experienced traders. Starting off by using the free Tickmill demo account means that beginner traders can get enough experience before trading live and, as such, can avoid costly mistakes. Traders do not need to make a deposit to access the demo account.
Tickmill offers a high-quality service that caters to all grades of trader. The minimum deposit requirement of $25 makes it ideal for those starting out. High-volume traders with a minimum of $50,000 are registered under the VIP account and enjoy special trading conditions, including lower fees.
All traders like to know that their broker gives priority to client protection, and on this topic, Tickmill is hard to beat. The regulatory framework, KYC protocols, cyber security set-up, NBP and segregation of funds are all of the highest standard.
Moreover, Tickmill provides comprehensive guides to develop traders' skills and knowledge. Beginner traders can access introductory materials and are assigned a dedicated support agent to guide them through and answer questions. As mentioned above, Tickmill is available in most jurisdictions except the few mentioned countries. Furthermore, its services are available in multiple languages, including English, Spanish, Russian, Vietnamese, Chinese and Indonesian.

Account types
There are several different Tickmill account types, which include Demo, Pro, Classic, VIP and Islamic. Each account comes with special requirements and has its advantages and disadvantages. Base currency options include USD, EUR and GBP, and having a choice helps clients to avoid frictional costs of converting their cash deposit into another currency.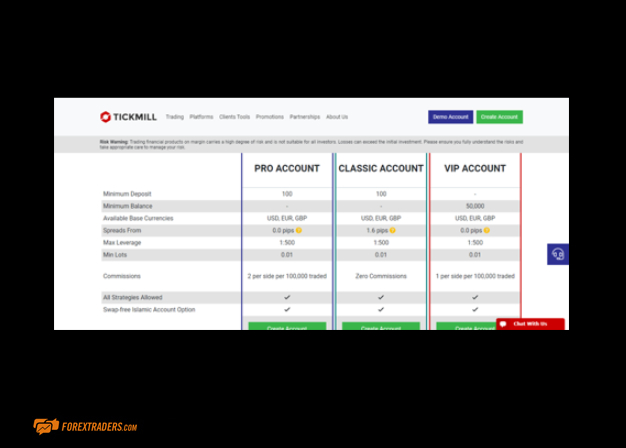 All of the three types of account provide USD, EUR and GBP as the base currencies. The minimum deposit for the Pro and Classic account is $25. As mentioned above, a minimum balance of $50,000 is required to trade with the VIP account. Tickmill leverage terms vary according to account T&Cs but can stretch to 1:500.
The Tickmill professional account is only available to professional clients as defined in the UK. Those who hold such accounts enjoy both regulator protection and investor protection.

As explained above, Tickmill provides a fully functional demo account. Traders do not need to deposit to trade with the demo account. This means that beginners can opt out if they do not like the demo experience. The Tickmill demo account simulates real market conditions and provides a practical experience of what to expect in live trading.
The demo account comes with nearly all the features of the MT4 account and provides access to 62 currency pairs, 15 stock indices, and instruments such as silver, gold and bonds. Regarding Islamic trading, Tickmill offers a swap-free account that is fully compliant with Sharia law.
Market and territories
As mentioned earlier, Tickmill is available in nearly all countries except Iran, Iraq, North Korea, Cuba, Syria, the US, Sudan and Myanmar. This broker has its headquarters in London and offices in Seychelles and Cyprus.
Tickmill is regulated by world-leading bodies such as the FCA and CySEC, and hence, users across the globe have a guarantee that their money is safe. While the FCA only safeguards users in the EU, it is considered as a seal for broker legitimacy across the globe.
In addition to this, Tickmill is accessible to non-English speakers. As stated previously, its platforms and customer services are available in Chinese, Indonesian, Russian, Vietnamese and Spanish. The majority of those who use this broker are based in Europe and Asia.

Instruments and spreads
Tickmill offers a variety of tradable instruments in forex, CFDs and bonds. The forex offerings include over 62 currency pairs consisting of all majors, the majority of minors and a few exotics.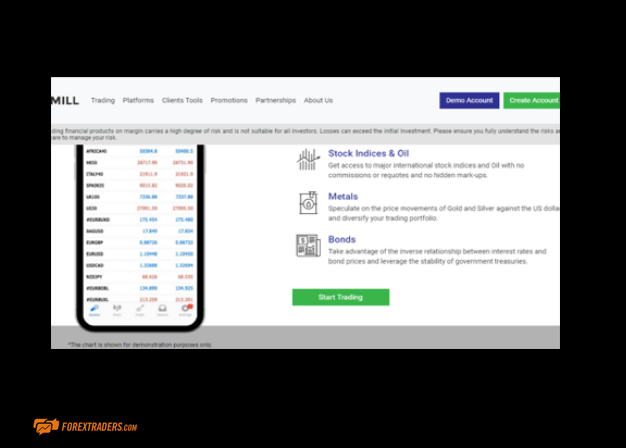 Regarding spreads, Tickmill offers floating spreads for all types of accounts starting from 0.00 pips. The typical spread for the EUR/USD pair with this broker is 0.2 pips. This is among the best in the industry, given that the average EUR/USD spread is 0.70 pips.
Tickmill's CFDs offerings include stock, stock indices, energy commodities, and precious metals. Users can access 16 stock indices including UK 100, US 100, France 40, Italy 40, DE 30 and many others. Energy products include the WTI and Brent while precious metals include gold and silver. The trading conditions for CFDs are also highly favourable with spreads starting from as low as 0.00 pips. Tickmill also offers German bonds at competitive spreads and with zero commissions.
This broker has recently started offering bitcoin, the world most popular cryptocurrency. Users can trade the crypto against major fiat currencies such as the USD, the GBP and the euro.
Fees and commissions
The spreads for the Pro and VIP accounts begin at 0.0 pips, while that of the classic account is 1.6 pips. Given its low deposit requirement and zero fees, the classic account is best suited for beginner traders. This account has a margin call and stop out levels of 100% and 30%, and an average execution speed of 0.3%. The ECN Pro account, on the other hand, has spreads starting from as low as 0.00 pips and a cost of $2 per side per lot. This account margin call and stop out levels are also 100% and 30% and the average execution speed is 0.3 seconds.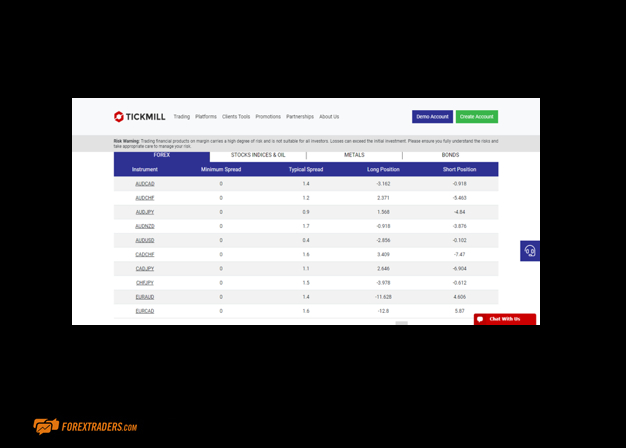 The VIP account is the epitome of everything that is good about this broker. As mentioned earlier, Tickmill requires a minimum deposit of $50,000 for the VIP account. This account type requires a commission of $1.6 per lot per side, which is considered among the lowest of all brokers. Furthermore, the commissions are bound to decline as the trading volume increases. This account type also has a margin call and stop out levels of 100% and 30% respectively.
Platform review
Tickmill trading platforms include MT4 and a web-trader. MT4 can be installed on Mac, Windows, Android and iOS devices. It is also available in a web-based version. The web-trader, on the other hand, is best suited for traders who prefer instant access without having to install anything on their computers. Even so, MT4 is superior in terms of functionality, speed and ease of use. Moreover, it is easily customisable to meet specific needs.
MT4 is superior in terms of functionality, speed and ease of use. Moreover, it is easily customisable to meet specific needs. Another neat feature of the Tickmill platforms is that they allow all forex trading strategies, including scalping and hedging. They also offer an average execution speed of 0.15s. For instance, scalping and hedging are allowed, and it is possible to participate in automated trading.
Tickmill MT4 provides access to forex, CFDs on forex, stock indices, commodities and bonds. It comes with advanced technical analysis tools, including 50+ indicators and customisable charting tools.
The provision of Autochartist is a big plus point as it helps clients to identify optimal trade entry and exit points. Further granular analysis options are provided by MT4's Expert Advisor service and its extensive back-testing environment.
Tickmill also provides a VPS service that upgrades the quality of trade execution. In general, most users who have left a review on Trustpilot and Forex Peace Army report that this broker has efficient, easy-to-use and secure trading platforms.
Mobile trading
Tickmill MT4 is available in both an iOS and Android versions. Traders can download the apps for free on the Apple App Store and Google Play Store, respectively. The app is compatible with iOS 4.0 and above and is installable on the iPhone, iPod touch and iPad.
Moreover, the Android version is compatible with Android 2.1 and above, and can be installed on Android phone or tablet. The Tickmill web-trader can also be accessed through an HTML5 mobile app.
This broker's mobile platforms come with nearly all the features found in the desktop version. Some of the features accessible through the mobile app include the demo account, over 30 technical indicators and fully interactive candlesticks and bar charts. The mobile platforms also offer an easy price viewing and trade ordering process.
Social Trading and copy trading
Tickmill provides users with tools to copy the trades of savvy traders and replicate them in their accounts. The process involves linking the Tickmill MT4 to Myfxbook AutoTrade. Traders can then pick the automated forex systems they like best and copy them. This trading approach is advantageous to both the beginner and experienced traders.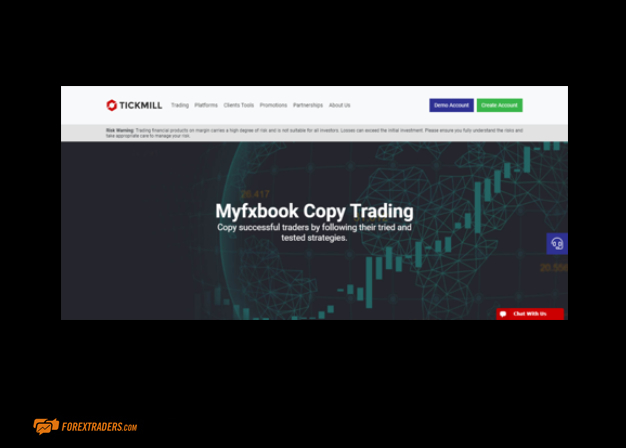 Copy trading helps beginner traders to improve their trading skills by observing the success of other's trading systems. Moreover, in copy trading, traders can learn without having to worry about affecting their accounts. With Tickmill, traders and clients can trade using MQL signals, AutoTrade or even a multi-account manager. Visit the Tickmill resources and education centre to learn more about social copy trading.
Crypto
Tickmill doesn't offer crypto trading. The firm appears to have anticipated tighter regulation of crypto trading and has instead focused its attentions on markets in other asset classes.
The decision by the UK regulator the FCA to ban crypto trading from January 2021 in CFDs for retail clients suggests that Tickmill has made the right call in terms of the viability of retail crypto trading.
While the lack of crypto trading once counted against Tickmill, the sector-wide curtailment of trading in bitcoin and altcoins makes the lack of cryptos less of a negative feature.
Charting and tools
Tickmill provides access to over 31 charting tools. This broker has partnered with Autochartist to offer free actionable trading signals. Autochartist is a top third-party online technical analysis tool that uses indicators such as Fibonacci retracements to identify chart patterns. This tool runs for 24 hours a day, alerting its users of trading opportunities in real-time.
Autochartist comes with a customisable search pane to enable its users to define the market parameters that the program scans. This means that it fits different trading styles and can be used to search unfamiliar markets and discover new opportunities. Another great feature found in this tool is a built-in price movement scanner. This feature highlights the range at which the price of an asset has moved in a given period.

Tickmill offers Autochartist for free to all live accounts and also the demo account on a delay of five candlesticks. Tickmill provides guides to help beginner traders familiarise themselves with this technical analysis tool. Users can also get additional information on the Autochartist website.
Education
Tickmill provides comprehensive educational materials for both beginner and experienced traders. The resources come in downloadable eBooks, videos, infographics, articles and regular webinars. Also available is a regularly updated blog and news portal. Tickmill's FAQ page and forex glossary are also comprehensive enough for traders.
Beginner traders are welcomed with a free 46-page eBook titled 'The Majors – Insights and Strategies'. The book covers topics such as how forex trading works, an introduction to major currency pairs, forex analysis and trading strategies. Tickmill video resources also cover a wide range of topics from beginner level education to the experienced trader, continued training and updates. The videos are available for free to all clients.
Tickmill webinars are available in English, Italian, German and Arabic. The webinars cover the latest updates in the industry and also refresher training. Users can find the Tickmill webinar schedule on their website and view old recordings on their archives.
Tickmill's blog is another essential resource tool for both the beginner and the experienced trader. The platform covers topics revolving around fundamental and technical analysis. Users do not need to register to access the blog. Tickmill encourages readers to contact the authors of specific blogs with questions relating to its articles.
Trader protections by territory
Tickmill Ltd is monitored as a security dealer by the Seychelles Financial Authority (FSA) under the license number SD 008. It is also regulated by the UK Financial Conduct Authority (FCA) under the Registration Number 717270 and the Cyprus Securities and Exchange Commission (CySEC) under the license number 278/15.
The three regulatory bodies are among the best worldwide with the FCA ranking on top of the most respected agencies globally. Regulators such as the FCA and CySEC require brokers to segregate traders' money and adhere to strict reporting requirements. This ensures that they do not use their clients' money for any other purpose other than the intended one.
Tickmill is also supervised by BaFin in Germany, CONSOB in Italy, ACPR in France and CNMV in Spain. BaFin is also known as the Federal Financial Supervisory Authority and is the leading financial regulator in Germany. CONSOB, ACPR and CNMV are also government bodies responsible for regulating financial and securities markets in their countries.
Compared to other brokers, Tickmill is adequately regulated. As mentioned earlier, this broker has operations in most countries across the globe, meaning that it is trusted even in jurisdictions where it does not have a regulator.
How to open an account
The account opening process with Tickmill is quite straightforward and only takes less than three minutes. Users are required to visit the Tickmill website and fill their details in the provided form to register an account. This step also involves agreeing to Tickmill's terms and conditions and opting in or out of its mailing list.

After submitting these personal details, clients are required to provide more information about their financial status and trading knowledge to determine if CFDs trading is appropriate for them. Traders are asked about their income and savings and also their understanding of forex and CFD trading.
Tickmill is compliant with the EU GDPR and also KYC-AML global regulations, so the next step involves identity and proof of address verification. Users must submit a copy of their government ID and a document that shows their current address. The identity verification process takes less than 24 hours. It is only after verification that traders can deposit and access the live platform. Tickmill accepts deposits through bank transfer, Visa, Mastercard, Neteller, FasaPay, China Union Pay, ZotaPay, Nganluong, Qiwi and GlobePay.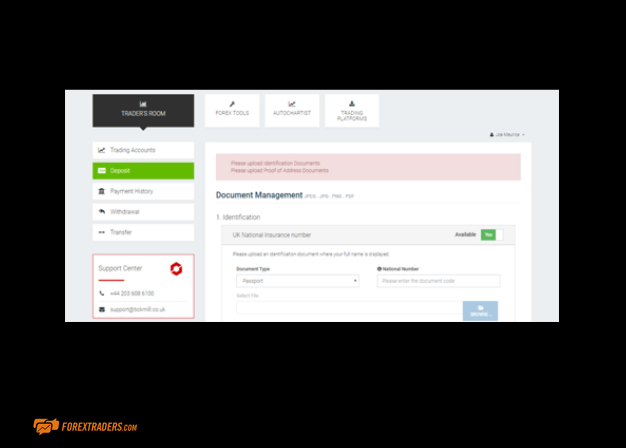 This broker's demo account is accessible without ID verification and deposit. Traders can open one by visiting the Tickmill website and registering for a demo account. The process involves submitting personal details and specifying details such as the type of account, leverage, currency and amount of virtual money that a trader wants to use.
Customer support
Traders can contact Tickmill support by email, phone and live chat. It takes a few minutes to get connected to its agents through phone and live chat. However, emails may take up to 48 hours. Tickmill customer service agents are reachable Monday through Friday, 07:00-20:00 GMT/GMT+1 during daylight saving time.
Reviewers on Trustpilot report that this broker's customer service agents are knowledgeable and friendly. However, there are a few complaints about their lack of professionalism. In terms of Tickmill contact hours, offering a 24/5 service is an improvement on the industry average, but extending coverage to 24/7 would, of course, be welcomed.
The bottom line
Tickmill is a great broker with features that appeal to both beginner and experienced traders.
A market leader in terms of pricing, Tickmill fees are among the lowest in the market. The popular EUR/USD forex pair has a typical spread of 0.2 pips at Tickmill, compared to the industry average of 0.7 pips.
The trading experience is supported by an exceptionally high-grade IT framework, and the research services provided to clients are designed to improve the odds of traders making a profit. The final cornerstone of trading is client safety, and Tickmill gets that right also.
Registration with Tickmill is fast and straightforward and highly recommended. Once you have set up your Tickmill login, you can access your account in desktop or mobile format and try out one of the best brokers in the market.
FAQs
How can I open a demo account with Tickmill?
Beginner traders can open an unlimited demo account which doesn't even need a deposit. However, once trading begins a minimum deposit of USD25 must be made. A negative balance protection is on offer, which safeguards against losing more money than has been deposited.
Is Tickmill a regulated broker?
It is a regulated broker. Tickmill is operated by Tickmill Group, registered and monitored by the Seychelles Financial Services Authority (FSA). Tickmill is regulated by the Financial Conduct Authority (FCA) in the UK where it operates as Tickmill UK Ltd and its operations in Cyprus are monitored by Cyprus Securities and Exchange Commission (CySEC).
What are the deposit options for Tickmill?
Tickmill accepts a minimum deposit of $25 for small traders while a minimum deposit of $50,000 allows high-volume traders to register a VIP account which offers special trading conditions including lower fees.
How do I withdraw money from Tickmill?
Tickmill says that it will process all withdrawal requests within 24 hours on business days, with the time for the funds to reach your bank account depending on your bank's own policy, which usually takes 3-7 working days.

Forextraders' Broker of the Month
ForexTB is generally considered a reliable and reputable firm. It offers a variety of desirable features and attracts traders from all over Europe. The brokerage is fully regulated and licensed by the Cyprus Securities and Exchange Commission (CySEC) and is fully compliant with the European Securities and Markets Authority (ESMA). Customer reviews are usually positive, and independent industry websites that have reviewed ForexTB have concluded that the broker is safe...
Please be advised that certain products and/or multiplier levels may not be available for traders from EEA countries due to legal restrictions.