Although it was only launched in 2014, Tickmill has attained worldwide notoriety (in trading circles, obviously) in a remarkably short time. To make the said accomplishment even more impressive, the brokerage pulled it off by maintaining a relatively sound reputation.
That does not mean of course that there are no trader complaints out there about the services it offers. The usual mix of alleged stop-loss manipulation and withdrawal problems is definitely there, but the big picture is indeed very favorable to the operator.
What is it though that the broker does so well and how did it conquer such a vast swathe of geographical territory in such a short amount of time? The short answer to that is regulation.
You see, the broker secured the backing of several regulatory agencies world-over, by splitting its business into three branches, focused on three major geographical areas.
We have Tickmill UK Ltd, which is regulated by the FCA. Then, there's Tickmill Europe Ltd, which has secured a CySEC license. Tickmill Ltd can be considered the parent company of the other two. Based in the Seychelles, it is regulated/licensed by the local financial authorities there.
This way, Tickmill has indeed accomplished near global coverage regulation-wise, and that is the absolute prerequisite of expansion these days.
Tickmill UK Ltd is one third of the corporate background of the brand. The company is registered in England and Wales, under number 09592225. The FCA registration number of this corporate entity is 717270.
Tickmill Ltd Seychelles is based at 3, F28-F29 Eden Plaza, Eden Island, Mahe, Seychelles. It is licensed by the local Financial Services Authority, its registration number being SD 008.
Being registered with CySEC as well, means that the operation is in fact MiFID II-compliant. As such, it is obviously allowed to promote and peddle its services in all MiFID member countries, which loosely translates to the majority of EEA-based countries. The global coverage of the brokerage is far from being complete though: it does not accept traders from the US, Canada, Japan, France and Belgium, among a handful of other jurisdictions.
With the above in mind, it is indeed safe to conclude that – at least from the perspective of regulation – the broker is well above and beyond most of its competitors.
While it certainly hangs heavily in the overall balance, regulation is not much of a draw from the perspective of a practical trader. Trading conditions, platforms, account selection and various extra features and perks mean a lot more in this regard.
What does Tickmill have to offer on this front?
In regards to trading conditions, there can truly be no complaints about what the broker provides. The execution speeds are indeed among the best in the industry. On some of the account types, spreads start from 0 pips and there are no restrictions whatsoever on profitability.
Add to all this the fact that the broker supports EAs and allows all trading strategies, and you have the recipe of what may well be the best trading conditions in the industry.
Regulation has certain effects on the security of trader funds too. For instance, the broker is required to keep all such funds in segregated bank accounts. Furthermore, the organization is the member of several investor protection schemes, such as Cyprus' Investor Compensation Fund. What that means in a nutshell is that in case of broker bankruptcy, the deposits of traders are protected to the tune of some EUR 50k.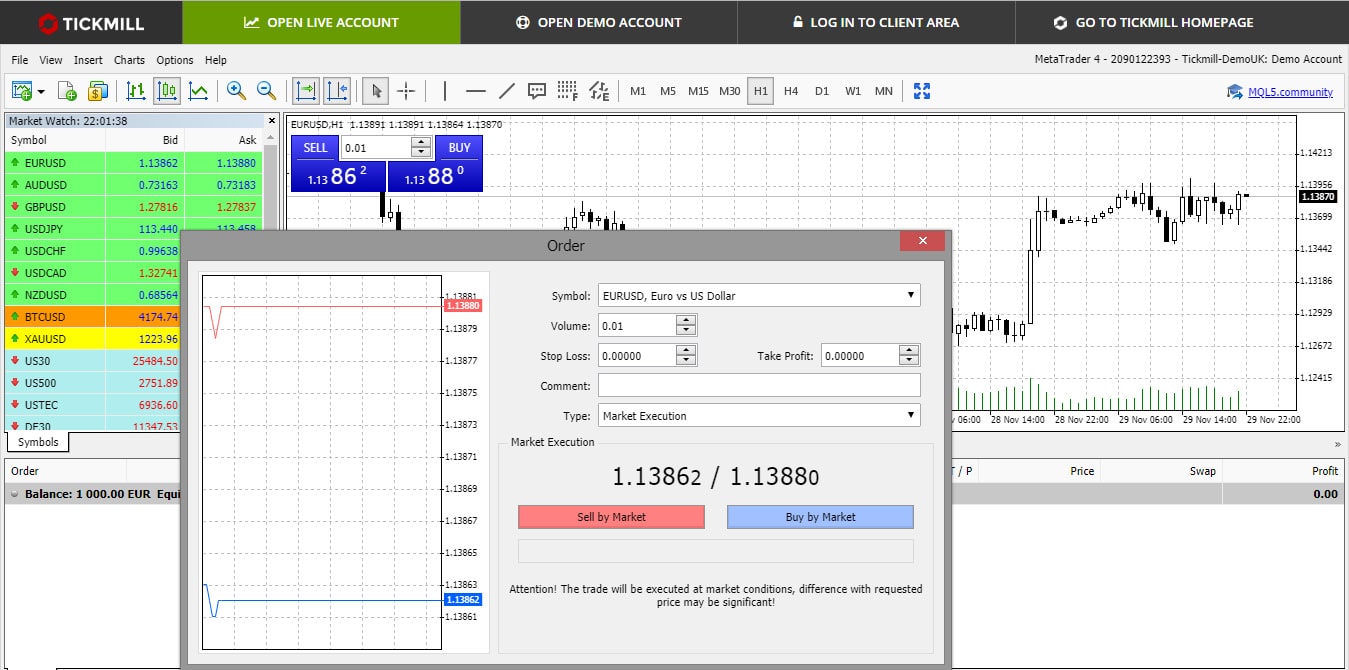 Tickmill Account Types
The broker features a Demo account – a rather standard offer these days. This Demo account offers full MT4 access and it lets traders face all the real-world conditions that they would through a real money account.
The most affordable real money account option is the Classic Account which requires a minimum deposit of USD 100. EUR, GBP and PLN are also supported as base currencies by all real money accounts.
Through this most basic of accounts, traders can access 85 tradable assets, and use leverage of 1:500 (1:30 if they are in the UK). The spreads here start from 1.6 pips and there are commissions charged.
The Pro Account offers market execution, a minimum deposit requirement of $100 and spreads from 0 pips. The execution is NDD and a commission of 2 per side per lot is charged.
Taking the trading game to a higher level is the VIP Account, which – instead of a minimum deposit requirement – features a minimum balance requirement. This requirement is EUR 50,000 too, so it is clear that this account option is reserved to those who are truly serious about their trading.
Interestingly, the VIP Account is not at the apex of the Tickmill account type selection. Traders who log massive volumes may be eligible to become Professional Clients, if they fulfill a set of conditions.
Having been a trading professional, working in a relevant position for over a year, certainly helps. Logging high-volume trades, with a frequency of 10 trades per quarter for the past 4 quarters, is also a requirement.
Having a portfolio, the value of which exceeds half a million EUR is also an option here.
In addition to all the above, the broker also offers a Sharia-compliant, Islamic Account version. This account is in essence a swap-free version of one of the above described regular account types. Traders of the Islamic faith who want an Islamic Account, are required to create a regular one, and then to request its conversion.
Tickmill Trading Platforms
In this regard, the broker has opted for the path of simplicity and straightforwardness. Its platform selection is made up of a Web Trader – aimed at those who want to jump quickly into the middle of the action, and MT4.
The Web Trader – though a much simpler option than MT4 – has all the tools and perks one would expect from a modern trading platform.
MT4 on the other hand makes it clear why it is the best and most popular trading platform in the world.
In regards to charting: it is unbeatable. It comes with scores of preinstalled technical indicators and trading tools, and more can always be added.
Traders are also free to create and to install custom scripts and Expert Advisors. In fact, the broker does not impose any kind of restrictions in this regard.
Micro lots can be traded through MT4 and a wide range of CFDs can be accessed, from Forex, to various commodities, bonds and even cryptocurrencies.
Tickmill Promotions
The broker features a $30 Welcome Bonus.
Deposits/Withdrawals
The money transfer methods accepted by the broker run a fairly standard range, covering Bank Wire, VISA, MasterCard, Neteller, Skrill and a bunch of other electronic transfer methods.
None of the accepted deposit methods feature any commissions/fees, with the exception of Bank Wire. To make Bank Wire commission-free as well, deposit more than $5k.
Tickmill Conclusion
From a wholly objective perspective, Tickmill looks like a good broker indeed. It is well-regulated (yet it manages to offer some promotional value), its trading platforms are good and its account type selection is outstanding.
Most importantly though: its trading conditions are downright excellent. That extends to execution as well, not just to the more direct metrics of spreads and available leverage.
Please be advised that certain products and/or multiplier levels may not be available for traders from EEA countries due to legal restrictions.