Double Top or Bottom Definition. These are familiar forex trading patterns consisting of upper and lower limits that have been touched twice, but never breached. The price action is usually interpreted as a sign of uncertainty. However, when the currency breaks out of this trading range, the movement is expected to be significant. A Double Top is a bearish reversal pattern that consists of two tops of approximately equal heights. A support line is drawn at the base, the "neckline", and a resistance line connects the tops. Typically, a break of the support line signals a downward move equal in size to the price difference between the two lines. Conversely, a Double Bottom is exactly the opposite of the Top pattern. A prudent forex trader observing this trend forming may place orders short and long about the respective breakout line in order to anticipate a major move and profit from it. The chart diagram below illustrates a typical Double Top pattern: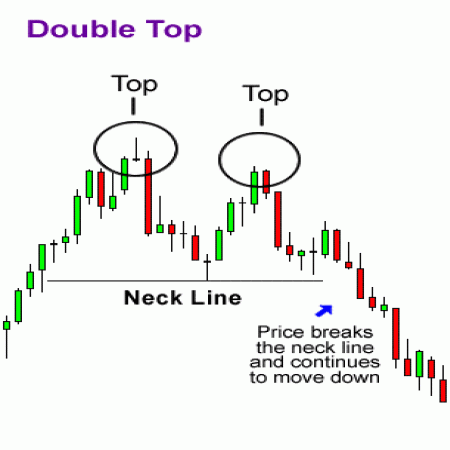 Forextraders' Broker of the Month
ForexTB is generally considered a reliable and reputable firm. It offers a variety of desirable features and attracts traders from all over Europe. The brokerage is fully regulated and licensed by the Cyprus Securities and Exchange Commission (CySEC) and is fully compliant with the European Securities and Markets Authority (ESMA). Customer reviews are usually positive, and independent industry websites that have reviewed ForexTB have concluded that the broker is safe...