Flag and Pennant Definition. A Flag and Pennant is a familiar forex trading pattern characterized by an upward movement with a large slope followed by a period of consolidation. It is considered a bullish pattern overall, as a breakout from the consolidation phase is expected. The formation resembles the outline of a flag, the previous upward trend being the flagpole. The consolidation tends to be sloped in the opposite direction of the slope of the previous trend or simply flat. Resistance and support lines border the consolidation period, thereby suggesting a flag pattern. When the currency resumes its former trend by breaking out of the consolidation phase, the forex trader expects a price objective approximating the length of the "flagpole" measured from the breakout price level. However, even though this pattern is considered "bullish", the breakout can go either way. A prudent forex trader would arrange a combination "buy stop" and "stop loss" orders as shown in the diagram below: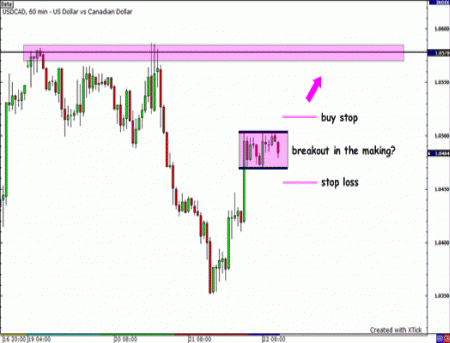 Forextraders' Broker of the Month
ForexTime (FXTM) is an award-winning platform that certainly has the feeling of being set up by people who know what they are doing. The firm demonstrates an understanding of what helps traders make better returns, and its success can be measured by the fact that it's doubled the number of clients it supports in recent years. The fact that the broker has grown to have more than two million accounts suggests it is getting things right for clients.