Prime Rate Definition. The Prime Rate, or sometimes referred to as the prime lending rate, is a term utilized in many countries as a reference interest rate used by banks. The term originally meant the rate of interest by which banks would lend to its most favored creditworthy customers. This usage of the term is no longer consistently applied. Banks may often state that variable interest rates equate to a percentage margin above or below the prime rate. In the United States, the prime rate is approximately 300 basis points (or 3 percentage points) above the Federal Funds Rate, the interest rate that banks charge to each other for overnight loans made to fulfill reserve funding requirements established by the Federal Reserve Bank. The Fed Funds Rate plus a small margin is now frequently used for lending to the most creditworthy borrowers today. LIBOR, the London Interbank Offered Rate, is another benchmark rate used for this purpose. The Federal Open Market Committee, or FOMC, set a target for this rate eight times per year. An historical chart of the Federal Funds Rate is shown below: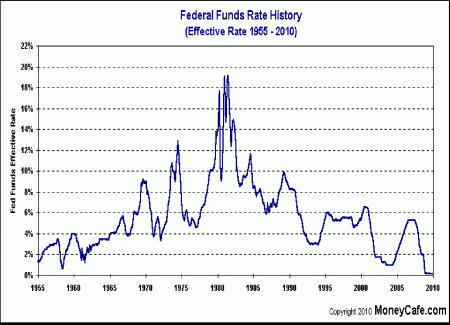 Forextraders' Broker of the Month
ForexTB is generally considered a reliable and reputable firm. It offers a variety of desirable features and attracts traders from all over Europe. The brokerage is fully regulated and licensed by the Cyprus Securities and Exchange Commission (CySEC) and is fully compliant with the European Securities and Markets Authority (ESMA). Customer reviews are usually positive, and independent industry websites that have reviewed ForexTB have concluded that the broker is safe...