Unemployment Rate Definition. The Unemployment Rate is a macroeconomic statistic that measures the total workforce that is unemployed and actively seeking employment, stated as a percentage of the entire labor force. The indicator is significant barometer of the health of a nation's economy. In the United States, the Bureau of Labor Statistics (BLS) of the U.S. Department of Labor announces early each month the total number of employed and unemployed persons for the previous month, along with many classifications of various components of the collected data. These figures receive wide coverage in the media. The BLS uses an extensive survey process to determine the items reported. The surveyed population includes 60,000 households in the sample, which translates to approximately 110,000 individuals, a large sample compared to public opinion surveys which usually cover fewer than 2,000 people. A person is considered as unemployed if he does not have a job, has actively looked for work in the prior 4 weeks, and is currently available for work. A chart of the unemployment rate in the U.S. for the past decade is shown below: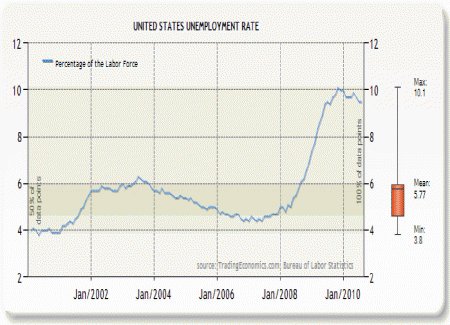 Forextraders' Broker of the Month
ForexTime (FXTM) is an award-winning platform that certainly has the feeling of being set up by people who know what they are doing. The firm demonstrates an understanding of what helps traders make better returns, and its success can be measured by the fact that it's doubled the number of clients it supports in recent years. The fact that the broker has grown to have more than two million accounts suggests it is getting things right for clients.