University of Michigan's Consumer Sentiment Index Definition. University of Michigan's Consumer Sentiment Index is a popular survey for measuring consumer opinions regarding the economy and their optimism or pessimism about the future. The university surveys 500 U.S. households each month. Due to its popularity, the report is issued in as a preliminary version in mid-month and then as a final version at the end of the month. Questions revolve around individuals' attitudes about the U.S. economy and their personal feelings of confidence or lack thereof about future prospects. Consumer sentiment is viewed as a leading indicator for the potential strength of consumer spending, an important statistic since our economy is said to be consumer driven. Consumer spending is at a level that equates to 70% of GDP, although this measure is related to production and not to spending. A graph of this statistic is shown below: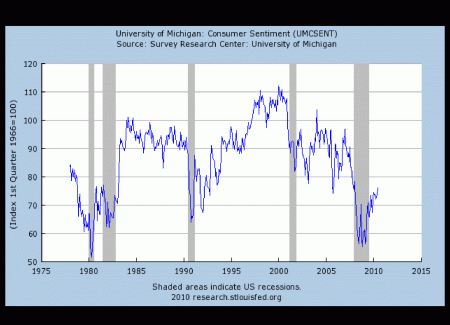 Forextraders' Broker of the Month
ForexTB is generally considered a reliable and reputable firm. It offers a variety of desirable features and attracts traders from all over Europe. The brokerage is fully regulated and licensed by the Cyprus Securities and Exchange Commission (CySEC) and is fully compliant with the European Securities and Markets Authority (ESMA). Customer reviews are usually positive, and independent industry websites that have reviewed ForexTB have concluded that the broker is safe...