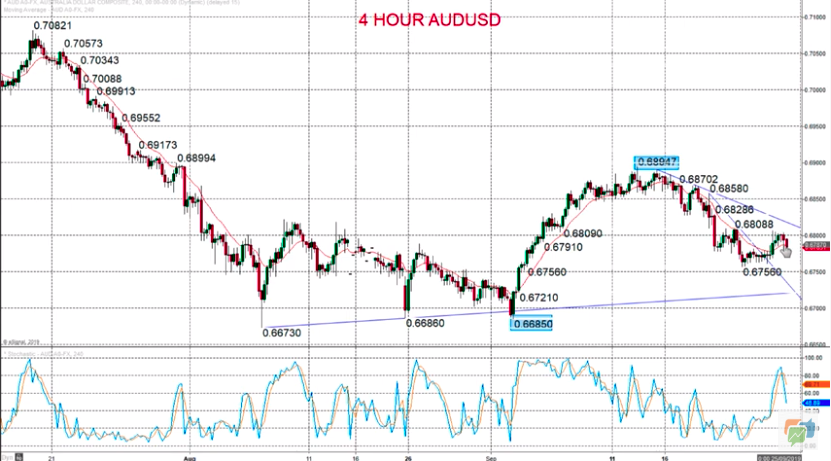 Hi there traders this is Steve Miley for forextraders.com and here we're going to take a look at the very short term day trade. But also the slightly more intermediate term outlooks of the Australian dollar versus the US dollar spot FX rate.
Well, we've had a slight rebound in here to begin this week. But the underlying tone remains negative. The market on this rebound has been capped off by this initial resistance point here at 0.6809 for Aussie dollar verses US dollar and that leaves this negative theme that we've seen from the middle of September very much intact.
This down move that's taken out multiple supports in here, through here, just holding at 0.6756. But this sale was enough for us to shift our bullish, more intermediate term view from this early September rally, back to neutral.
So we now see a broader, more intermediate range at 0.6895 to 0.6685.
But our bias for the very short term coming into today, for Wednesday and beyond into this week is for a more negative theme within that broader range, aiming back at 0.6756 and then potentially down there towards 0.6721 support. Only back above 0.6809 would signal a more positive tone for today.
This has been Steve Miley for forextraders.com.
Don't forget to follow us and like us on YouTube.
I'll speak to you soon and have a great trading day.

Forextraders' Broker of the Month
ForexTB is generally considered a reliable and reputable firm. It offers a variety of desirable features and attracts traders from all over Europe. The brokerage is fully regulated and licensed by the Cyprus Securities and Exchange Commission (CySEC) and is fully compliant with the European Securities and Markets Authority (ESMA). Customer reviews are usually positive, and independent industry websites that have reviewed ForexTB have concluded that the broker is safe...