Over the last few days, the tentative bitcoin price rally of the "crypto spring" has turned into a headlong moon-rush. Sparked against the backdrop of Bitfinex's Tether problems and the BTC 7k Binance hack, the rally has allegedly still not drawn in retail investors. If that is indeed the case, it is a fair ways off from running out of steam.
The question of everyone's mind right now is: how high will this rally pump the bitcoin price?
Given how technical analysis has utterly failed yet again to make any kind of useful predictions, that question is quite impossible to answer on such grounds. The price smashed effortlessly through all the technical analysis-backed major resistance levels, effectively ignoring them.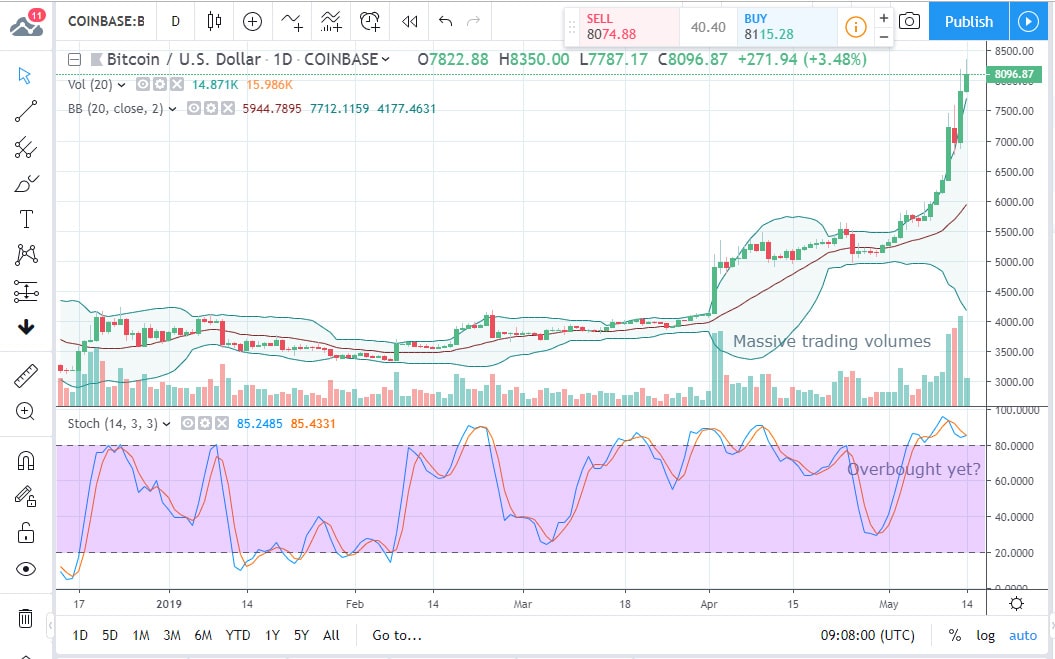 When the fundamentals get crypto prices going, technical factors are apparently left in the dust without mercy.
Looking at the fundamentals: things are not going well for the bears at all and there is no relief in sight for them. The trading volumes are massive and the news encouraging from every direction. These price movements may indeed be nothing more than the birth pangs of the next bull market.
With Fidelity gearing up to launch their bitcoin product any day now, institutional FOMO is just around the corner (if not already in effect). Needless to say, that is an entirely different level of accumulation than anything we have ever seen in the past. It is also likely to suck in an incrementally larger retail segment than last time, for added measure.
Binance re-launched deposits and withdrawals today, letting scores of retail investors finally grab their money and jump into the bitcoin action. That is likely what fuelled today's mini-spike, that landed the price above $8.2k and still keeps pushing it higher.
As if all that weren't enough in addition to the tailwind of the upcoming 2020 halving, all sorts of positive news have been hitting the front pages.
According to some of these news, eBay may be pondering the introduction of cryptocurrencies in its business. Some say it might even accept bitcoin, through a partnership with UTRUST.
This would not mean that eBay would handle bitcoin directly. UTRUST would convert cryptos to fiat and back instantly through its service. The rank-and-file eBay user would not care much about that however. And the move would still usher some 180 million active buyers into crypto.
It is important to note that nothing has been confirmed in this regard yet. Rumors alone are enough however to get the FOMO going in this day and age.
Bakkt has also recently made an announcement, pointing to July as the possible launch date of its own bitcoin futures product. Unlike exiting BTC futures, Bakkt's product will be physically settled.
In still other positive news: Microsoft has announced the launch of its decentralized identity tool called Ion. The tool is being built on the bitcoin blockchain and it deals with the way networks communicate with each other.
Such inter-network communication occurs for instance when a user logs into Airbnb using his Facebook account information. Ion will take care of the decentralized identifiers, delivering proof of data key ownership.
In yet another boost to upcoming mass adoption, Samsung has announced that it was endowing its budget Galaxy smartphones with blockchain wallets, similar to the one supported by its S10 model.
When it rains it pours they say, and that seems to be very true for the crypto news-flow these days. There is so much positivity trumpeted all around the interwebs, one might think there is some sort of concerted effort underway to pump crypto prices. Or course, one should know better than to give thought to such far-fetched conspiracy theories…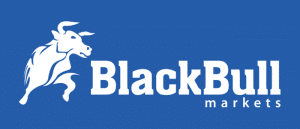 Forextraders' Broker of the Month
BlackBull Markets is a reliable and well-respected trading platform that provides its customers with high-quality access to a wide range of asset groups. The broker is headquartered in New Zealand which explains why it has flown under the radar for a few years but it is a great broker that is now building a global following. The BlackBull Markets site is intuitive and easy to use, making it an ideal choice for beginners.