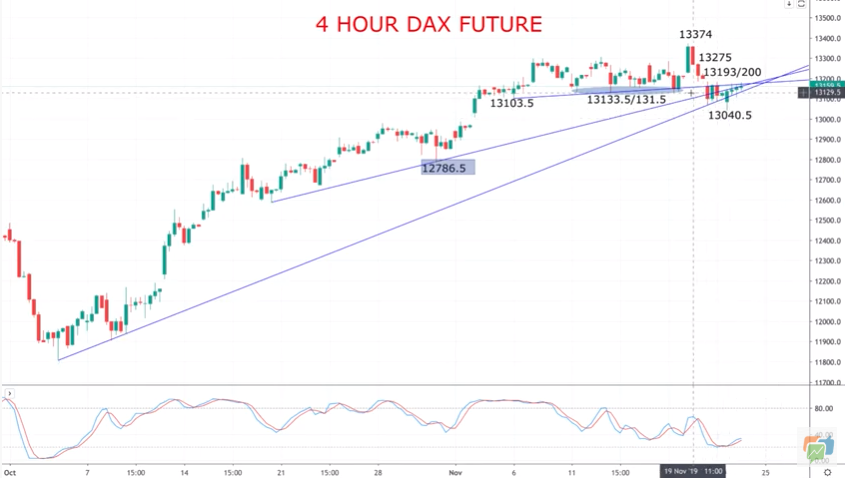 Hi traders this is Steve Miley for forextraders.com and here we're looking at the DAX FUTURE. That's the German stock market Future in here and we're looking at a more negative tone.
The market selling off in here over the last 48 hours or so, taking out some important, various trend line supports in here, going back to the beginning of November. But also going back all the way here, back to early October.
So probing below these trend lines and also this important support around 13130 down to 13103. So taking out those supports and despite a slight rebound in here, late yesterday and overnight, the markets (whilst capped by this 13193/13200 area) certainly displays a more negative tone – a potential toping pattern in here and that leaves risk, we feel, lower going into today. Back to challenge 13040 and then down towards 13000 and even below.
Topside the market really needs to get above 13200 and that can open up risk up to 13275.
This has been Steve Miley, the Market Charters for forextraders.com.
Don't forget to follow our YouTube channel and I'll be back with you soon.
Until then, have a great trading day.

Forextraders' Broker of the Month
ForexTime (FXTM) is an award-winning platform that certainly has the feeling of being set up by people who know what they are doing. The firm demonstrates an understanding of what helps traders make better returns, and its success can be measured by the fact that it's doubled the number of clients it supports in recent years. The fact that the broker has grown to have more than two million accounts suggests it is getting things right for clients.