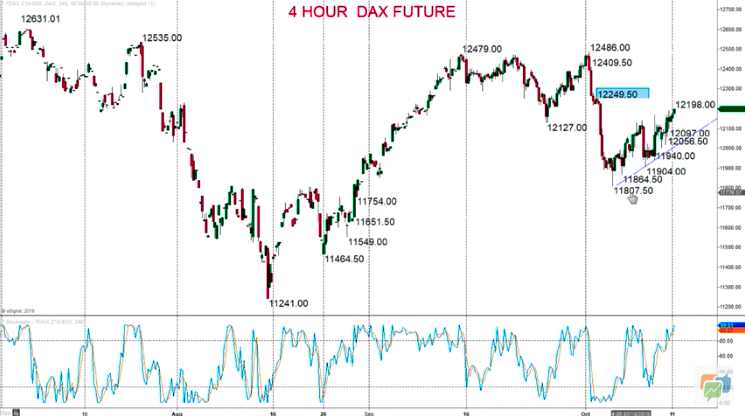 Hi there traders, this is Steve Miley for forextraders.com and we're here looking at the German DAX Future. This is equity Friday.
So we're looking at the German DAX Future in here, the equity index and we're seeing a positive tone in here since the beginning of October.
We had that big sell off at the very beginning of October, down through 12127 which created a top pattern in here, shifted the intermediate term outlook to more bearish. However, a strong recovery in here over the last one to two weeks into the middle of the month in here. More recently, yesterday, another firm advance and already overnight pushing higher and we see real risks to this impulse point here at 12249 and a half and a break above there would shift the intermediate term outlook from negative to positive.
So real risk up through 12198 for 12249.5 and above there we have the next target 12310/315 area. It's only going to be back down through 12097 for today that would shift the outlook to more negative.
So the global trend back towards "risk-on". Hopes around the US-Sino trade deal in here, and trade talks all putting us into that "risk-on" mode seeing equities higher and the German DAX benefiting. A real risk to this important 12249.5 level going into today, Friday.
This has been Steve Miley for forextraders.com.
Please follow us on our YouTube channel and we will be back with you soon.
Have a great trading day.

Forextraders' Broker of the Month
ForexTime (FXTM) is an award-winning platform that certainly has the feeling of being set up by people who know what they are doing. The firm demonstrates an understanding of what helps traders make better returns, and its success can be measured by the fact that it's doubled the number of clients it supports in recent years. The fact that the broker has grown to have more than two million accounts suggests it is getting things right for clients.