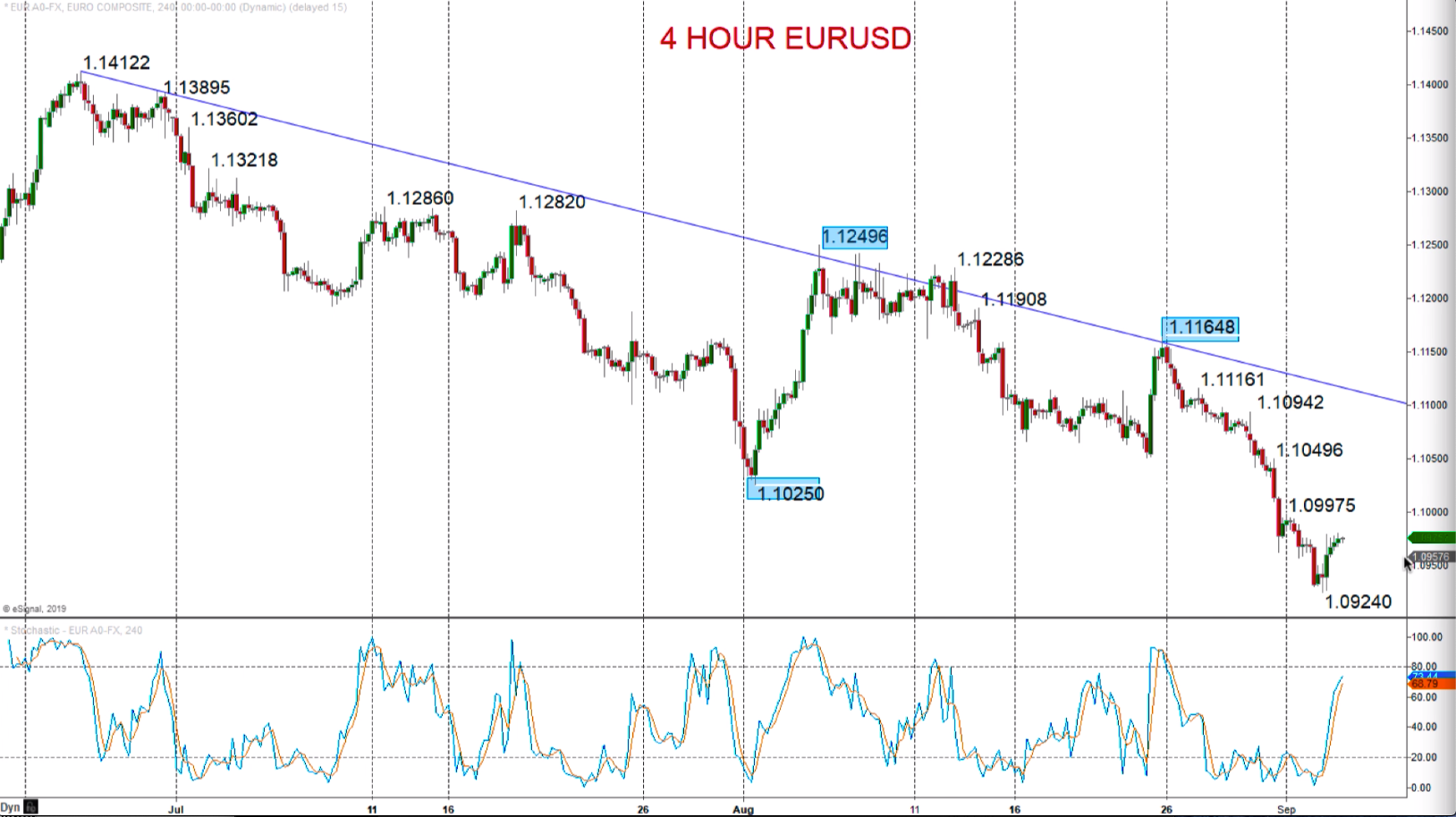 Hi there traders, this is Steve Miley for forextraders.com and we're now looking at Euro vs the US dollar, EURUSD. Well a slight rebound about plunged down in here through late August into early September to a new multi-year low in here, taken out this 1.1025 low but as significantly the psychological level at 1.1000, the market plunging lower at the end of the month and in the beginning of this month in here.
However, had a slight rebound in here over the last 24-hours, now we do see negative pressures very much in tact whilst below this resistance here at 1.0998 and we're looking for negative theme to come back and we're looking for the market to push back down towards the low here at 1.0924 1.0921 and then potentially go lower to deeper supports in the gist either side of 1.0900 around 1.0901 1.0898.
So, we still see a downside threat in here, however, should the market clear back above 1.0998 will signal a small bottoming, bottom small basing pattern in here and that would then open up upside risk closer to 1.1049 1.1050 as we go into today.
A little bit of respite coming in here on the upside from positive Chinese data in here meaning the US dollar is generally across the board weakening across the board in here, the US dollar been seen as a safe haven over recent weeks and that safe haven necessity and being taken away by slightly more positive Chinese PMI service data plus some relief around the Brexit scenario in here with the opposition group taking control of parliament making a no-deal Brexit less likely in here so again a more positive general tone in here so that's allowing a little bit of US dollar weakness to come through in here and we're seeing Euro/Dollar popping higher.
We still see negative theme as I said in here whilst below 1.0998 back from towards 1.0924 1.0921 but should we clear above 1.0998 it would open up upside risks. This has been Steve Miley, the Market Chartist on behalf of forextraders.com and I wish you a great trading day.

Forextraders' Broker of the Month
ForexTB is generally considered a reliable and reputable firm. It offers a variety of desirable features and attracts traders from all over Europe. The brokerage is fully regulated and licensed by the Cyprus Securities and Exchange Commission (CySEC) and is fully compliant with the European Securities and Markets Authority (ESMA). Customer reviews are usually positive, and independent industry websites that have reviewed ForexTB have concluded that the broker is safe...