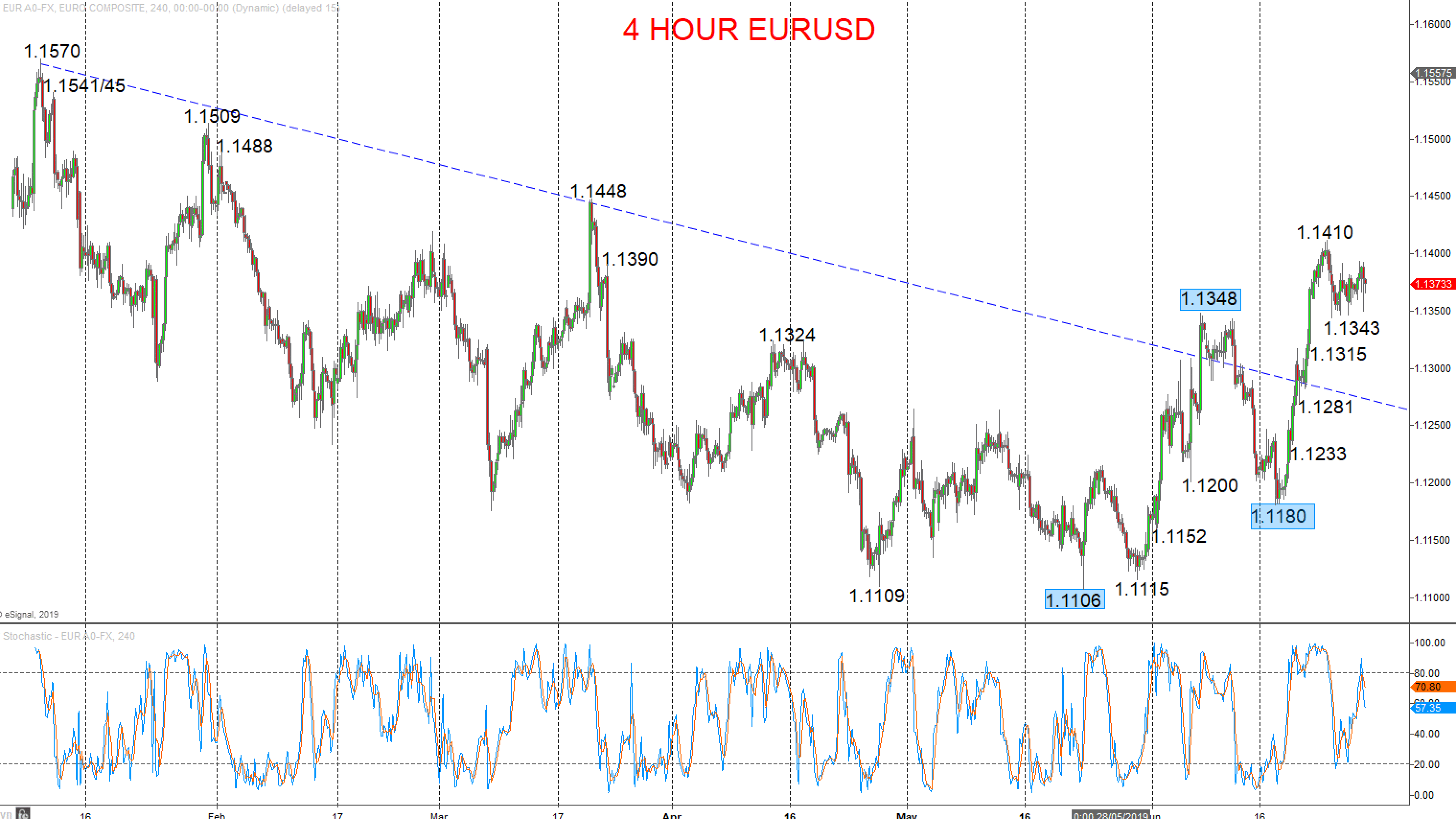 ---
EURUSD has seen a surge above the 1.1348 peak from earlier in June, being helped to the upside by the a still weakened US Dollar from a more dovish Fed.
GBPUSD Has been in a range for latter June, but highlighting a possible basing pattern, but needs upside through 1.2814 for a less negative/ more positive tone. This may be tricky given the ongoing concerns regarding No Deal Brexit.
EURUSD still a positive tone and upside risks
A resilient consolidation tone Friday as seen all last week above support at 1.1343, sustaining upside forces from the earlier June surge and intermediate-term bull shift above 1.1348, to keep risks higher for Monday.
We see an intermediate-term bull trend since the push above 1.1348
For Today:
We see an upside bias for 1.1410; break here aims for the key 1.1448 peak, maybe towards 1.1488.
But below 1.1343 opens risk down to 1.1315.
Intermediate-term Outlook – Upside Risks: We see an upside risk for 1.1448.
Higher targets would be 1.1509 and 1.1570.
What Changes This? Below 1.1180 shifts the intermediate-term outlook back to neutral; through 1106is needed for an intermediate-term bear theme.
4 Hour EURUSD Chart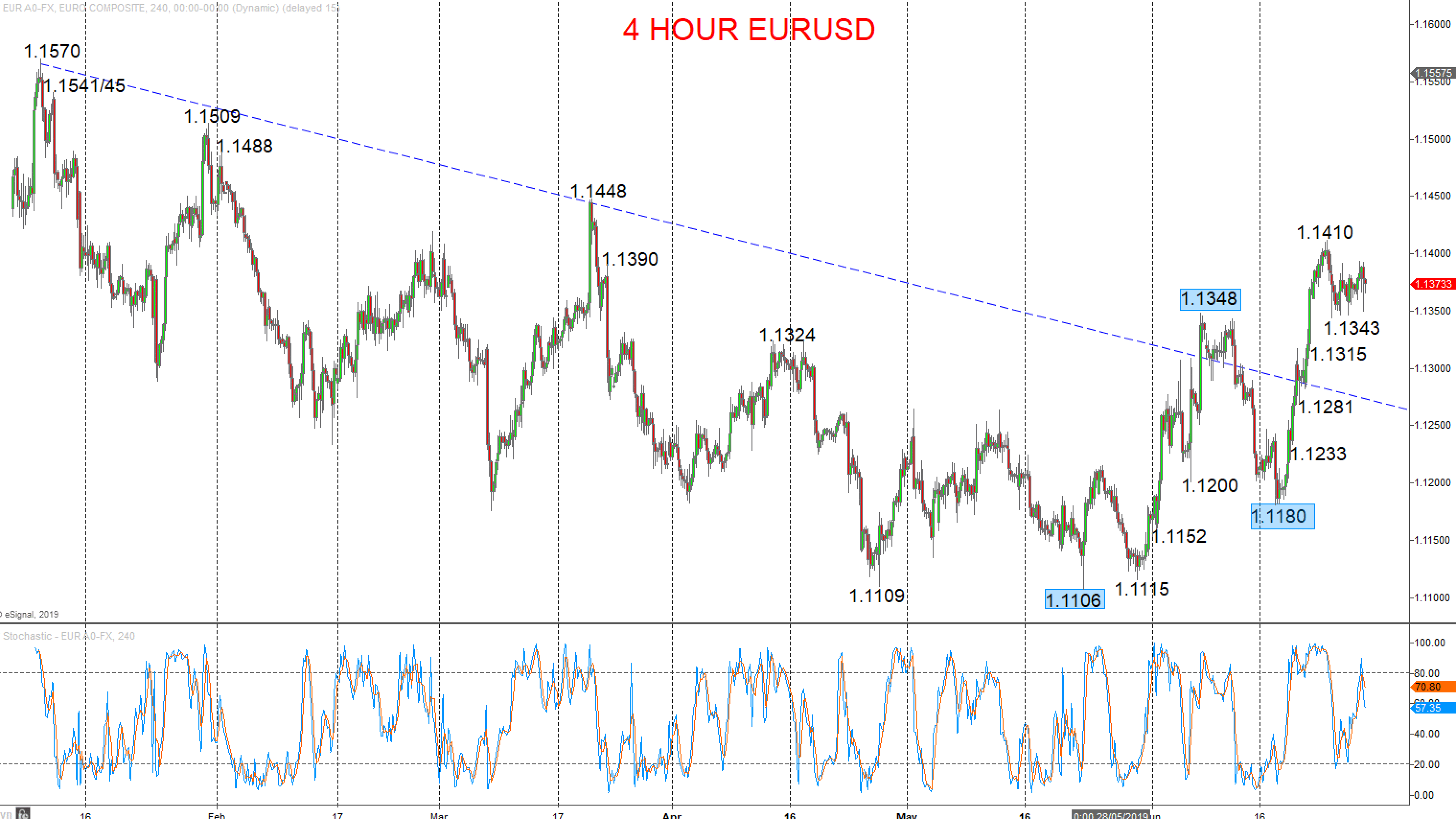 GBPUSD the bias still higher
A rally and a setback Friday but whilst still holding above our 1.2641 support, we hold onto upside pressures from the latter June prod above important 1.2763 resistance AND previously through both the down trend line from early May plus the May-June basing neckline, to keep risks higher into Monday.
The latter April probe below 1.2947 signalled an intermediate-term Double Top pattern and set an intermediate-term bear trend, BUT risk is growing for an intermediate-term shift to neutral above 1.2814.
For Today:                                              
We see an upside bias for 1.2735 and 1.2784; break here aims for key 1.2814, maybe closer to 1.2856.
But below 1.2661 quickly aims for 1.2641 and opens risk down towards 1.2540.
Intermediate-term Outlook – Downside Risks: We see a downside risk for 1.2437.
Lower targets would be 1.2366 and 1.2109
What Changes This? Above 1.2814 shifts the outlook back to neutral; above 1.2916 is needed for a bull theme.
4 Hour GBPUSD Chart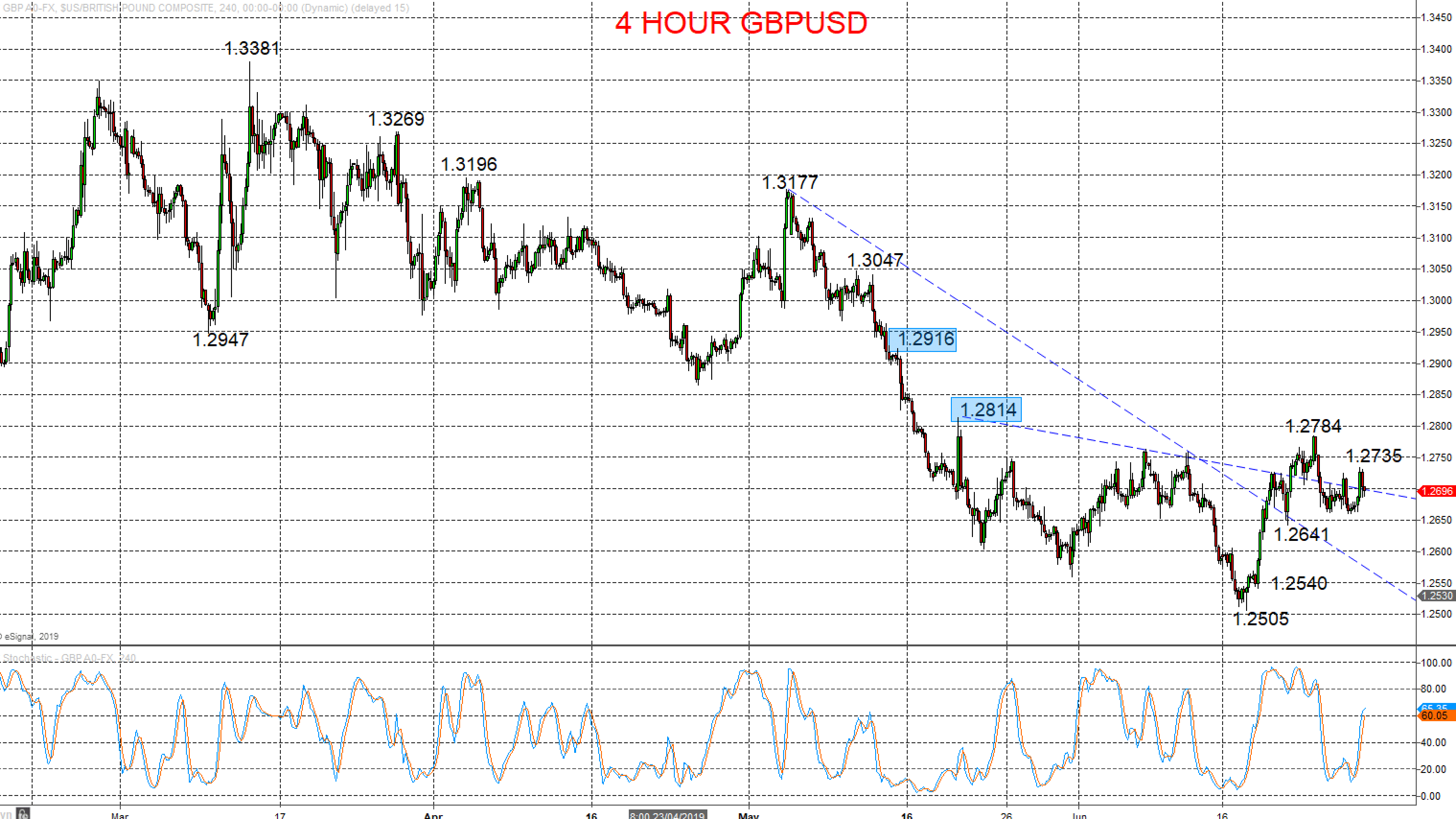 Forextraders' Broker of the Month
ForexTime (FXTM) is an award-winning platform that certainly has the feeling of being set up by people who know what they are doing. The firm demonstrates an understanding of what helps traders make better returns, and its success can be measured by the fact that it's doubled the number of clients it supports in recent years. The fact that the broker has grown to have more than two million accounts suggests it is getting things right for clients.