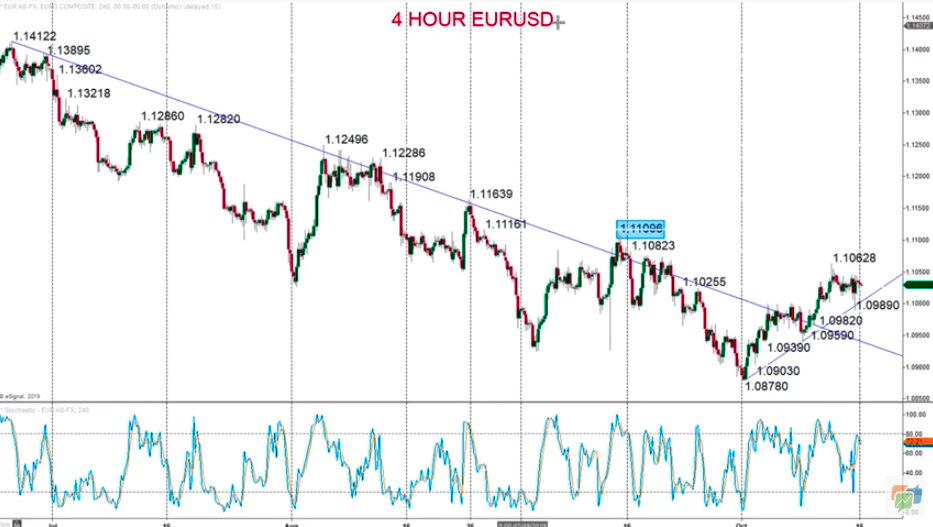 Hi there traders, this is Steve Miley for forextraders.com and we're here looking at the Euro against the US dollar. EURUSD spot FX rate on a short term, day trade outlook.
Well the recovery – a dip and a rebound yesterday – we dipped just below a little support we had in here at 1.1000.
Also, we had the up trend line in here, the market just piercing that up trend-line and rebounding from just below the up trend-line from just below this 1.10 support, but above 1.0982 coming back from 1.089 yesterday for a consolidation phase and still a positive consolidation of this whole October recovery effort that's seen us push up through the down trend-line in here and also through 1.1025/26 resistances here.
So up-side threats very much intact. We're looking for a push back higher towards this 1.1062/63 peak and then maybe up towards 1.1082 with this 1.1109 / 1.1110 level critical on the upside for a more bullish tone going into the second half of October.
So a positive short-term theme and risks for a more positive, bullish intermediate term theme should we get above 1.1110.
On the down side, it's going to take a push back through 1.0989 here to signal a more negative tone for today.
This has been Steve Miley for forextraders.com.
Please do follow us on our YouTube channel and have a great trading day.

Forextraders' Broker of the Month
ForexTB is generally considered a reliable and reputable firm. It offers a variety of desirable features and attracts traders from all over Europe. The brokerage is fully regulated and licensed by the Cyprus Securities and Exchange Commission (CySEC) and is fully compliant with the European Securities and Markets Authority (ESMA). Customer reviews are usually positive, and independent industry websites that have reviewed ForexTB have concluded that the broker is safe...