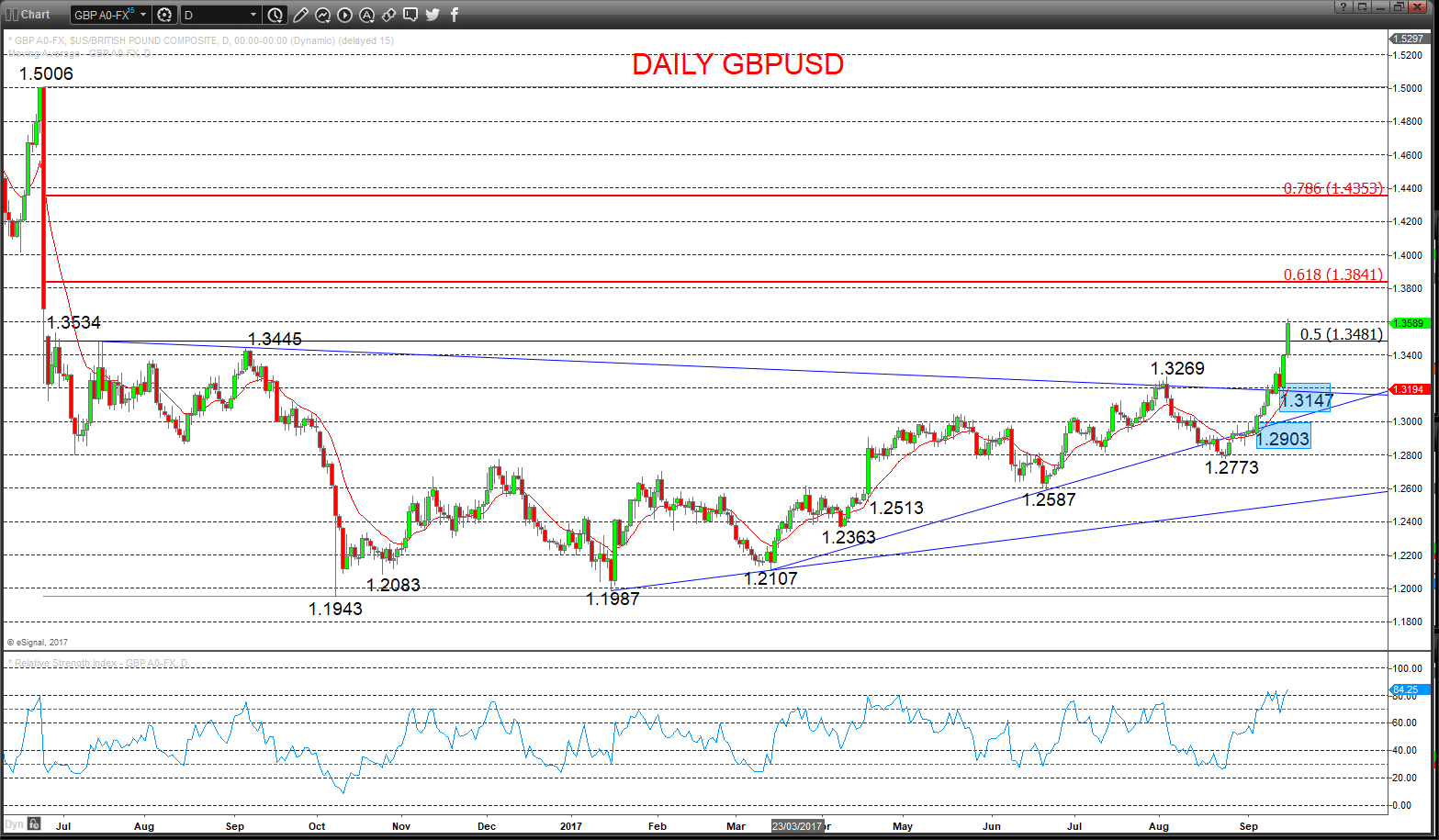 ---
The GB Pound surged after the Thursday 14 September Bank of England meeting, with perception of a more hawkish tone pushing GBPUSD to its highest level post-Brexit.
With GBPUSD already in a bull trend, this more recent activity points for a move potentially towards 1.40 into September/October.
Furthermore, the strength in the GB Pound has weighed on the FTSE 100 future, with a significant sell-off shifting the intermediate term outlook to bearish.
See more technical analysis videos
GBPUSD – Bullish trend further energised
Another extremely aggressive push higher on Friday through key targets at 1.3445, 1.3481, 1.3500 and 1.3534, placing the market as highs level post-Brexit, leaving risk of further gains into Monday.
The September surge through 1.3269 signalled an intermediate-term bullish tone.
For Today:
l We see an upside bias through 1.3617; break here aims for 1.3675 and 1.3727, then the retracement target at 1.3841.
l But below 1.3521 opens risk down to 1.3434, maybe 1.3380.
Intermediate-term Outlook – Upside Risks:
l We see a positive tone with the bullish threat to targets 1.3841 and1 .4000.
What Changes This? Below 1.3147 signals a neutral tone, only shifting negative below 1.2903.
Daily GBPUSD Chart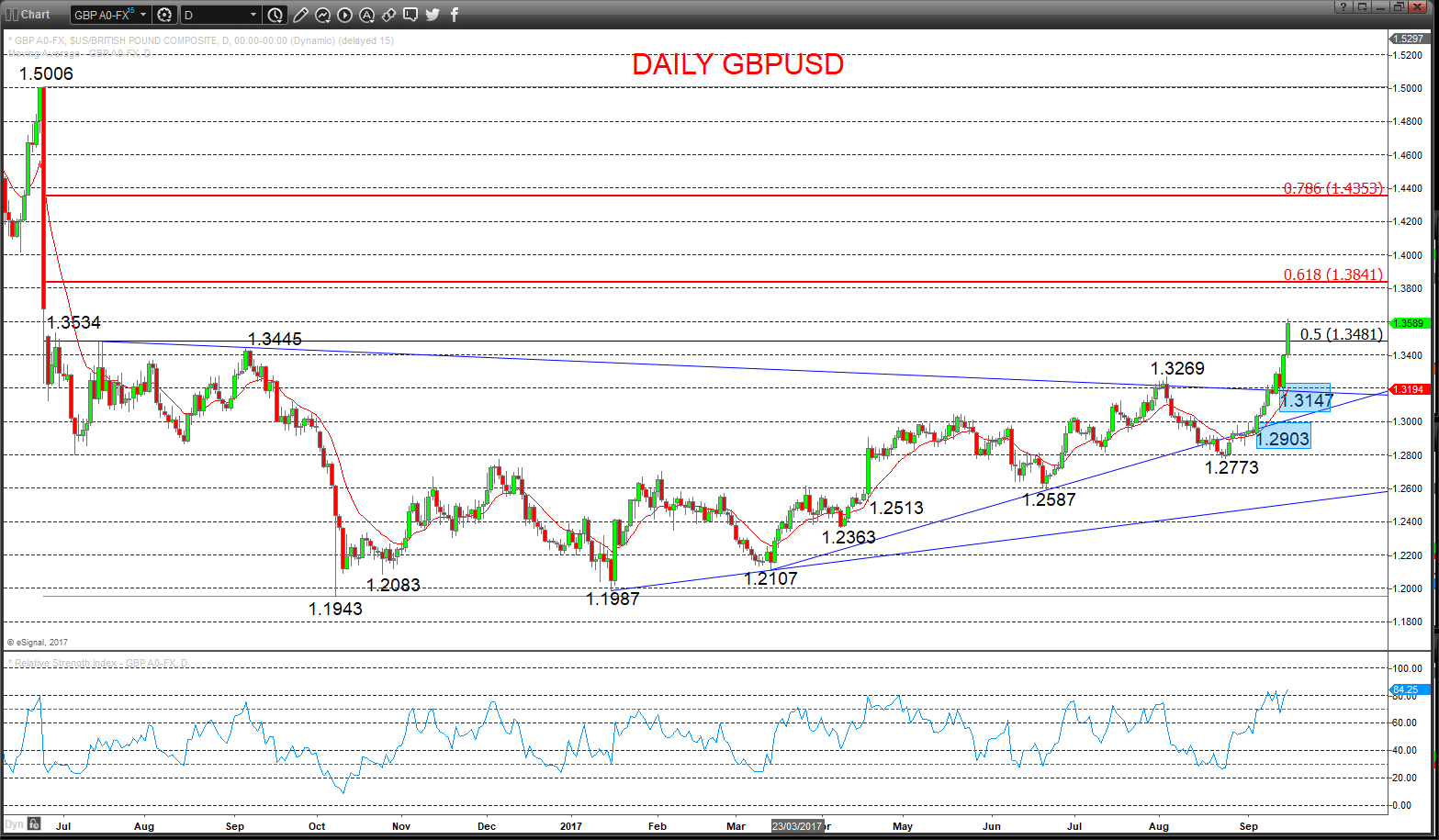 FTSE 100 – Bearish trend reinforced
An aggressive plunge lower Friday as seen from the middle of last week, through the July swing low on the continuation chart at 7192.5, setting a bear theme for September.
Furthermore, the Thursday-Friday aggressive sell-off in the wake of the Bank of England meeting in reaction to the strength in the GB Pound, keeps risk lower for Monday.
For Today:
l We see a downside bias through 7153; break here aims for 7131.5, 7100 and maybe as deep as 7073.5.
l But above 7215.5 opens risk up to 7251.5.
Intermediate-term Outlook – Downside Risks:
l We see a negative tone with the bearish threat to 6931.
l Below here targets 6848.5 and maybe 6638.5.
What Changes This? Above 7396.5 signals a neutral tone, only shifting positive above 7486.5.
Daily FTSE 100 future Chart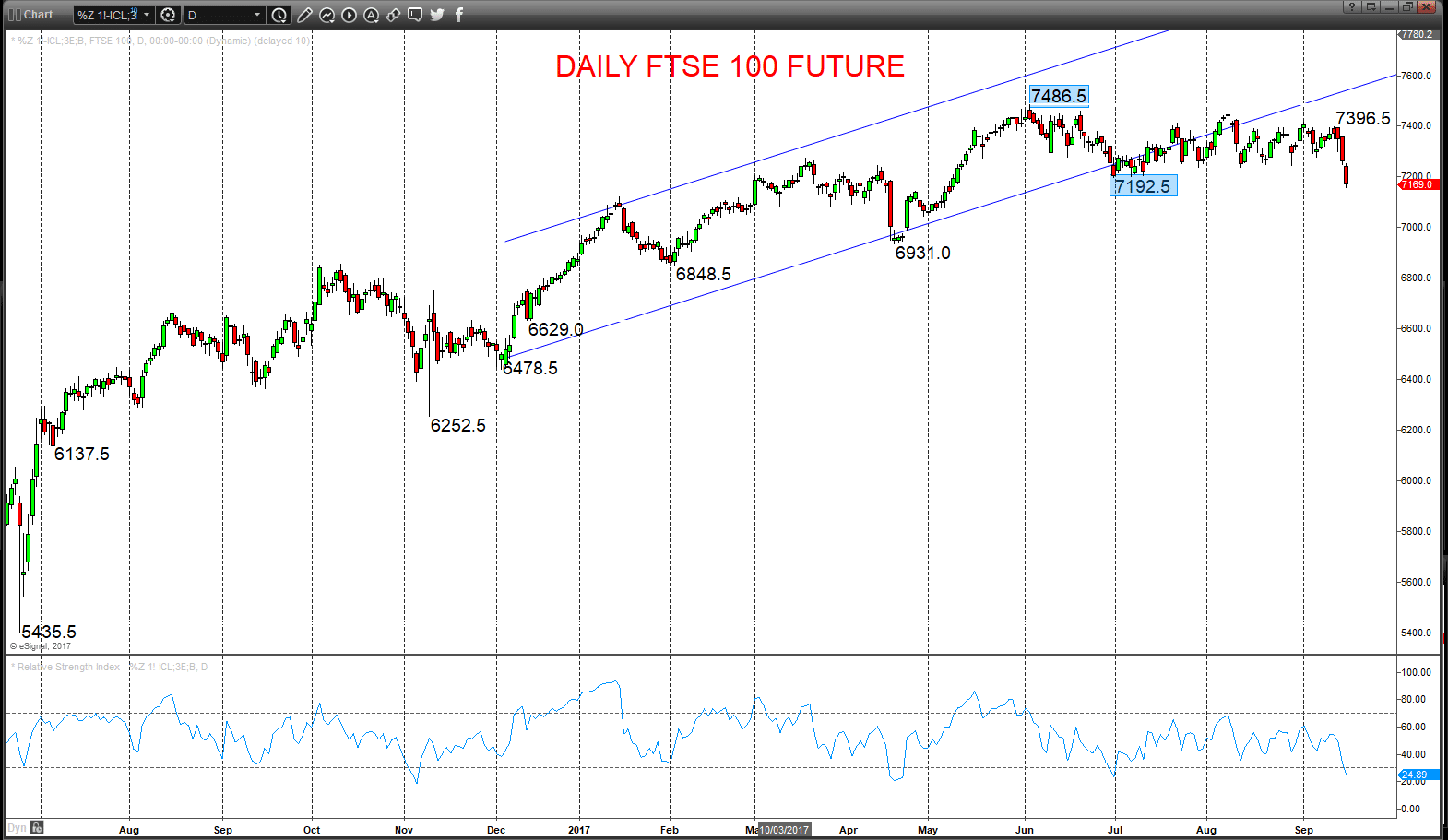 Forextraders' Broker of the Month
ForexTB is generally considered a reliable and reputable firm. It offers a variety of desirable features and attracts traders from all over Europe. The brokerage is fully regulated and licensed by the Cyprus Securities and Exchange Commission (CySEC) and is fully compliant with the European Securities and Markets Authority (ESMA). Customer reviews are usually positive, and independent industry websites that have reviewed ForexTB have concluded that the broker is safe...