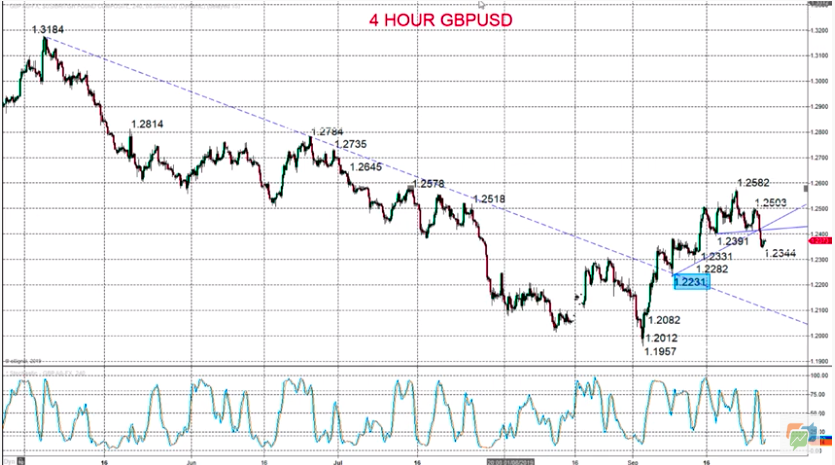 Hi there this is Steve Miley for forextraders.com and we're now taking a look at the Pound against the US dollar cable spot FX rate.
Well, a small head and shoulders topping pattern in here forming – you can see the head and shoulders in here: shoulder, head and shoulder – broke down / accelerated down through the neck line yesterday and also through this tentative up-trend line that comes in here from earlier in September.
All of that signalling a short term topping pattern taking us down to 1.2344, just holding above 1.2331 support. That signals a more negative tone in the very short term and for today we see risks down to those supports of 1.2344 / 1.2331 and potentially as deep as 1.2282.
Critically, down here is the 1.2231 level and should that level surrender we would shift our intermediate term view from bullish to bearish, so that's a real threat on a longer term outlook.
But the short term threat certainly to the downside. The market is going to have to clear back up above 1.2436 in here to start to ease the immediate down side risks for today.
This has been Steve Miley for forextraders.com. Don't forget to follow us and share us on YouTube and we'll be back with you for another report soon.
Have a great trading day.

Forextraders' Broker of the Month
ForexTime (FXTM) is an award-winning platform that certainly has the feeling of being set up by people who know what they are doing. The firm demonstrates an understanding of what helps traders make better returns, and its success can be measured by the fact that it's doubled the number of clients it supports in recent years. The fact that the broker has grown to have more than two million accounts suggests it is getting things right for clients.