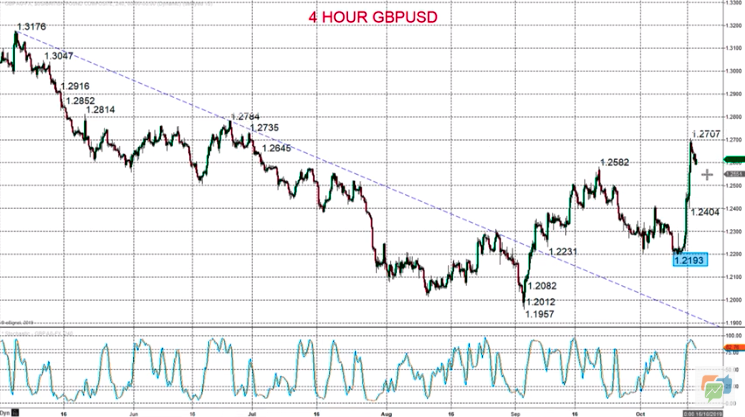 Hi there traders this is Steve Miley for forextraders.com and we're here looking at the pound against the US dollar GBPUSD cable spot FX rate.
Well, a surge Thursday and then again on Friday in here. Optimism over a breakthrough on the Brexit negotiations sending the pound higher. And the dollar is also soft in here anyway – the dollar weakening here as we've gone more back into a "risk-on" scenario anyway, partially to do with those Brexit breakthroughs, but also the US-Sino, the US-Chinese trade talks going well and ending well back on Friday.
So all of that seeing the US dollar weaken pretty much against the board, apart from against the Yen. So the dollar is weaker anyway – not needed so much as a safe haven; being sold in this "risk-on" scenario. And the pound strengthening obviously as we move further away from a threat of a No-Deal Brexit and potential for a deal by the end of October with this breakthrough in the negotiations being sounded from both the UK, Ireland and from within Europe.
So we're seeing this strong rally in here, technically taking out this 1.2582 level and also resistance here at 1.2645 that signals a far better recovery. Short term bullish pressures  very much intact, aiming for 1.2707 and then up maybe to 1.2735/ 1.2784 today. Downside only through 1.2589/88 opens up correction risks lower towards 1.2543/42.
This has been Steve Miley for forextraders.com.
Don't forget to follow us on our YouTube channel and have a great trading day.

Forextraders' Broker of the Month
ForexTB is generally considered a reliable and reputable firm. It offers a variety of desirable features and attracts traders from all over Europe. The brokerage is fully regulated and licensed by the Cyprus Securities and Exchange Commission (CySEC) and is fully compliant with the European Securities and Markets Authority (ESMA). Customer reviews are usually positive, and independent industry websites that have reviewed ForexTB have concluded that the broker is safe...