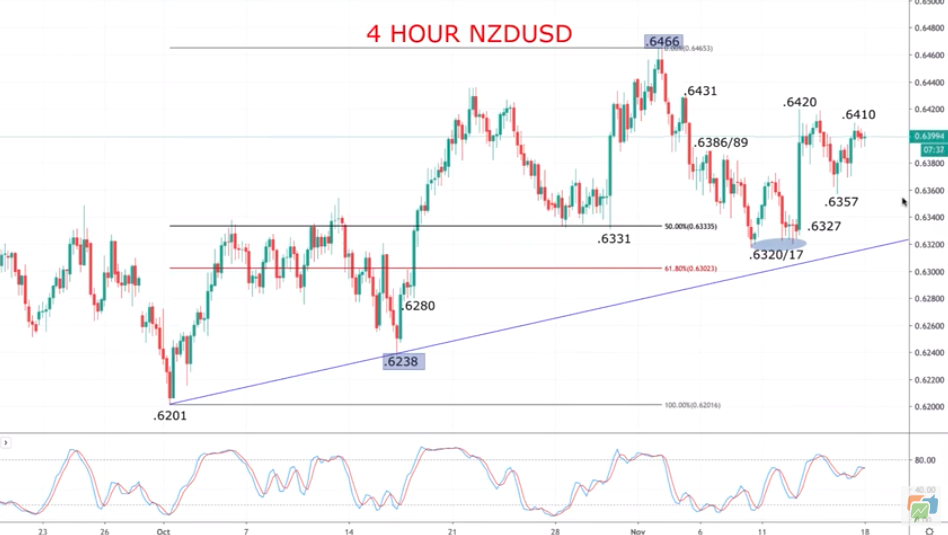 Hi there traders this is Steve Miley for forextraders.com and here we're going to take a Monday look at the New Zealand dollar against the US dollar, NZDUSD, on a day trade outlook going into today; into Monday.
So a positive tone really since we've had this sharp rise higher after the RBNZ, the Reserve Bank of New Zealand didn't cut interest rates – there was an expectation of an interest rate cut. They didn't cut interest rates in here back on the 12th of November, back last week.
And the market had this surging rally up to 0.6420. We did get a dip which kind of then suggested, potentially, [we're] going to correct all of that move. But then a strong rebound into the second half of last week. This strong rebound more driven by a slight bit of US dollar weakness coming through as trade deal hopes in here sees a broader appetite risk and the market rebounding off of 0.66[5]7 above this 0.6327 level from 0.6357 up to 0.6410.
And there's real risk we feel today of a fairly positive start to this week for a challenge up to 0.6410 and 0.6420, maybe as high as this 0.6431 impulse point.
On the downside, only really back through 0.6357 does the theme turn more negative for Monday.
This has been Steve Miley, the market charters, for forextraders.com.
I'm going to wish you a great trading day.
As always, don't forget to follow us on our YouTube channel.

Forextraders' Broker of the Month
ForexTime (FXTM) is an award-winning platform that certainly has the feeling of being set up by people who know what they are doing. The firm demonstrates an understanding of what helps traders make better returns, and its success can be measured by the fact that it's doubled the number of clients it supports in recent years. The fact that the broker has grown to have more than two million accounts suggests it is getting things right for clients.