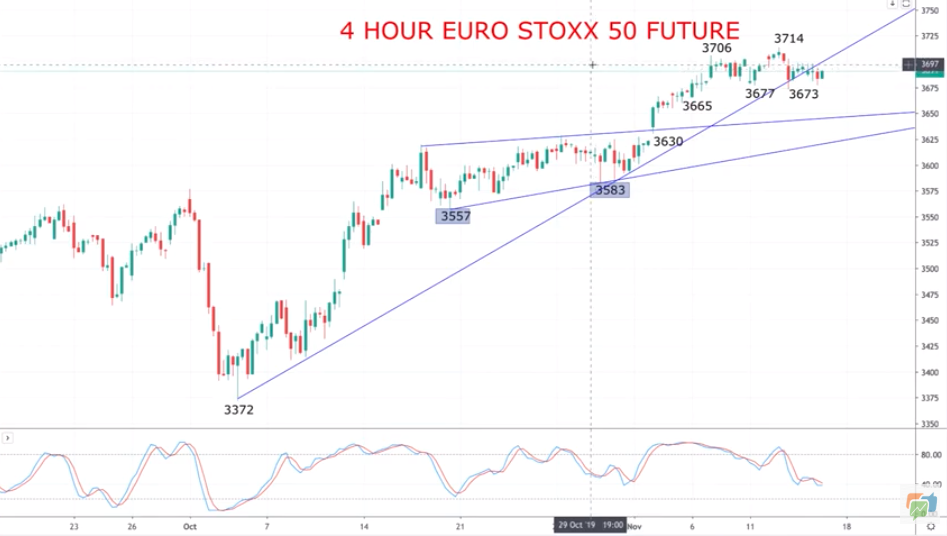 Hi traders this is Steve Miley or forextraders.com and here we're looking at the EURO STOXX 50 FUTURE. This is the Pan-European equity index in here; the top 50 stocks in the Euro-zone and the market [is] showing resilience in here going in to Friday, holding in this 3677/73 area on a number of occasions now above important support of 3665.
It's flirting with this trend line that comes up all the way from the beginning of October in here, but not really reversing aggressively down through that trend line.
And we see all the risks with an overnight rebound here, aiming back up for 3714 and maybe higher targets above 3725 going into today.
Only really back down through the 3690 area opening up to risks down to 3673 and 3665 today, but our tone is certainly positive into today and looking for new, potential new cycle highs above 3714 as we go through the session.
This has been Steve Miley, the market charters for forextraders.com and I wish you a great trading day.

Forextraders' Broker of the Month
ForexTB is generally considered a reliable and reputable firm. It offers a variety of desirable features and attracts traders from all over Europe. The brokerage is fully regulated and licensed by the Cyprus Securities and Exchange Commission (CySEC) and is fully compliant with the European Securities and Markets Authority (ESMA). Customer reviews are usually positive, and independent industry websites that have reviewed ForexTB have concluded that the broker is safe...