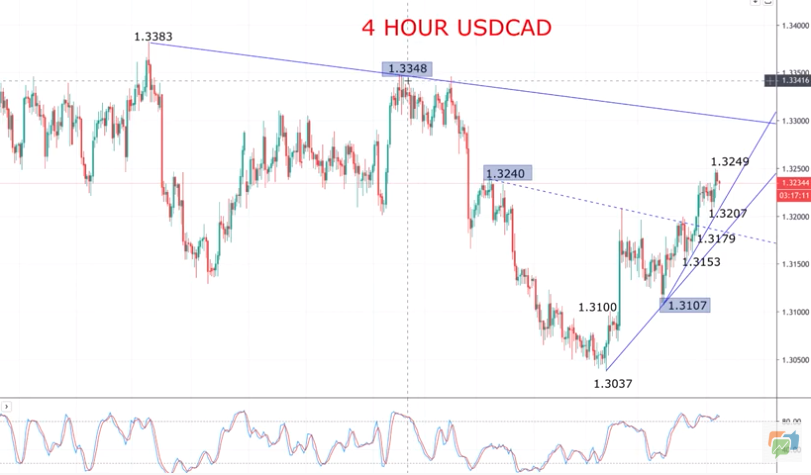 Hi traders, this is Steve Miley for forextraders.com and here we're looking at the US dollar verses the Canadian dollar; the USDCAD spot FX rate on a day trade outlook.
Well the most important development really, overnight in here, has been this consolidation that we saw at the end of last week and the beginning of this week just bellow this critical 1.3240 level, and then this spike higher up through that level over night in here, late yesterday overnight to signal a more positive tone on an intermediate term basis.
Previously the intermediate term outlook was bearish from this downtrend. The push through here now signals a better basing structure, a better recovery theme.
The broader intermediate term outlook is now, as a ranged theme, between 1.3348 and 1.3107. But in the context of that, certainly a short term day trade – maybe a one to two day trade outlook – for a still more positive tone. There's an important break above that level having been hesitant just below that level at the end of last week.
So that sets up a more positive tone and aims the market higher for today. We're looking for a push up to 1.3249 and then maybe higher targets closer to 1.3300.
On the downside it's only a surrender of 1.3207 that will see a shift today to a slightly more negative tone.
This has been Steve Miley for forextraders.com.
Please don't forget to follow our YourTube channel and we'll be back with you soon.
Until then have a great trading day.

Forextraders' Broker of the Month
ForexTime (FXTM) is an award-winning platform that certainly has the feeling of being set up by people who know what they are doing. The firm demonstrates an understanding of what helps traders make better returns, and its success can be measured by the fact that it's doubled the number of clients it supports in recent years. The fact that the broker has grown to have more than two million accounts suggests it is getting things right for clients.