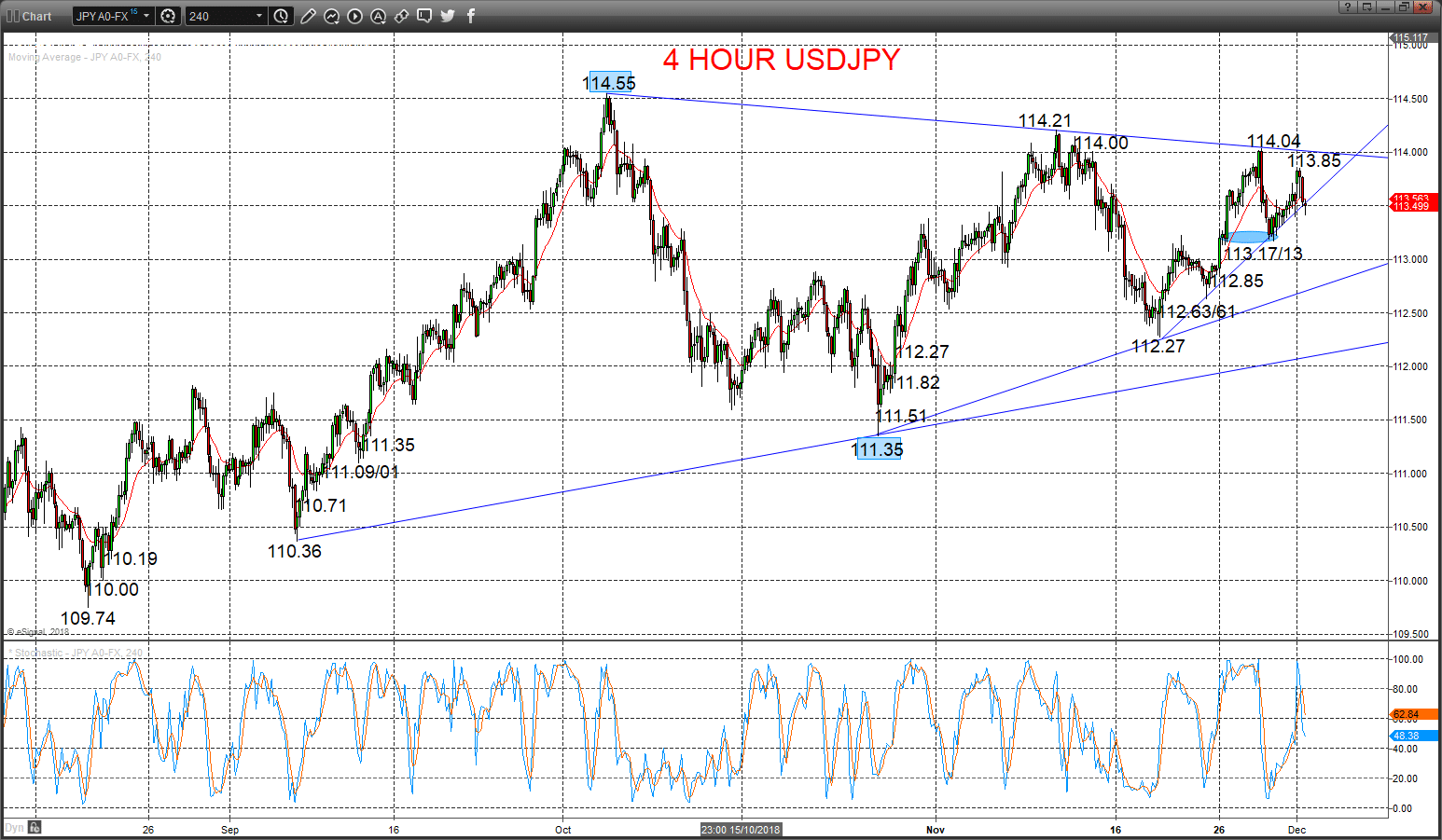 ---
In our 21st November report here we highlighted a bullish tone for USDCAD and a range theme for USDJPY.
The USDCAD forex rate has continued to push erratically higher, still building on the prior advance through 1.3228, a key resistance at, reinforcing the intermediate-term upside threat.
Again, the USDCAD advance has been assisted by a plunging Oil price (with Canada a net exporter of Oil).
The USDJPY currency rate has remained within an intermediate-term range, but we see emerging risks for a more bullish shift, but only signalled by a break above 1.1455.
USDCAD
Holding onto an upside bias
A setback Friday and again this morning through the up trend line from early October, but whilst holding above the 1.3184/77 support platform we hold onto upside forces, to keep risks higher Monday.
The early November probe above 1.3226 set an intermediate-term bull tone.
For Today:
We see an upside bias for 1.3268; break here aims for 1.3300, maybe towards 1.3333.
But below 1.3184/77 quickly opens risk down to 1.3151, maybe towards key 1.3123.
 Intermediate-term Outlook – Upside Risks: We see an upside risk for 1.3386.
Higher targets would be 1.3500, 1.3777 and 1.4000/17.
What Changes This? Below 1.3123 shifts the outlook back to neutral and the quickly through 1.2966 sees a bear theme.
Resistance and Support:
| | | | | |
| --- | --- | --- | --- | --- |
| 1.3333 | 1.3360 | 1.3382/86** | 1.3424 | 1.3471 |
| 1.3235* | 1.3184/77** | 1.3151* | 1.3123** | 1.3084* |
4 Hour Chart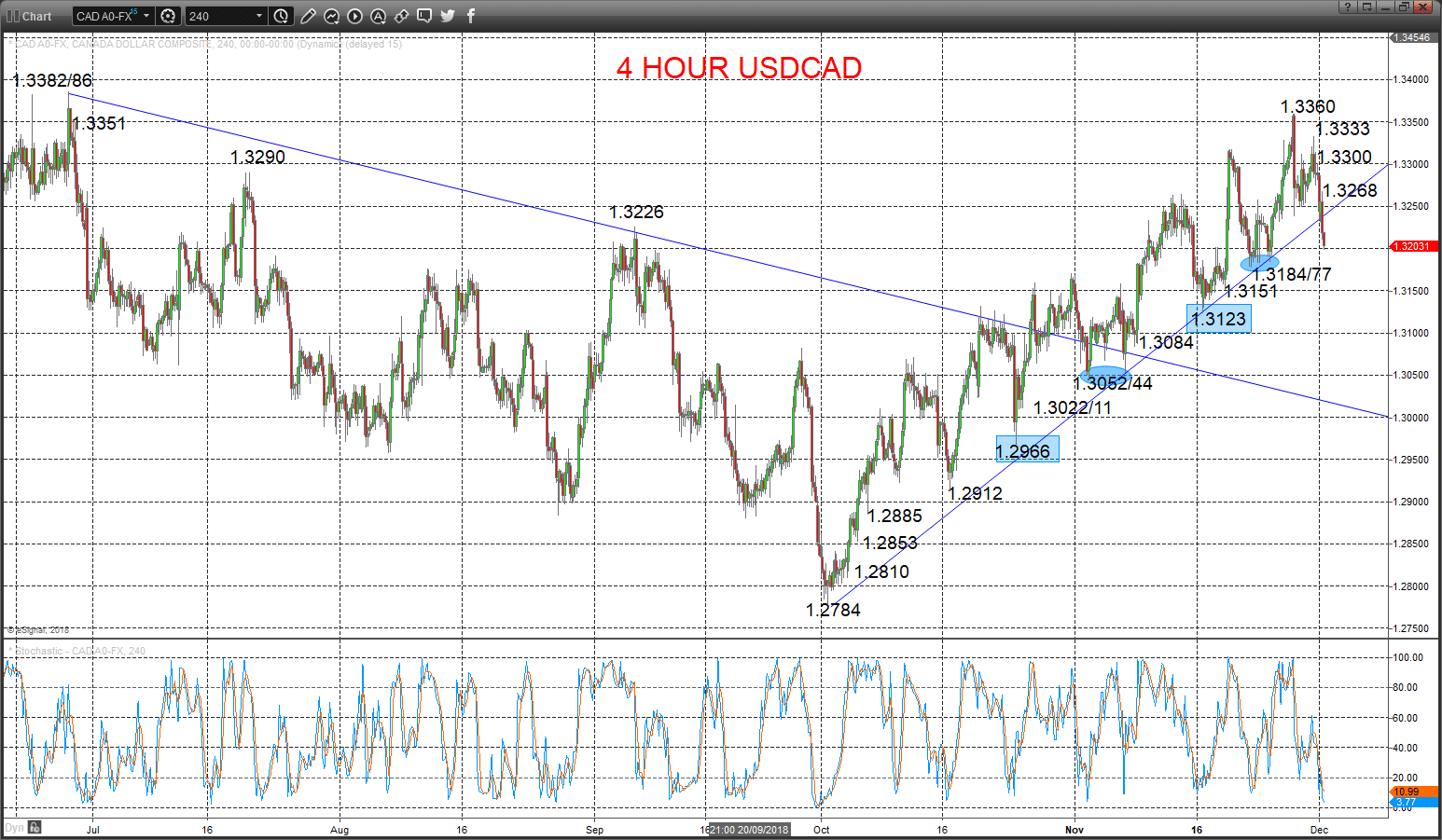 USDJPY
Still holding onto an upside bias
A positive consolidation Friday to prod at 113.69 resistance (to 113.72) after Thursday's dip and rebound from above the 113.13 level (from 113.17), holding onto upside forces from Wednesday's push up just through 114.00 resistance (before the selloff after Fed Powell's speech), and despite a rally and setback already early Monday to  keep the bias higher into Monday.
The late October push above 112.89 set an intermediate-term range theme defined as 111.35 to 114.55, BUT with risk now growing for an intermediate-term bullish shift above 114.55
For Today:
We see an upside bias for 113.85; break here aims for 114.04 and 114.21.
But below 113.17/13 aims for 112.85, maybe down to 112.63/61.
Intermediate-term Range Breakout Parameters: Range seen as 111.35 to 114.55.
Upside Risks: Above 114.55 sets a bull trend to aim for 115.50/63, 118.65 and 120.00.
Downside Risks: Below 111.35 sees a bear trend to target 110.36 and 109.74.
back to neutral; above 114.55 is needed for a bull theme.
Resistance and Support:
| | | | | |
| --- | --- | --- | --- | --- |
| 113.85 | 114.04* | 114.21** | 114.55*** | 114.78 |
| 113.17/13* | 112.85 | 112.63/61* | 112.27** | 111.82 |
4 Hour Chart