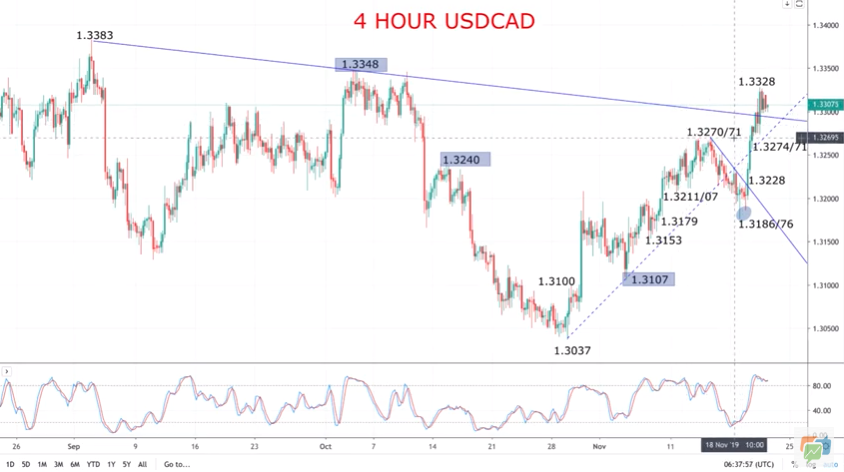 Hi there, this is Steve Miley for forextraders.com and here we're looking at the US dollar verses Canadian dollar spot FX rate.
Well a surge higher in here earlier this week and a reinforcement of that push higher, having taken out this 1.3270/71 resistance in here, reinforcing that with a break above this kind of a tentative trend line, a consolidation trend line in here.
And that's overall reinforcing the previous push that we had coming up to 1.3270/71, up through this 1.3240 level, which then set up this broader range 1.3348 to 1.3107.
But this impulsive move over the last few days in here really setting risk now for a challenge to this key 1.3348 peak from the beginning of October.
…and should we get up through there, upside targets in here at the moment – 1.3328 and 1.3348 – through here would see an intermediate term bullish shift. So certainly a far more positive tone in both the short term and potentially intermediate term outlook, if we take out this level.
So, upside risks very much intact. Only really down through this support area here at 1.3274/71 shifts the theme to slightly more negative for today.
This has been Steve Miley for forextraders.com.
Please do follow us on YouTube and we'll be back with you soon.
Until then have a great trading day.

Forextraders' Broker of the Month
ForexTB is generally considered a reliable and reputable firm. It offers a variety of desirable features and attracts traders from all over Europe. The brokerage is fully regulated and licensed by the Cyprus Securities and Exchange Commission (CySEC) and is fully compliant with the European Securities and Markets Authority (ESMA). Customer reviews are usually positive, and independent industry websites that have reviewed ForexTB have concluded that the broker is safe...