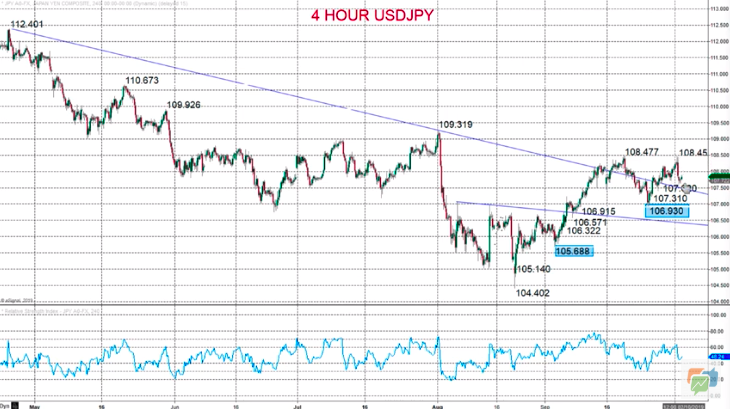 Hi there traders, this is Steve Miley for forextraders.com and here we're looking at the US dollar versus the Japanese Yen in here. The US dollar against the Japanese Yen and we're seeing a more negative tone on the short term outlook.
We've had this push higher but then a failure just from below the mid-September high here of 108.47/48 back down yesterday from 108.45, so an initial positive tone. But then this sell off that took us down through this 107.62 support – just a nudge down to 107.60 and that leaves a more negative tone in the very short term and leads to risks to the downside.
This is because we're going into a more of a "risk-off" scenario: global markets in here, equity markets setting back yesterday. Disappointing US data in here helping the US dollar lower, helping the global risk situation to appear more negative and with all the geo-political tensions that we have on-going in here at the moment the threat remains lower in here for USDJPY. So the Yen strengthening here as a safe-haven currency.
Downside risks for 107.60 to 107.31. Critical level is going to be 106.93 – it's going to take a push back above 108.04 today to have a more positive tone, but we're going look for this 108.45 to 108.48 area to try to cap.
This has been Steve Miley for forextraders.com.
Don't forget to like and follow us on our YouTube channel, and I wish you a great trading day.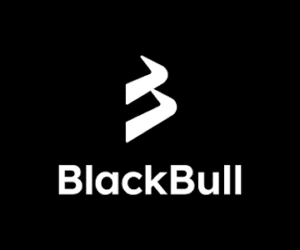 Forextraders' Broker of the Month
BlackBull Markets is a reliable and well-respected trading platform that provides its customers with high-quality access to a wide range of asset groups. The broker is headquartered in New Zealand which explains why it has flown under the radar for a few years but it is a great broker that is now building a global following. The BlackBull Markets site is intuitive and easy to use, making it an ideal choice for beginners.