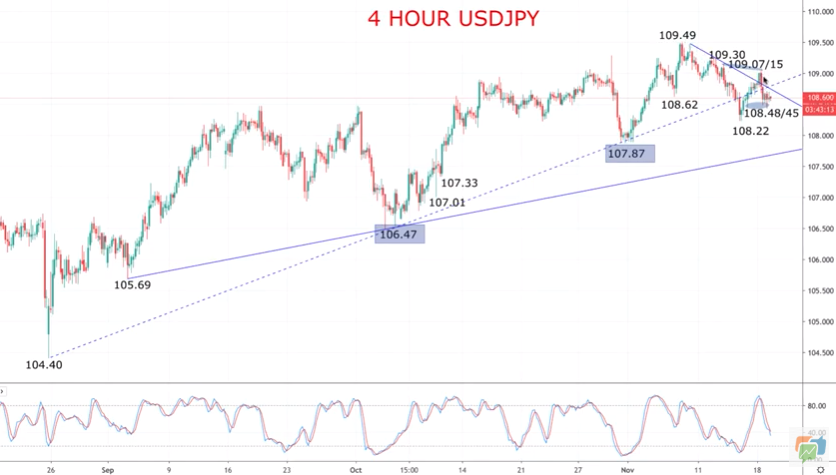 Hi traders this is Steve Miley for forextraders.com and here we're looking at the US dollar against the Japanese Yen spot FX rate on a short term day trade outlook in here.
Well the market had a push higher yesterday, up through this little down trend line and then through minor resistance in the 108.85 area, but then a subsequent dip back lower. But holding above this 108.45 level in here, rebounding from 108.48 and whilst above this 108.48/45 area we're looking for a push back higher, back towards the 109 big figure in here, up towards 109.07/15 peaks. Maybe as high as 109.30.
Should 108.48/45 surrender however it would then renew this kind of negative theme that we've seen in here over the past week or so and then would open up risks to 108.22 but we don't see a threat at the moment down to this key 107.87 level.
So, still holding on to a positive tone from yesterday's up-move up towards 109.07, but should 108.48/45 surrender, then a slightly more negative shift going into today.
This has been Steve Miley for forextraders.com.
Don't forget to follow our YouTube channel and I'll be back with you soon.
Until then, have a great trading day.

Forextraders' Broker of the Month
ForexTime (FXTM) is an award-winning platform that certainly has the feeling of being set up by people who know what they are doing. The firm demonstrates an understanding of what helps traders make better returns, and its success can be measured by the fact that it's doubled the number of clients it supports in recent years. The fact that the broker has grown to have more than two million accounts suggests it is getting things right for clients.