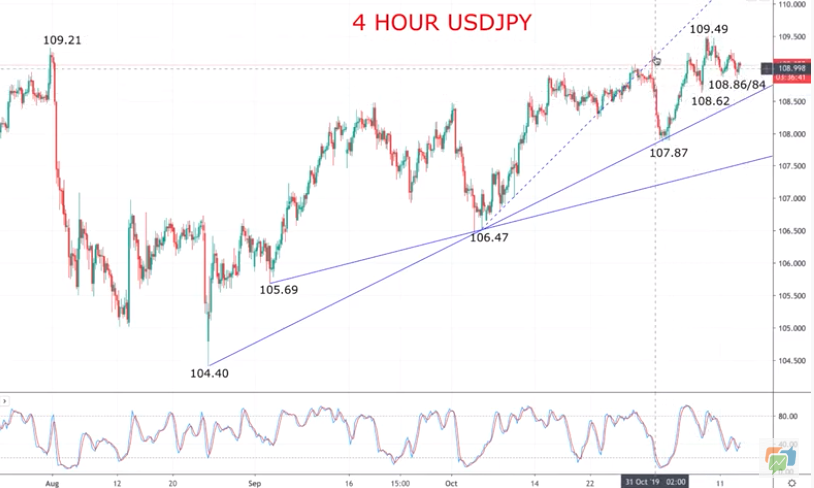 Hi there this is Steve Miley for forextraders.com and here we're looking at the US dollar, Japanese yen spot FX rate.
There's still an underlying positive tone in here for USDYEN and the market just has been dipping lower in here, but holding at this 108.86/84 area over the last couple of sessions in here, showing a resilient tone, holding significantly above 108.62 and also this trend line support.
So all of that leads us to keep our short and intermediate term positive views in here. We see real upside risks to test to really this 109.49 high with the market originally spiking above this key 109.21 level and then a better push above that 109.49 up to 109.49 last week.
So the underlying theme in here still very positive whilst holding 108.86/84 and we're looking for a retest to 109.49 and potentially higher targets towards 110 over the next 24 hours.
Surrender of 108.86/84 quickly aims for 108.62 and potentially a deeper correction towards 107.87, but for now the outlook remains positive.
This has been Steve Miley for forextraders.com.
Don't forget to follow our YouTube channel and I'll be back with you soon.
Until then have a great trading day.

Forextraders' Broker of the Month
ForexTB is generally considered a reliable and reputable firm. It offers a variety of desirable features and attracts traders from all over Europe. The brokerage is fully regulated and licensed by the Cyprus Securities and Exchange Commission (CySEC) and is fully compliant with the European Securities and Markets Authority (ESMA). Customer reviews are usually positive, and independent industry websites that have reviewed ForexTB have concluded that the broker is safe...