Currencies come in pairs, like the Euro versus the U.S. Dollar, or "EUR/USD". It may surprise you, but currencies have no "intrinsic value", as with stocks. Their value is "relative" to each other and the economies of the respective countries that stand behind them. The first currency listed is always known as the "Base" currency, and the second one, as the "Counter" currency. A quote of "1.3000" would mean that one Euro would buy 1.30 Dollars. If the rate goes up, the Euro is said to be strengthening.
Forex markets are of two types – trending or ranging. A Trending Market is one where prices are moving in a single direction, either up or down, but not sideways. A Ranging Market is a market where the price is moving back and forth between a higher price and a lower price. It is commonly referred to as range bound, choppy, sideways or flat market. The chart below illustrates both types: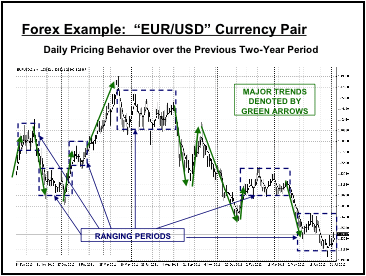 Notice that the pricing always moves in a jig-jag, almost wave-like, fashion, not a straight line. These vibrations are what provide the opportunity for trading gains. The prices depicted here are on a daily basis, but the timeframe can be adjusted. Over this two-year period, there were nine trending movements, accompanied by six ranging periods, but ranging periods occupied roughly 70% of the time. Trends are infrequent, but when they happen, your opportunity for a more than favorable gain is much greater.
More Free Forex Lessons
subscribe to get a FREE BONUS LESSON, plus course updates, trade ideas and market news - straight to your inbox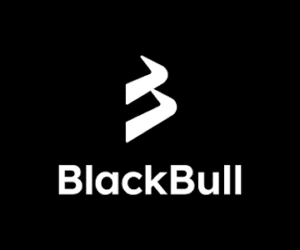 Forextraders' Broker of the Month
BlackBull Markets is a reliable and well-respected trading platform that provides its customers with high-quality access to a wide range of asset groups. The broker is headquartered in New Zealand which explains why it has flown under the radar for a few years but it is a great broker that is now building a global following. The BlackBull Markets site is intuitive and easy to use, making it an ideal choice for beginners.