---
A shift in tone from various members of the FOMC since late February has produced a more positive tone for the US Dollar into early March. For AUDUSD and NZDUSD, this has meant significant setbacks, with risk of potentially bearish themes emerging into and through mid-March (particularly for NZDUSD).
For AUDUSD, a more bullish tone has been rejected with the setback from ahead of .7778, but this simply leaves a negative tone within a broader range environment.
In the case of NZDUSD, however, not only has a more bullish tone been rejected with the sell-off from ahead of .7403 resistance, but growing threat is for a more bearish tone below .6867 support into mid-month.
AUDUSD
A minor rebound Friday, but modest resistance at .7570 has remained intact, leaving risk still lower into Monday, from the sell-off from late February.
Furthermore, the short-term threat into mid-March has eased for a push above .7778, which would see an intermediate-term bullish shift.
For Today:
We see downside to aim at .7487; through here targets .7461 and .7425.
But above .7570 opens risk up to .7628/33.
Short/ Intermediate-term Range Parameters: We see the range defined by .7155 and .7778.
Range Breakout Challenge
Upside: Above .7778 aims higher for .7835/49/78 and .80000.
Downside: Below .7155 sees risk lower for .7141, .7106, .6971 and maybe .6825.
Daily AUDUSD Charts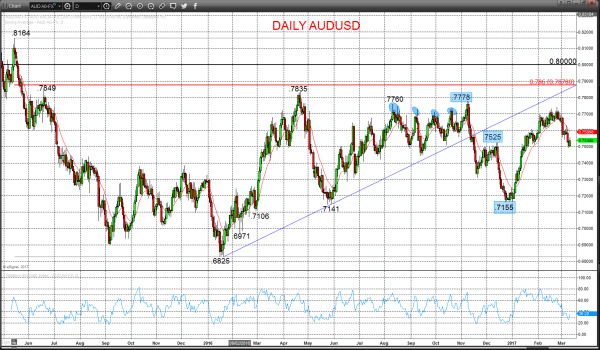 NZDUSD
A modest rebound on Friday (just above .6935 resistance), but the somewhat lacklustre bounce maintains negative pressures from the whole sell-off seen in early March, setting risk lower again for Monday.
Moreover, we see growing risk of an intermediate-term bearish shift below .6867.
For Today:
We see a downside bias through .6886/81; through here aims for the key .6867 level, maybe down to .6800.
But above .6948 opens risk up to .6978, maybe towards .7047.
Short/ Intermediate-term Range Parameters: We see the range defined by .7403 and .6867.
Range Breakout Challenge
Upside: Above .7403 aims higher for .7485, .7564 and .7744.
Downside: Below .6867 sees risk lower for .6800, .6676/64, .6572/41 and maybe as deep as .6343.
Daily NZDUSD Charts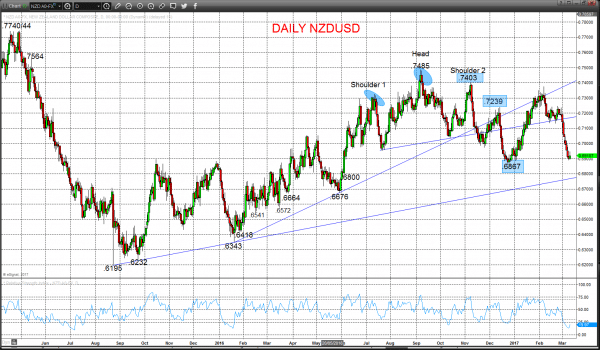 Forextraders' Broker of the Month
ForexTime (FXTM) is an award-winning platform that certainly has the feeling of being set up by people who know what they are doing. The firm demonstrates an understanding of what helps traders make better returns, and its success can be measured by the fact that it's doubled the number of clients it supports in recent years. The fact that the broker has grown to have more than two million accounts suggests it is getting things right for clients.