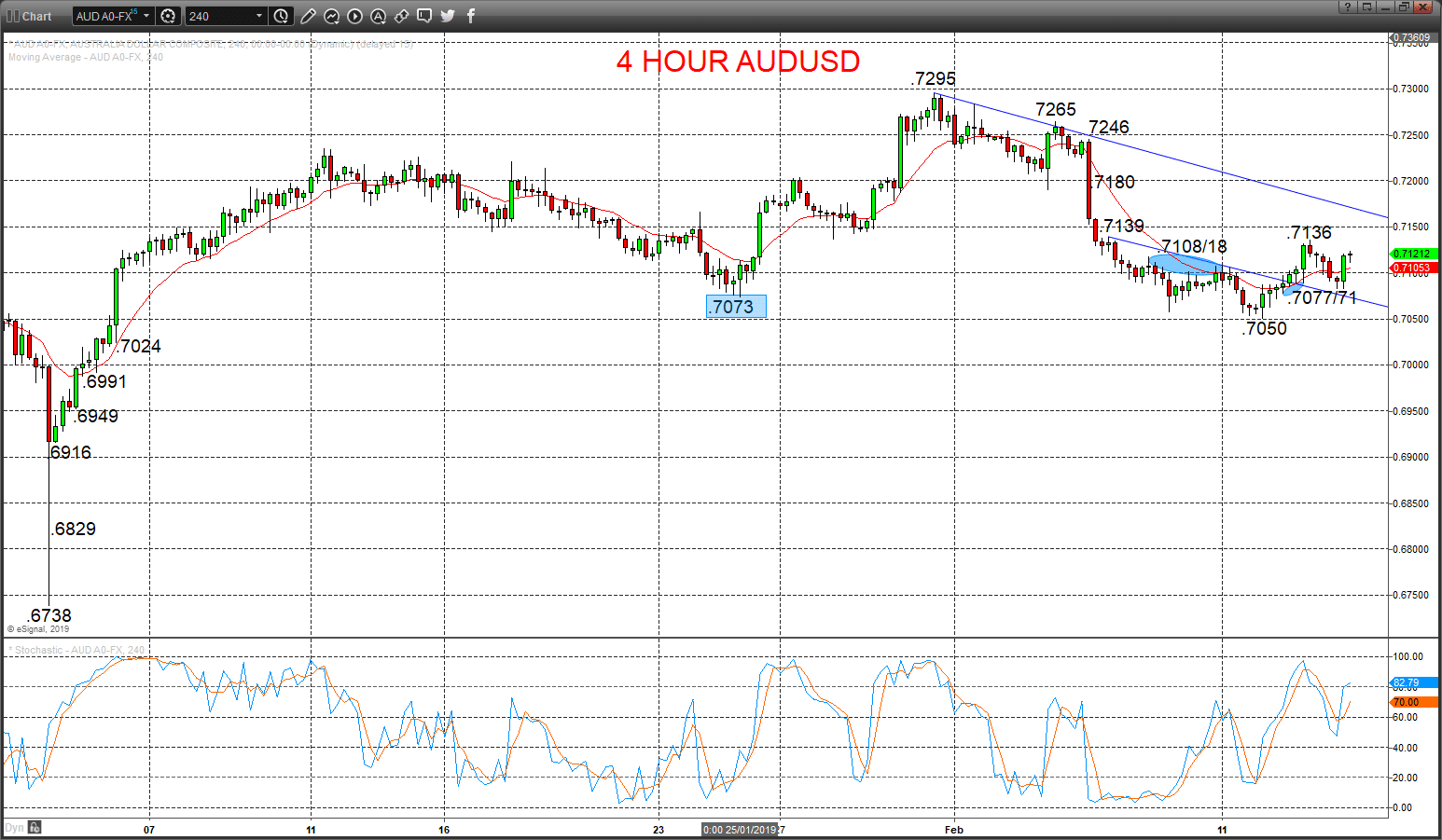 ---
When we last looked at the AUDUSD and NZDUSD currency pairs here on the 4th February we emphasised intermediate-term bullish themes.
However, a broad surge in the US Dollar as a safe haven since late January into February has reflected growing global growth concerns, which has seen both AUDUSD and NZDUSD Forex rates send negative signals.
A far more dovish tone from the Reserve Bank of Australia has assisted in the downturn for the Australian Dollar, whilst a very poor New Zealand Employment report, followed by a less dovish than expected outlook from the Reserve Bank of New Zealand, leaves a more indecisive intermediate-term tone for NZDUSD.
The AUDUSD Forex rate is now indicating an intermediate-term bearish tone into February, whilst NZDUSD sits in a broader range.
AUDUSD holding onto a bear theme
A rebound Wednesday to just probe above the .7108/18 resistance area, but then to fade from just below the next barrier at .7139 (from .7136), sustaining negative forces from Tuesday's nudge to a new bear trend low at .7050, plus from the whole February selloff and bear break through .7073, to keep the bias lower into Thursday.
The early February push .7073 set an intermediate-term bear trend.
For Today:                                                        
We see a downside bias for .7077/71 and .7050; break here aims for .7024, then maybe towards .7000/6991.
But above .7136/39 aims for .7180 and maybe opens risk up towards .7246.
Intermediate-term Outlook – Downside Risks: We see a downside risk for .6916.
Lower targets would be .6829 and .6738
What Changes This? Above .7246 shifts the outlook straight to a bull theme.
Resistance and Support:
| | | | | |
| --- | --- | --- | --- | --- |
| .7136/39 | .7180 | .7246** | .7265* | .7295** |
| .7077/71 | .7050* | .7024* | .7000/6991* | .6949* |
4 Hour AUDUSD Chart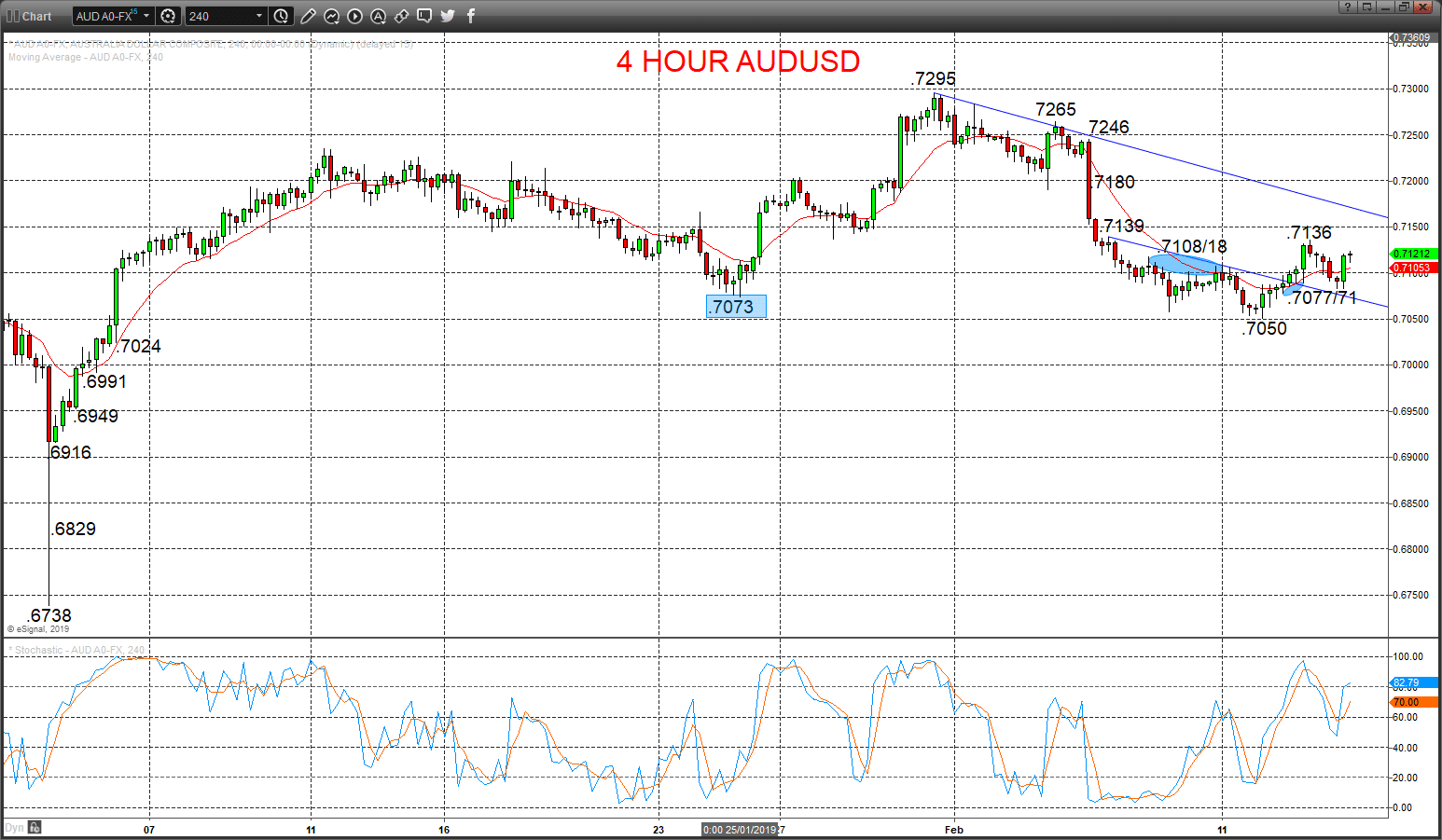 NZDUSD back to an intermediate-term range, with risks higher
A surge Wednesday after a less dovish tone than anticipated from the RBNZ, to push up through .6773/78 and .6831 resistance, rejecting the earlier February surrender of key .6813 support, to keep risks still lower for Thursday.
Given the acceleration higher on Wednesday we now see an intermediate-term range, defined as .6716 to .6942, BUT with risks skewed towards an intermediate-term bullish shift.
For Today:
We see an upside bias for .6852/69; break here aims for .6906/10, maybe even towards key .6942.
But below .6788 opens risk down to .6723.
Intermediate-term Range Breakout Parameters: Range seen as .6716 to .6942.
Upside Risks: Above.6942 sets a bull trend to aim for .6969, .7060 and .7437.
Downside Risks: Below .6716 sees a bear trend to target .6583, .6347 and .6195.
Resistance and Support:
| | | | | |
| --- | --- | --- | --- | --- |
| .6852/59** | .6906/10*** | .6942*** | .6969** | .7000* |
| .6788 | .6723* | .6716*** | .6703** | .6669* |
4 Hour NZDUSD Chart