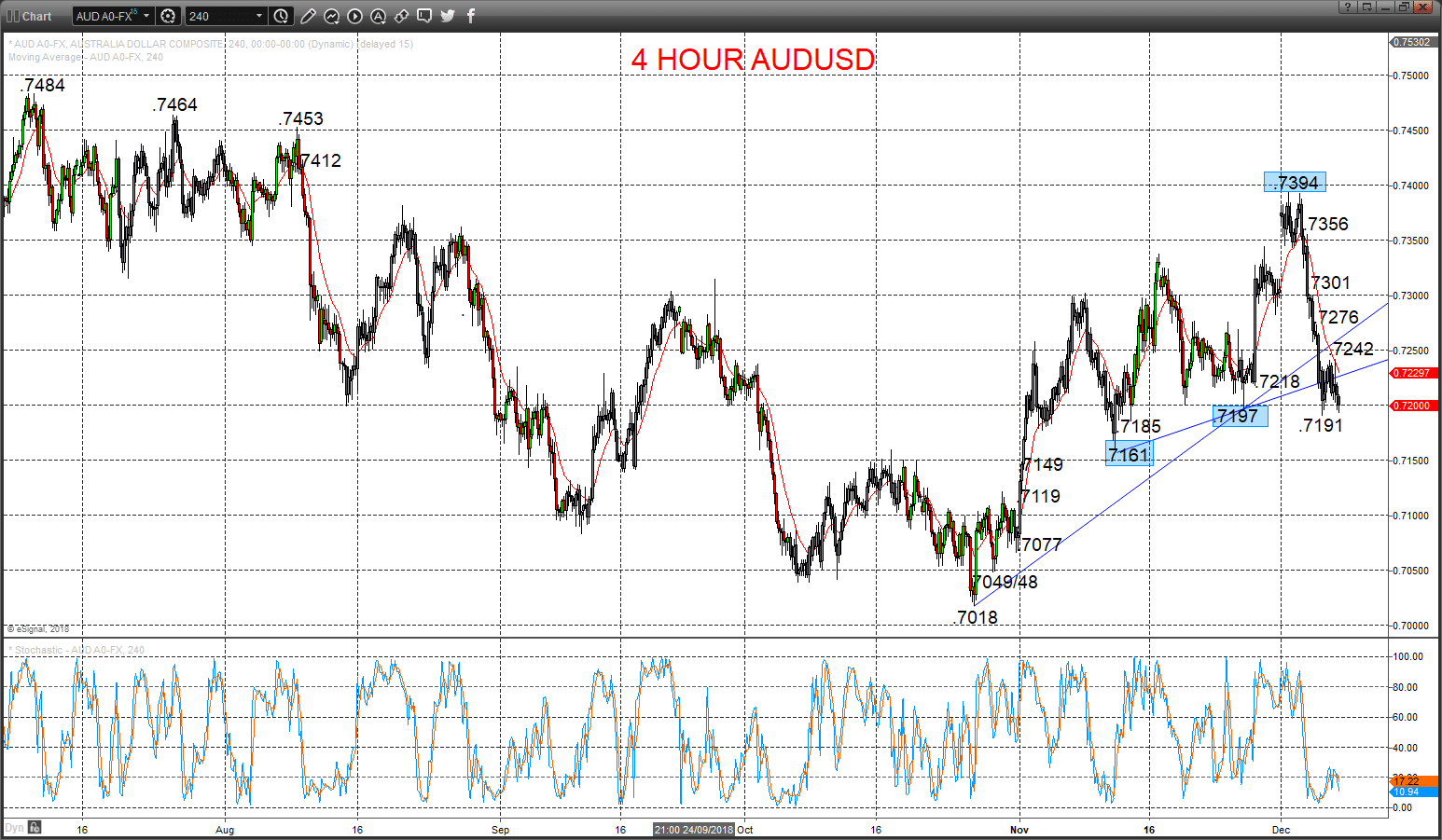 ---
In our last look at  AUDUSD and NZDUSD on 29th  November we highlighted the ongoing intermediate-term bullish outlooks for the Australian Dollar and the New Zealand Dollar versus the US Dollar in the wake a more dovish tone by Jerome Powell, the Fed Chairman.
However, a broader shift to a "risk off" scenario across global asset classes in early December (highlighted by equity market selloffs) has seen setbacks for the "risk currencies" amongst the Majors, for both AUDUSD and NZDUSD.
For AUDUSD, the intermediate-term bull trend has been neutralised, whilst the immediate risks for both AUDUSD and NZDUSD are skewed to the downside.
AUDUSD Intermediate-term bearish shift threat to key .7161
A Friday rebound failure from just above our .7240 initial resistance (from .7242), to sustain negative forces from the Tuesday-Thursday plunge through key .7197 support (and trend lines from October and November, to keep the bias lower Monday.
The early December plunge to probe below .7197 switched the intermediate-term view to a range theme (defined as .7394 to .7161), BUT with risks skewed towards an intermediate-term bearish shift.
For Today:
We see a downside bias for .7191/85 and key .7161; break here quickly aims for .7149, maybe .7119.
But above .7242 opens risk up to .7276 and .7301.
Intermediate-term Range Breakout Parameters: Range seen as .7394 to .7161.
Upside Risks: Above .7394 sets a bull trend to aim for .7484, .7668, .7813 and maybe .8000.
Downside Risks: Below .7161 sees a bear trend to target .7077, .7018/00 and .6827.
Resistance and Support:
| | | | | |
| --- | --- | --- | --- | --- |
| .7242* | .7276* | .7301* | .7356 | .7394*** |
| 7191/85* | 7161*** | 7149 | .7119 | 7077** |
4 Hour AUDUSD Chart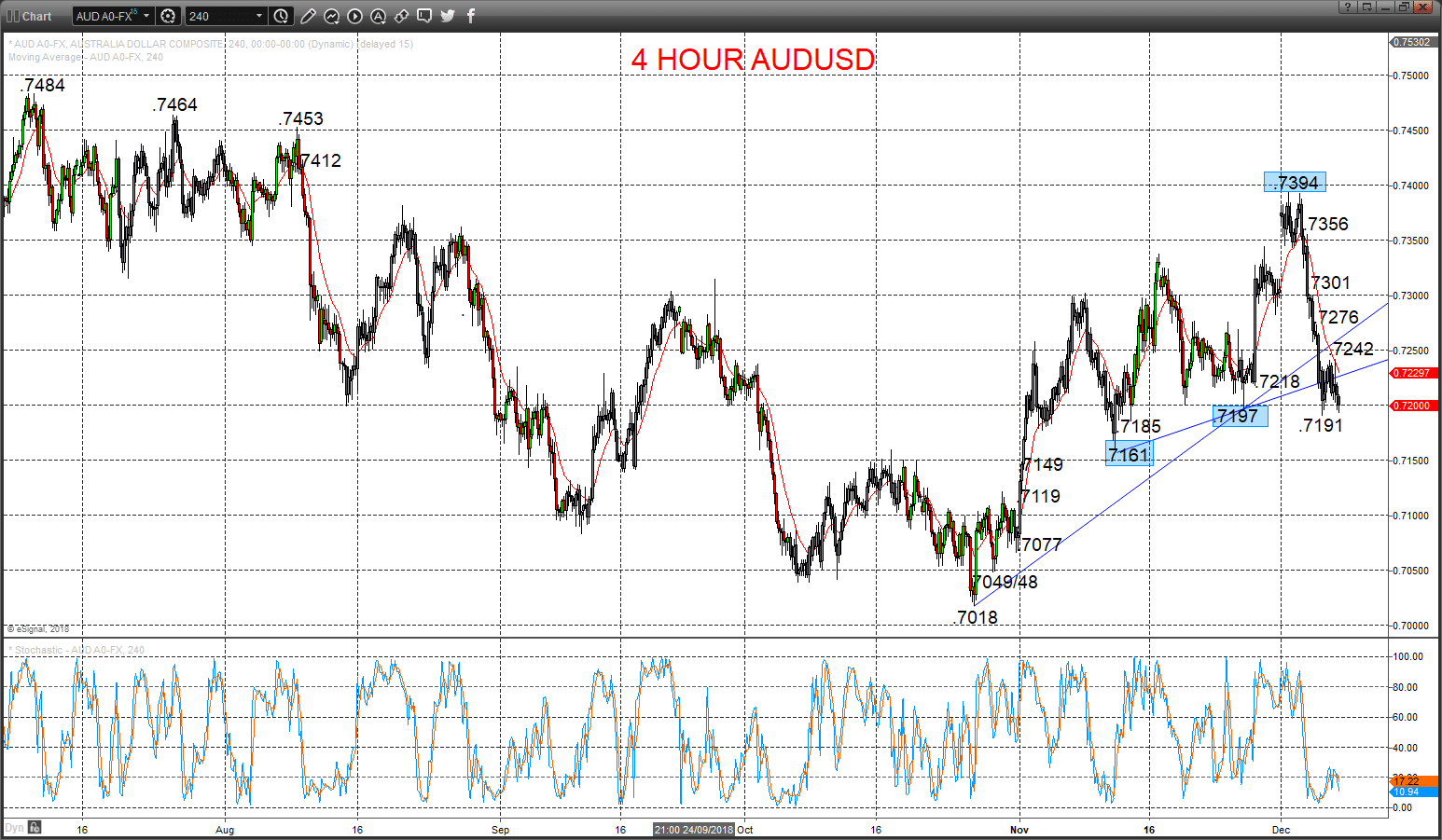 NZDUSD Immediate bias still towards a correction lower
A negative consolidation Friday to probe the up trend line from late October, after Thursday's push down through the .6886/85 support area and the early December setback from a new cycle high, to leaves the bias for a correction lower Monday.
The early November aggressive surge above .6618 set an intermediate-term bull trend.
For Today:
We see a downside bias for .6843; break here quickly aims for .6834, possibly towards .6790.
But above .6930 opens risk up to .6969 and .6995/7000.
Intermediate-term Outlook – Upside Risks: We see an upside risk for be .7060.
Higher targets would be .7437 and .7558.
What Changes This? Below .6751 shifts the outlook from bullish to neutral and only through .6705/04 to a bear theme.
Resistance and Support:
| | | | | |
| --- | --- | --- | --- | --- |
| .6899 | .6930 | .6969* | .6995/7000** | .7044* |
| .6843 | .6834 | .6790 | .6751*** | .6704*** |
4 Hour NZDUSD Chart