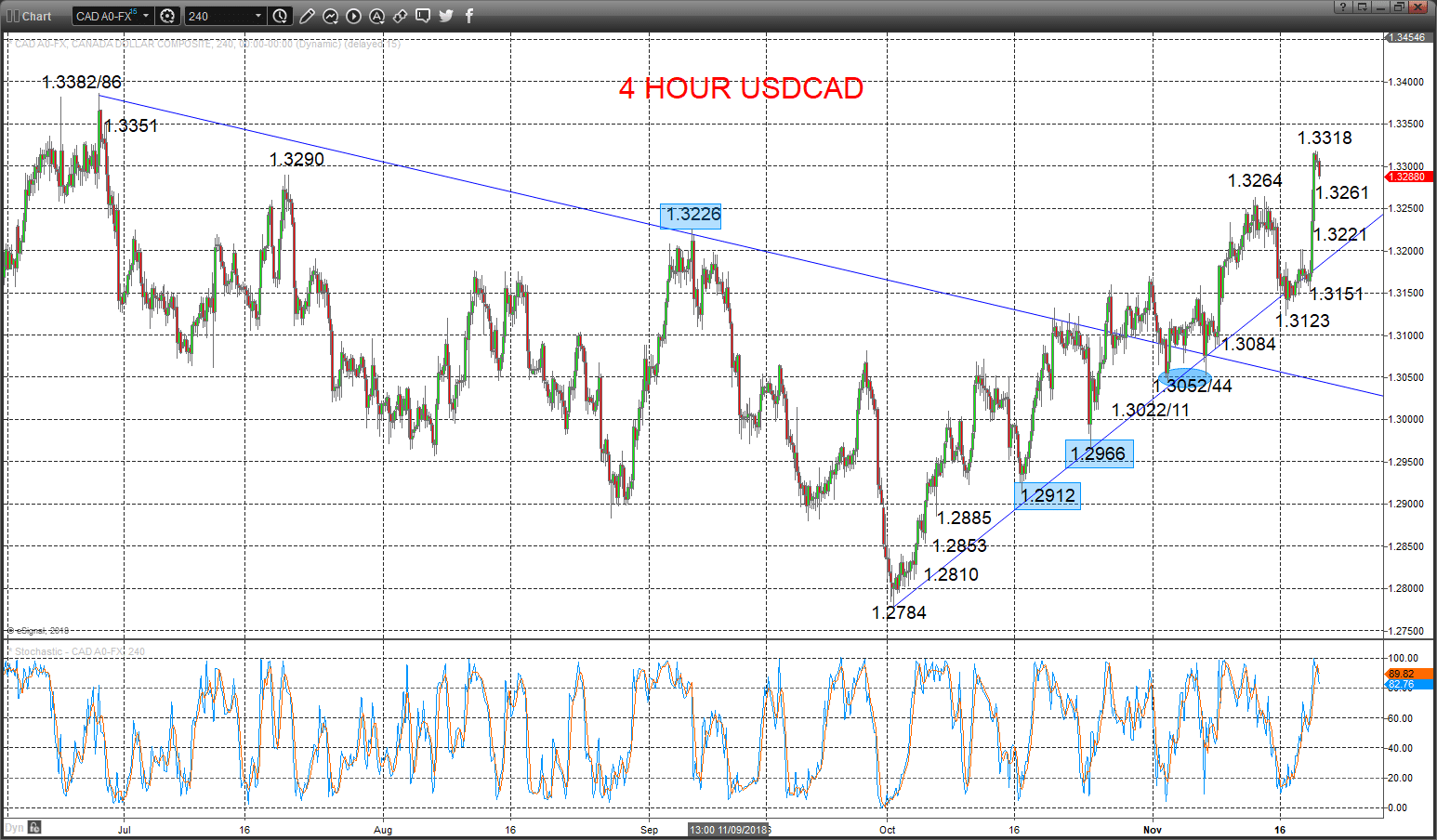 ---
In our 12th November look here at USDCAD and USDJPY we highlighted upside threats for both forex rates.
The ensuing USDCAD surge higher has reinforced the previous push above a key resistance at 1.3228, sustaining the intermediate-term bullish theme.
This has been helped by ongoing weakness in the Oil price, with the Canadian Dollar directly correlated with the price of Oil (as a net exporter)
However, a USDJPY has reflected a more risk averse global backdrop, with major equity markets falling into the second half of November and the Japanese Yen rallying, seen as a safe haven.
This leaves USDJPY in an intermediate-term range.
USDCAD Intermediate-term bull theme reinforced
A surge to the upside Tuesday to a new recovery high and through notable 1.3290 resistance from July, to fully reject the negative forces from last Friday's selloff (through 1.3136 support and the up trend line from early October), to flip risks back higher Wednesday.
The early November probe above 1.3226 set an intermediate-term bull tone.
For Today:
We see an upside bias for 1.3318; break here aims for 1 1.3351, maybe key peaks at 1.3382/86.
But below 1.3261 opens risk down to 1.3221, maybe towards 1.3150.
 Intermediate-term Outlook – Upside Risks: We see an upside risk for 1.3386.
Higher targets would be 1.3500, 1.3777 and 1.4000/17.
What Changes This? Below 1.2966 shifts the outlook back to neutral and the quickly through 1.2912 sees a bear theme.
Resistance and Support:
| | | | | |
| --- | --- | --- | --- | --- |
| 1.3318 | 1.3351 | 1.3382/86** | 1.3421 | 1.3456 |
| 1.3261 | 1.3221 | 1.3151* | 1.3123** | 1.3084** |
4 Hour USDCAD Chart

USDJPY Risks still lower
A prod lower Tuesday and despite a rebound whilst below 112/94 sustaining negative pressures from Monday's setback through 112.53 support (having been capped then by 112.94 resistance), PLUS from Friday's significant selloff through the notable 112.96 swing support, to keep the bias lower Wednesday.
The late October push above 112.89 set an intermediate-term range theme defined as 111.35 to 114.55, BUT with risks skewed towards an intermediate-term bullish shift above 114.55.
For Today:
We see a downside bias for 112.27; break here aims for 111.82 and even 111.51.
But above 112.94 aims for 113.36 and maybe opens risk up to 113.68.
Intermediate-term Range Breakout Parameters: Range seen as 111.35 to 114.55.
Upside Risks: Above 114.55 sets a bull trend to aim for 115.50/63, 118.65 and 120.00.
Downside Risks: Below 111.35 sees a bear trend to target 110.36 and 109.74.
back to neutral; above 114.55 is needed for a bull theme.
Resistance and Support:
| | | | | |
| --- | --- | --- | --- | --- |
| 112.94* | 113.36 | 113.68* | 114.00 | 114.21** |
| 112.27* | 111.82** | 111.51 | 111.35*** | 111.09/01* |
4 Hour USDJPY Chart