The Best Forex Brokers in Israel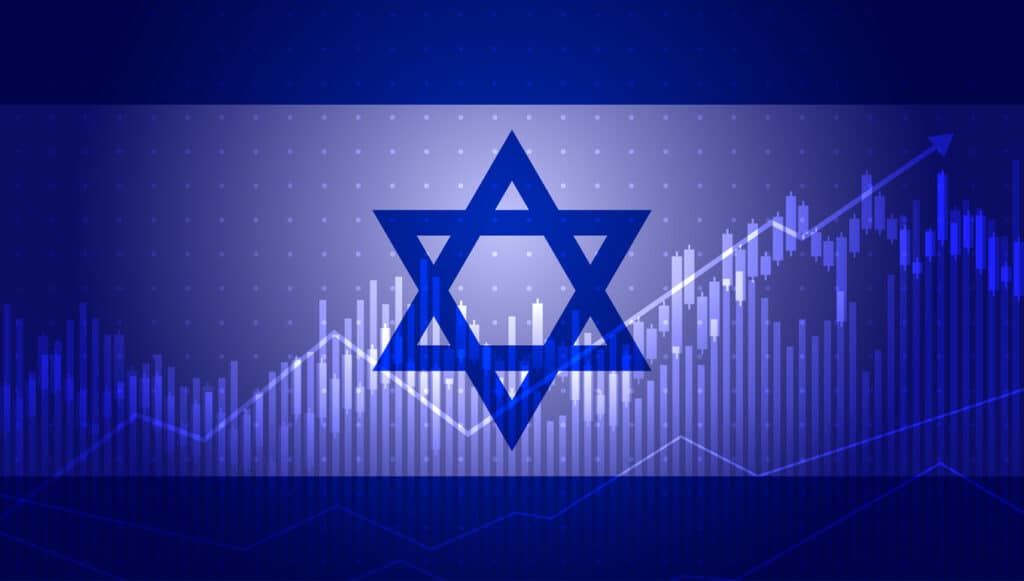 With a population of 9.7 million and an annual GDP of around $489bn, Israel has established a reputation for having a high standard of living and a robust and resilient economy. As with other countries in the region, the Covid-19 pandemic and the continuing warfare in Ukraine have impacted the local economy in Israel, but the nation bounced back with 6.5% growth in 2022. Unemployment is at a record low, and the technology sector is leading the way in an impressive recovery.
Israel's local currency, the New Shekel (ILS), had strengthened versus the US Dollar through 2021, rising above 0.32; however, during 2022, it fell sharply to 0.28, its average conversion rate over the past five years. Political chaos, inflation, and rising interest rates are the apparent reasons, but a weakening currency may lead to inflation in the future and intervention by the nation's Central Bank.
Trading forex in Israel is legal and has become a popular activity in the country to derive extra income and as an excellent way to hedge against the depreciation of the Shekel, as it held generally steady at around 0.28 throughout the first half of 2023. The local economy continues to grow but at a slower pace in 2023. First-quarter growth figures put GDP growth at 2.5% on an annual basis, which is higher than other major economies like the US, the UK, France, and Germany.
Is it Legal to Trade Forex in Israel?
Trading foreign currency pairs is legal in Israel, and traders will find more lenient trading conditions than may apply in most major markets like the UK and EU. For example, leverage levels are somewhat higher in most asset categories, being controlled by local regulations. Residents are advised to deal with locally licensed brokers, but it is also legal to trade with offshore brokers.
It is always best to choose a broker that complies with a major regulator to avoid problems like fraud and shady business practices. If you incur a problem with an offshore broker, typically one that complies with very little regulation, trying to assert your legal rights in a foreign jurisdiction can become an exercise in futility.
Forex Regulation in Israel
The agency responsible for regulating the trading of forex in Israel is the Israel Securities Authority (ISA). During the early portion of the previous decade, several offshore brokers commenced operations in Israel to defraud foreign consumers since the regulatory environment in Israel was lax at the time. In 2015, the ISA moved to protect consumers from these bad actors in the industry by instituting new licensing, monitoring, reporting, and auditing standards.
As a result, brokers must maintain a specific level of capital to perform a related list of activities. Customer deposits must be segregated from a broker's operating funds, potential customers must be told about the risks involved in the forex market, and the broker must process withdrawal requests quickly. Restrictions on leverage levels were also introduced, but these levels are slightly above those in the EU. The ISA maintains a website where traders can verify the licence of a local broker, but traders may still choose offshore brokers if preferred.
How to Start Forex Trading in Israel
Newcomers to forex trading often jump into the market with little training and preparation. Such impatience can easily result in the trader becoming an early casualty. Trading currency pairs is a high-risk activity. The forex market is the largest market in the world, but it is known for its volatility, which can destroy an account if prudent risk management techniques are not employed. Take the time to learn how to trade effectively. We can help you prepare and guide you through these five steps in the learning process:
Education: If you are a novice, you have work to do, learning everything about trading currency pairs. Our website can help, as can broker sites and a host of YouTube channels, but your goal will be to become comfortable with forex terms. These will include charts, technical indicators, how to open and close a position, develop a strategy, and use risk management tools to protect against risk.
Broker: Once you understand the market, you will be prepared to choose a safe and secure broker. Always select a regulated broker and test out the free demo system.
Trading Account: Your chosen broker will guide you through the account opening procedure on its website. You will also need to fund your account using the most cost-effective method provided by your broker.
Practice, Practice, Practice: To be effective, you must follow a step-by-step strategy, fine-tuned by hours on a demo system. You must also learn to keep your emotions in check when trading. Your emotions can be your worst enemy in trading, while your practised plan will be your best friend.
Start Trading: You should start with a few small trades just to get your feet wet and learn what it is like to trade in real-time. Once your confidence level rises, then you can become more aggressive. Have fun and enjoy the process.
The Best Forex Brokers in Israel
Hundreds of legitimate brokers would like to have you as a customer, but there are also a few with malicious intent to defraud. How do you choose the right one? We have prepared the following list to assist you in your selection process, listing only the safest and most secure ones based on our continuing reviews of the forex brokerage industry:
Broker
Features
Regulator
Platforms
Next Step
77% of retail CFD accounts lose money

Founded: 1996


Your capital is...

Choose from four high-quality platforms.
Good trading conditions with fast execution speeds
Excellent research and analysis
Strong client protection
Winner of Most Popular Broker award for three consecutive years.

Fees and commissions are inline rather than market-leading.
Satisfactory rather than impressive range of instruments.

ASIC, CFTC, FCA, IIROC, JFSA, MAS
fxTrade, MT4
74% of clients lose money. Capital at risk.

Founded: 1999




- Trusted Global Market Leader
- Online FX & CFD Trading
- 180+  Global Markets, 84 FX pairs, 65 shares, 17 popular indices and more
- Forex, Indices, Commodities, Equities & Bitcoin
- Available to US traders

CFTC, CIMA, FCA, FSA, IIRO, NFA
FOREXTrader & MT4 for PC, MAC, iPhone, iPad and Android, WebTrader
Your capital is at risk

Founded: 2019




- Trade 15 cryptocurrencies
- Beginner friendly

-
eToro
Summary
Trading foreign currency pairs is now a popular activity and a source of additional income for many residents in Israel. Choosing a safe, secure, adequately regulated broker with an excellent track record is paramount in your trading journey. We are here to help you with this task and to prepare you for the exciting world of foreign exchange trading.