Ascending Triangle Definition – An Ascending Triangle is one of many patterns, familiar to forex traders, that suggest that an upward move in pricing behavior is imminent. This type of formation occurs when a resistance ceiling forms over a slope of higher lows (see chart below). Buying pressure recedes at this level. However, continuing higher lows suggest that buying pressure is building. In the chart, it is evident that buyers are starting to gain strength because they are reaching higher lows. Pressure on that resistance level builds to the point that a breakout is bound to occur. A wise forex trader will prepare in advance when he observes a condition forming like this, and may place bets on both directions. He may set an entry order just above the resistance line, as well as below. The tendency is for an upward move to take place, but either movement can happen. Pursuing a currency option strategy is another way to go also. In either case, the trader can win from anticipating, planning ahead, and then executing effectively to capture the gains the market offers.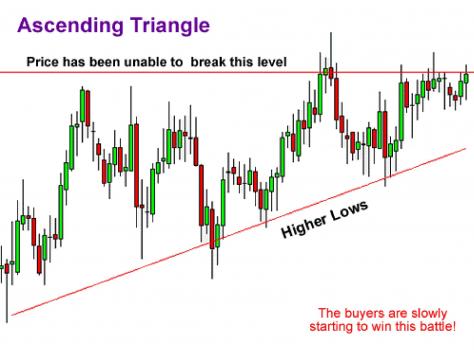 Forextraders' Broker of the Month
ForexTB is generally considered a reliable and reputable firm. It offers a variety of desirable features and attracts traders from all over Europe. The brokerage is fully regulated and licensed by the Cyprus Securities and Exchange Commission (CySEC) and is fully compliant with the European Securities and Markets Authority (ESMA). Customer reviews are usually positive, and independent industry websites that have reviewed ForexTB have concluded that the broker is safe...