Wednesday's crypto price plunge has already marked itself as being one of the most dramatic market events of recent years – and it looks like the story still got some way to go. The obvious temptation at this point is to "buy the dips" and a glance across research sites, and indeed price charts, suggests that's exactly what a lot of people have started doing.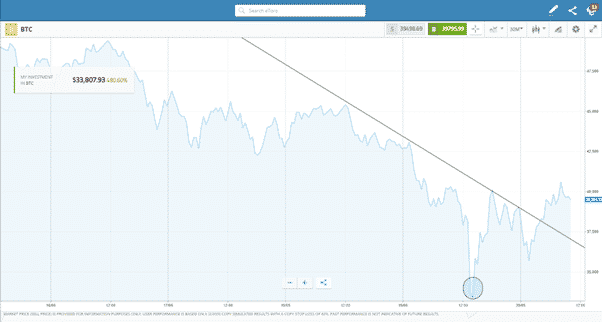 Source: eToro
Black Wednesday for Cryptos
Interest in buying into crypto is particularly strong among those who for some time have been feeling a strong sense of FOMO. Events of the last few days have offered them a chance to get on board but the obvious difficulty is establishing how long the price slide might last. In the space of one day Bitcoin lost as much as 30% of its value and even skimmed the $30,000 price level before bouncing off that key support. Bear in mind it was trading at $64,862 as recently as the 14th of April.
Ether, the coin of the Ethereum network, was trading at $4,379 on the 12th of May and at one point on Wednesday had lost 57% of its value in just over one week.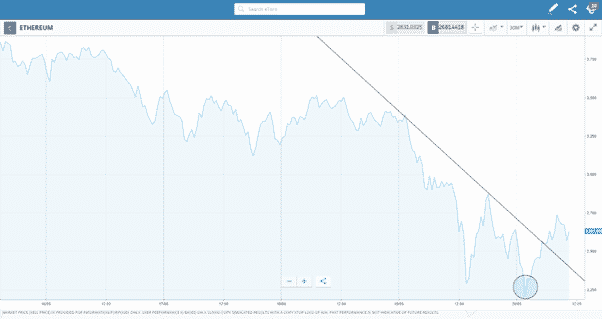 Source: eToro
Was $30k the Bottom of the Market for Bitcoin
When the US markets opened on Wednesday, Bitcoin traded as low as $30,027 before rebounding. It looks like die-hard fans of the coin said, "enough is enough". Having plummeted through a range of key BTC support levels the $30k price barrier held and those who bought in at that level were by Thursday morning sitting on gains of 35%. BTC and ETH have also managed to break through a downward trendline, which from a technical analysis perspective suggests the worst could be over. No one can be certain which way the price will head but there are some important guidelines on how to trade safely.
If Now is the Time to Buy Crypto, Which Broker Should I Use?
Buying Bitcoin, Ethereum or Doge is a high-risk proposition, even when the markets are calmer than they are now. One of the few FCA regulated brokers which upgraded their platforms to still allow UK clients to buy crypto is eToro. The crypto market itself is unregulated but the broker certainly is. There are subtle differences in terms of T&C's which need to be checked out, but if dip-buying in Bitcoin is for you, eToro is probably the best broker to use.
The Price Crash Could Have Been Worse
One key takeaway which helps explain how to choose a safe crypto broker is that the crypto price crash on Wednesday was dramatic enough, but it could have been even worse. Some regulators have recently taken steps to reduce the risk in the market and this might have scaled back the size of the sell-off. The Financial Conduct Authority (FCA) in the UK brought in new regulations in January 2021 which made it harder, but not impossible, for UK traders to buy Bitcoin, Ether and Doge. The regulator also took the step of prohibiting most investors from using leverage, which involves borrowing money to scale up position size.
If you want to know more about this topic, please contact us at [email protected]