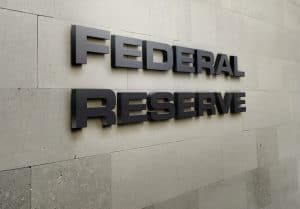 The US dollar set off from a low point this week as traders prepared for the Federal Reserve bank's announcement of its interest rate decision later in the week.
Many analysts believe that the Federal Open Market Committee, the branch of the bank which makes the decision, will choose to keep interest rates where they currently sit at 2.5%.
It is understood that the Chair, Jerome Powell, is concerned over the performance of the US economy and believes that it may face risks ahead.
As a result of the renewed focus on the US economy and how it interacts with potential interest rate rises, the dollar index – which measures the greenback's value in relation to other major global currencies – went down a little to 95.74.
A domino effect from this drop also took place as trading began. The US dollar dropped against the Chinese yuan by 0.2%, which in turn promoted a rise for the Australian dollar.
The Australian dollar jumped by an impressive 0.18% against the US dollar. Its counterpart in New Zealand, the Kiwi dollar, went up by 0.3% against the greenback and reached $0.6859.
There's a lot scheduled into this week's economic calendar, and traders will need to remain alert.
Today (Monday) may see a slowdown in some global foreign exchange trading activity given the celebration of Australia Day.
A number of senior central bankers will make statements later in the day. The European Central Bank's Mario Draghi will speak at 2pm GMT, while the Bank of England's Mark Carney is expected to speak at 2.30pm GMT.
Looking ahead to Tuesday, activity in Australia will be back on the agenda when the National Australia Bank releases its business conditions survey covering the month of December at 12.30am GMT.
Later in the day, there will be a series of European data releases. Information on French consumer confidence levels for January, for example, will be out at 7.45am GMT, while Italian producer price index information for December is expected at 9am GMT.
In the afternoon, the S&P/Case-Shiller Home Price Indices covering November will come out of the US at 2pm GMT. This is expected to show a slight drop from 5% to 4.9%.
However, the big moment of the day is likely to come later on when Prime Minister Theresa May will hold another vote on her Brexit plans.
On Wednesday there'll be more Australian activity at 12.30am GMT. Consumer price index information for the fourth quarter of the year will be out, and year on year it is expected to decline a little from 1.9% to 1.7%.
German import price index information for December is expected at 7am GMT. Year on year, this is expected to show a decline from 3.1% to 2.1% – a development which will no doubt be analysed closely given recent problems with the German economy.
Later in the day on Wednesday, there will be releases covering Italian business and consumer confidence for January.
The US Federal Reserve will release its interest rate decision at 7pm GMT.