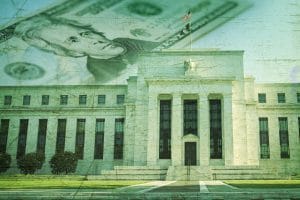 US President Donald Trump has again launched an attack on the US Federal Reserve and its ongoing commitment to interest rate hikes.
In an interview with Reuters, Trump said he wasn't pleased with the central bank's Chair Jerome Powell and what Trump described as Powell's decision to raise interest rates.
The Fed voted to lift rates by 0.25% at its June meeting, and it has strongly hinted that there may be another one or two rate rises to come in the remainder of 2018.
"I'm not thrilled with his raising of interest rates, no. I'm not thrilled," Trump said.
"I should be given more help by the Fed," Reuters quoted him as adding.
The New York Times, meanwhile, has reported that Trump recently re-iterated to his financial backers that he was displeased with Powell's performance.
The news meant that the dollar index, which measures its performance against a number of other major currencies, went down by 0.44% – hitting 95.475 at one stage.
One of the winners in the situation was the Japanese yen, which went up by 0.18%. The euro rose by around 0.4% in the aftermath of the development.
Trump's comments have compounded ongoing fears over the dollar's performance, especially with trade talks between the US and its main trading foe China due to take place at some stage this week.
However, this isn't the first time that Trump has criticised Powell and the Federal Reserve.
Back in July, Trump told CNBC that he felt interest rate rises weren't compatible with his vision for the American economy.
"I am not happy about it," he said at the time. "I don't like all of this work that we're putting into the economy and then I see rates going up."
Beyond the dollar's ongoing woes amidst political and diplomatic wrangling, there are plenty of other items on the agenda for forex traders to watch out for today and the rest of the week.
Tuesday sees plenty of economic data releases from New Zealand, for example. Retail sales data will be out later, as will information on the GDT price index.
Over in Australia, Wednesday will see figures on everything from construction work completed to the Westpac leading index for July. There'll also be a speech from the Reserve Bank of Australia's Assistant Governor which may hold clues as to the direction of the Antipodean economy's future monetary policy.
Also, on Wednesday, there will be a data release on foreign bond investment in Japan, as well as retail sales data for Canada covering June.
Looking to Thursday, the French business climate study for August will come out alongside an individual investment outlook release for the third quarter.
Later in the day, accounts of the European Central Bank's monetary policy meeting will be released. There will also be a Europe-wide consumer confidence survey release for August at 14:00 GMT.
Finally, all eyes will be back on the US by Friday, when the Jackson Hole Symposium takes place – a monetary policy conference with major players from across the globe in attendance. There will also be a speech by Trump's new-found target Jerome Powell at 14:00 GMT.