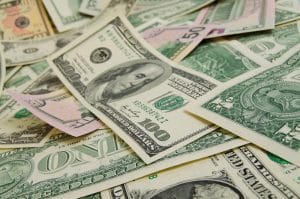 The US dollar managed to hit the ground running during the first few hours of this week's forex trading.
The dollar index, which assesses the greenback's performance in relation to various other key global currencies, hovered in the 97.44 region as global trading opened on Monday. This was near the 97.71 level it reached as last week closed – a move which marked a 19-month high.
The dollar's success came in large part due to problematic economic data from other major powerhouses, such as Germany and China.
As a result of the economic uncertainty caused by this and other developments, traders are believed to now be looking at the dollar as a "safe haven" currency investment destination once again.
Elsewhere, the British pound suffered as the Brexit debate continued amid further uncertainty over what Prime Minister Theresa May is likely to do next. It is believed that parliament will now hold its key vote on the withdrawal in 2019, suggesting that instability could rumble on.
The pound was down 0.02% against the US dollar, reaching $1.2582.
With a new week now underway, there's a lot for forex market traders to keep an eye on.
Today (Monday) has a number of economic calendar events. At 3pm GMT, the US National Association of Home Builders will release its housing market index covering December. This is expected to remain at its current position of 60.
Into tomorrow, the Reserve Bank of Australia will release the minutes of its latest meeting at 12.30am GMT. This will come at the same time as the Australian Mid-Year Economic and Fiscal Outlook from the government.
At 9am GMT, German IFO expectations data for December is expected. This indicator is expected to show a slight drop from 98.7 to 98.2.
IFO December business climate data for Germany is expected at the same time. This is due to drop from 102.0 to 101.7.
Canadian manufacturing shipments data for October is due at 1.30pm GMT. Month on month, this is expected to rise slightly from 0.2% to 0.3%.
All eyes will be on Asia later in the day, as Japanese export and import data for November is expected at 11.50pm GMT. Export levels are forecast to drop year on year from 8.2% to 1.8%, while imports are also expected to go down from 19.9% to 11.5%.
On Wednesday, German producer price index information for November is expected at 7am GMT. This is expected to show a year on year drop from 3.3% to 3.2%, and a month on month drop from 0.2% to -0.1%.
A range of key Canadian indicators are due at 1.30pm GMT. The country's consumer price index for November is expected to show a month on month drop from 0.3% to 0.1%, while the Bank of Canada will release its own core consumer price index at the same time. Forecasts for the latter have not yet been released but were last recorded at 0.4%.
At 7pm GMT, the US Federal Reserve will release its interest rate decision.