Over the last couple of days, the crypto market as a whole has been subjected to a genuine massacre: bad news coming in left and right, and a correction which has spared none of the actors, big or small. So, what do we make of this cryptocurrency pandemonium, and what exactly is going on here?
Indeed, the price of bitcoin (BTC) has dropped below a psychological support level many (mostly crypto-beginners) thought they would never see again: $10,000. Yes, Ladies and Gentlemen, we're back in 4-digits territory, and by the looks of things, we may yet be in for some rough chop. Technical analysis seems to indicate that a drop to around $8,000 is indeed in the books, though knowing the true value of such chart-pattern and indicator-based artifices in relation to cryptos, we can surely state that nothing is etched in stone.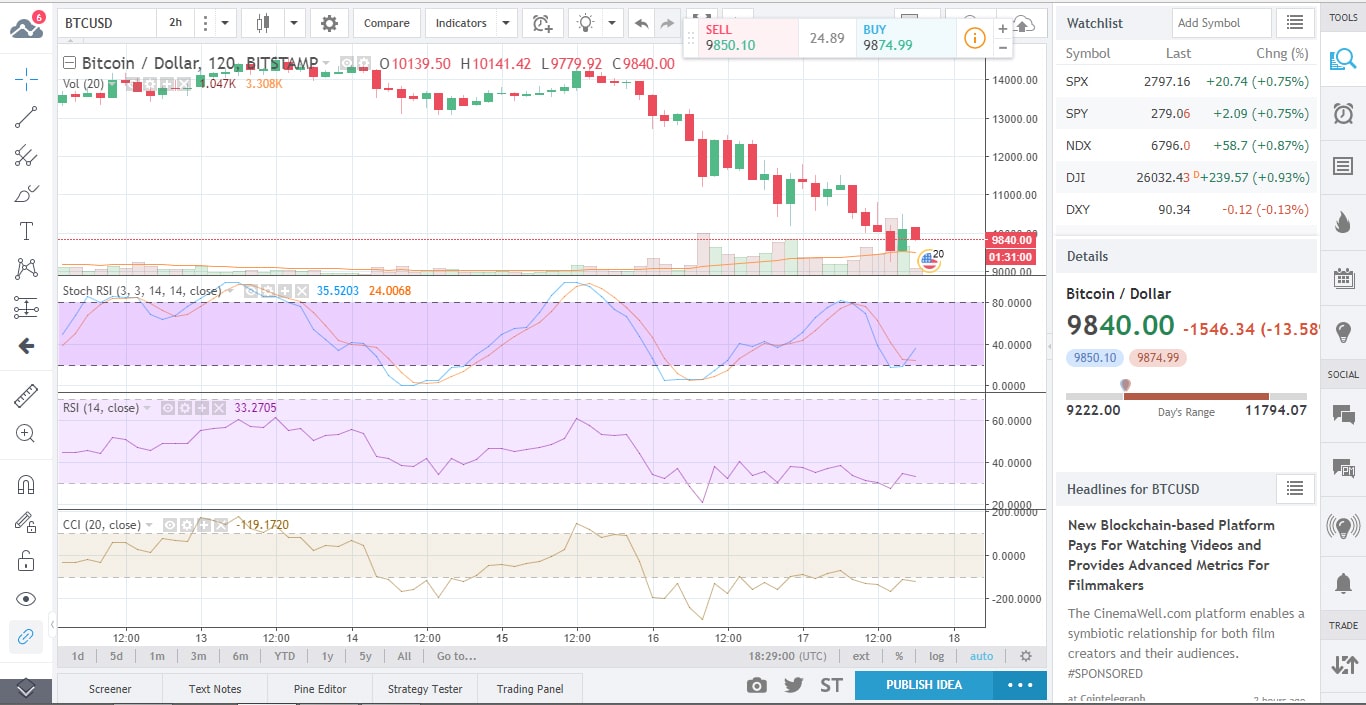 What we are now seeing is a massive correction, one that has long been anticipated by those who really know the markets, and – in theory and in the long-run – such corrections are good. Bitcoin had a bull run last year that fell nothing short of phenomenal. As spectacular as it was,  this bull run set a top for the market. Now, we will apparently get to see where the bottom is. Will BTC claw its way back from just under 10k? Will it really "obey" technical analysis, paying a visit to the 8k mark? Regardless of what happens, a bottom will appear, when those who took their profits will see it fit to start buying back in.
What triggered this massive correction fundamentals-wise though?
Its beginnings go all the way back to when BTC futures were first launched with great fanfare. Opening the way for investors to make money on BTC price-drops, futures have certainly added a whole new bearish dimension to the crypto game, despite the initial boost resulting from short-lived enthusiasm. Above and beyond that though, the banning of crypto exchanges in China and the recent regulatory developments/rumors from South Korea, have certainly had their part in the rout.
The first couple of weeks of the year saw FUD increase in intensity too, as media manipulation flared up, resulting yet again in a general atmosphere of impending doom. All these factors compounded to bring about today's retreat, and they were topped off by news that the wheels have finally fallen off the BitConnect Coin wagon, too.
Long known as an obvious Ponzi by crypto buffs, BitConnect announced earlier today that they had pulled the plug on their controversial lending program and exchange, effectively shuttering the mechanism which had for an impressively long time almost single handedly upheld the value of the BitConnect token.
Having seen a 92% drop in value, BitConnect Coin seems headed to where it indeed belongs: the dustbin of crypto currency history. In its demise however, those less versed in the crypto ways inevitably see the herald of bitcoin's eventual fate. Though there are literally no similarities between the mechanisms breathing value into BTC and BCC, and despite the fact that the latter has always been considered a low-key scam, the impact of BCCs demise certainly has to be factored into the recent crypto massacre.
Ethereum has felt the wrath of the bear too, perhaps more so than bitcoin. ETH is currently trading around the $881 mark, having withdrawn from highs set at a time when BTC was already struggling with the pull of the bear.
None of the top 10 cryptos by market cap have been immune to correction over the last 24 hours. Everything is in the red across the board, and things look far worse over the last 7 days.