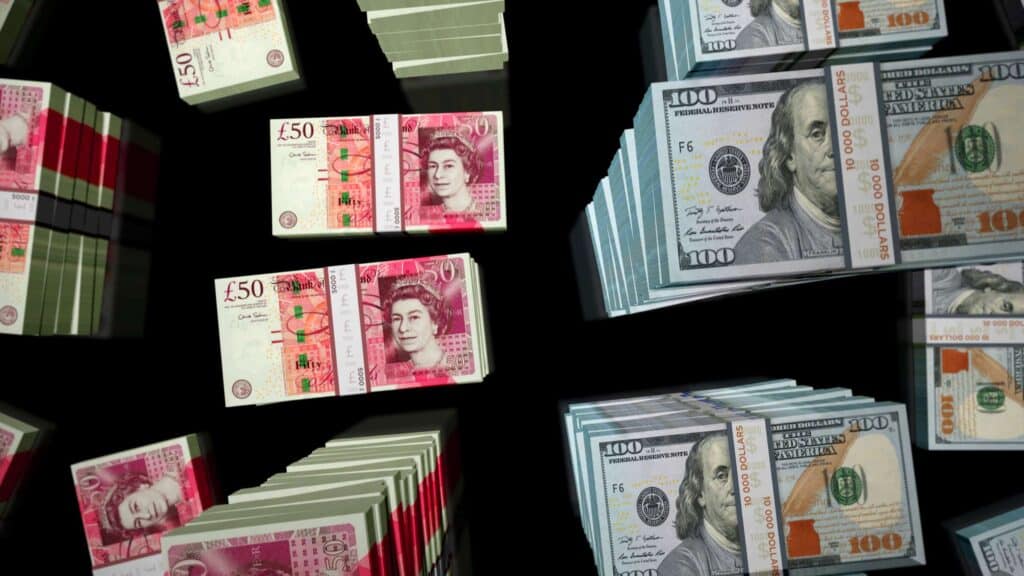 It's lining up to be a big week for UK economic data, and fans of sterling are hoping that another wave of buying pressure will be released. Price action points to that possibility, with the GBPUSD currency pair apparently holding a month-long wave pattern. Trade entry points around 1.33 – 1.34 are coming into play, and the price could run up as high as 1.37 before testing the upper end of the current price channel.
GBPUSD Price Action
Cable has been charting a downward course since the high of 1.4249 on 1st June. There have also been opportunities to sell short in what is something of a textbook price channel. The overall price direction has been downwards, and retracement trading, buying momentary price rises which go against the trend, does come with its own set of risks. But as things stand, there will be a lot of extended interest in what could be shaping up as a fourth dip to buy.
GBPUSD – Daily Price Chart – 2021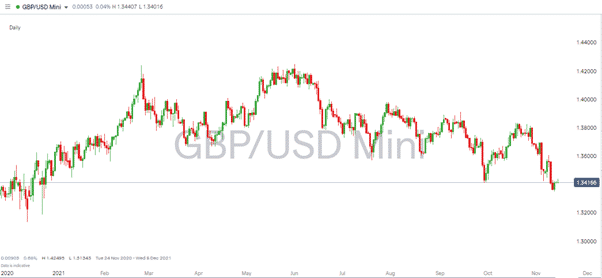 Source: IG
GBPUSD – Daily Price Chart – 2021 – Downward Channel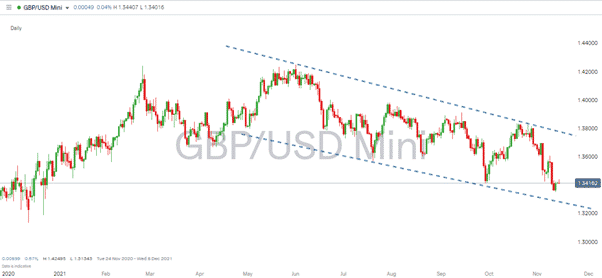 Source: IG
As the adage goes, the trend is your friend until the bend at the end, and a break of the lower support line can't be ruled out. However, some fundamental data releases might also come into play.
Tuesday 16th Nov
UK Unemployment Rate (7 am London time)
Wednesday 17th Nov
UK Consumer Price Index (7 am London time)
UK Producer Price Index (7 am London time)
UK Retail Price Index (7 am London time)
Friday 12th Nov
UK Gfk Consumer Confidence
UK Retail Sales
UK Public Sector Net Borrowing
With the UK market often following the lead of the US, there are plenty of reasons to note that the fall in GBPUSD followed a similar program of jobs and inflation data being shared in early November. Will the UK's round of reporting point to solid employment levels and higher prices and lead to a rise in GBP?
The answer to that question could be yes. Like other central banks, the Bank of England has opted for a dovish approach to monetary policy. Facing a choice of reigning in cheap money and risking unemployment or keeping the taps turned on and risking inflation, the BoE has consistently and repeatedly gone with the latter option.
GBPUSD – Daily Price Chart – September – November 2021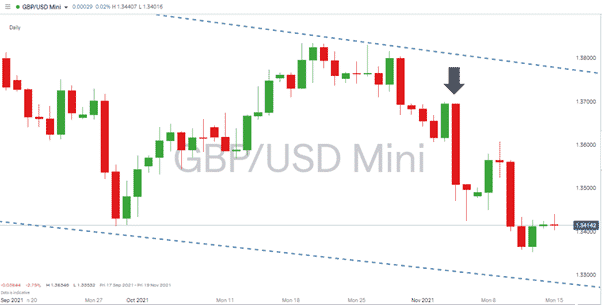 Source: IG
Most notably, the Bank held off on an interest rate hike on the 4th November. That shocked the markets, which had priced in a rate rise thanks to guidance from bank officials. It caused a 1.36% intraday downward price move. That surprise decision and resulting negativity could already be priced in, and there is little reason to think the UK inflation numbers due on Wednesday will come in much lower than expected.
The other side of the currency pair USD needs to be considered, but the coming week is a quieter one for the US regarding official announcements, so it is a case of all eyes on sterling.
If you have been the victim of a scam, suspect fraudulent behaviour, or want to know more about this topic, please contact us at [email protected]