Tesla's valuation has for a long-time had many analysts scratching their heads. Those using traditional valuation models to conclude Tesla shares are overpriced have had to be very cautious about converting that thinking process into a short position. The phenomenal price rise in Tesla stock has left many short sellers nursing losses. Regardless of how valid a shorting strategy might be, the market is always right.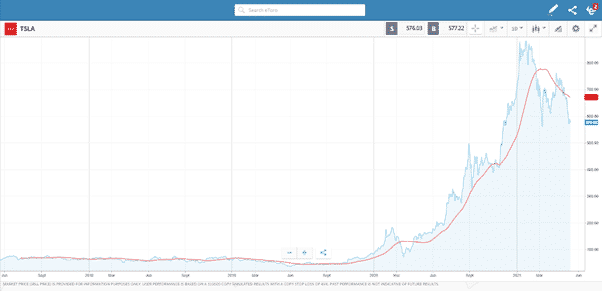 Source: eToro
Part of this comes down to the role the charismatic founder of the company, Elon Musk, plays. Of all the high-profile billionaire magnates, he's the one most willing to engage with the general public. His comments may border on bravado but if they drive price higher there's no point in quibbling.
If business fundamentals aren't going to slow down the Tesla share price, then what could tilt things in favour of the Tesla bears? How about a famed investor announcing they'd shorted $500,000,000 of Tesla stock?
SEC filings reveal that Michael Burry, the central character in the film The Big Short has placed a massive downside bet on the electric vehicle manufacturer. Burry doesn't court the public as much as Musk does; it's more a case of the general public searching him out for trading ideas. Despite his lower profile his opinions still carry a lot of weight. In 2008 Burry, the founder and boss of hedge fund Scion Asset Management made $750 million in profits for his investors. He also pocketed $100 million personally when called the top of the subprime mortgage market.
What is Short-Selling?
Taking part in short-selling, or 'naked shorts' is a risky business. Unlike long-positions, the potential losses are infinite. There is also the fact that equity markets have historically shown a natural tendency to rise in value over a long period and crashes are short-lived and hard to spot. The squeeze as price goes against you can be a painful and long-drawn-out affair. That is part of the reason why Burry's call on the subprime market was worthy of the attention of Hollywood.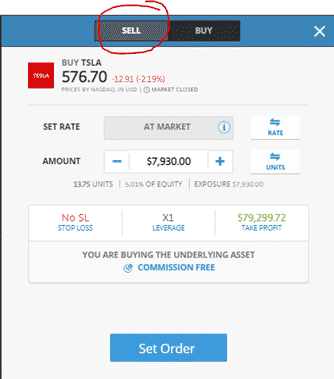 Source: eToro
While it is risky it's still popular and the broker eToro has a section on its platform on how to short. It explains the mechanics of the process and is free to access. The Feed section of the platform (also available for free if you register for a Demo account) is a place where traders share their views on markets such as eToro. The personalities sharing comments aren't as high profile as Musk or Burry but crowdsourcing the mood of the market is an important double-check before taking a position.
Tesla's Fundamentals
Will Burry be proven right? The reporting of his short position comes after Tesla posted first-quarter earnings which showed some promise. Total earnings of $1.1bn, excluding stock compensation costs were seen as a move in the right direction. It came despite problems upgrading its S and X models resulting in 89% fewer of them being delivered than in the previous quarter.
Further reading:
eToro – A Short Guide to Short Selling on eToro
If you want to know more about this topic, please contact us at [email protected]