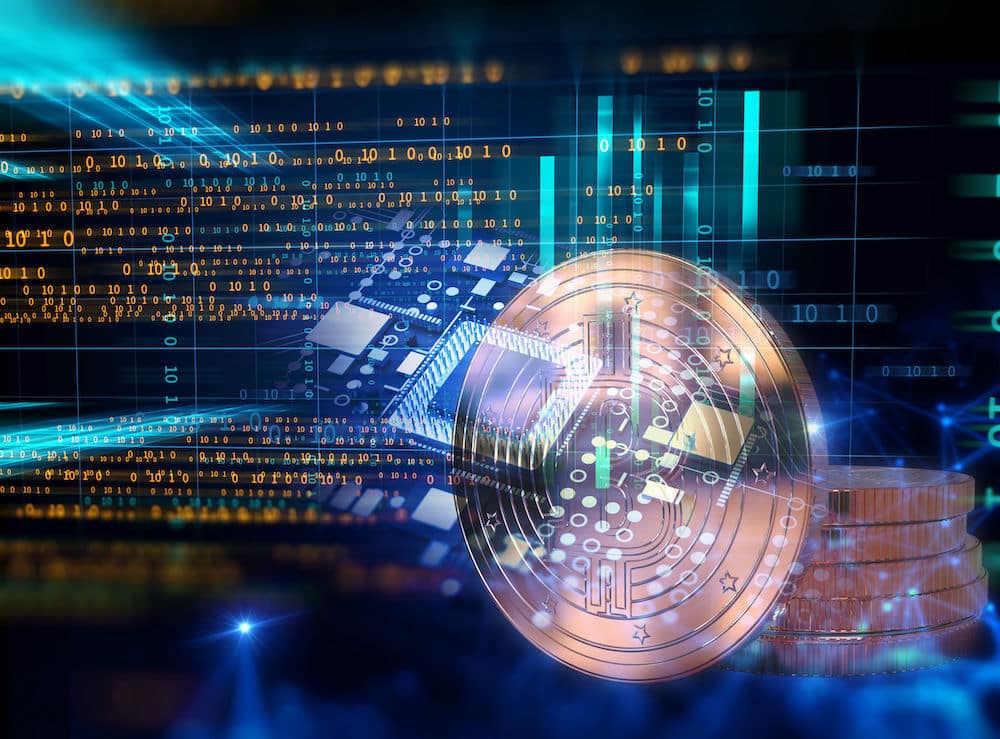 For the first four months of 2021, Bitcoin, the leader of the crypto pack, was on a tear, setting a new all-time high and casting aside the disparaging tone of its critics. Alternative coins, or altcoins, were also benefiting from the flow of capital into these high-risk assets, but then May arrived as a damper on the proceedings. From its peak of $63,730, the world's most popular cryptocurrency plummeted like a rock, dipping below $30,000. It has since recovered, and at the time of writing, BTC is nearing $40,000 again and looking north. Is it time to test these Bitcoin waters once more?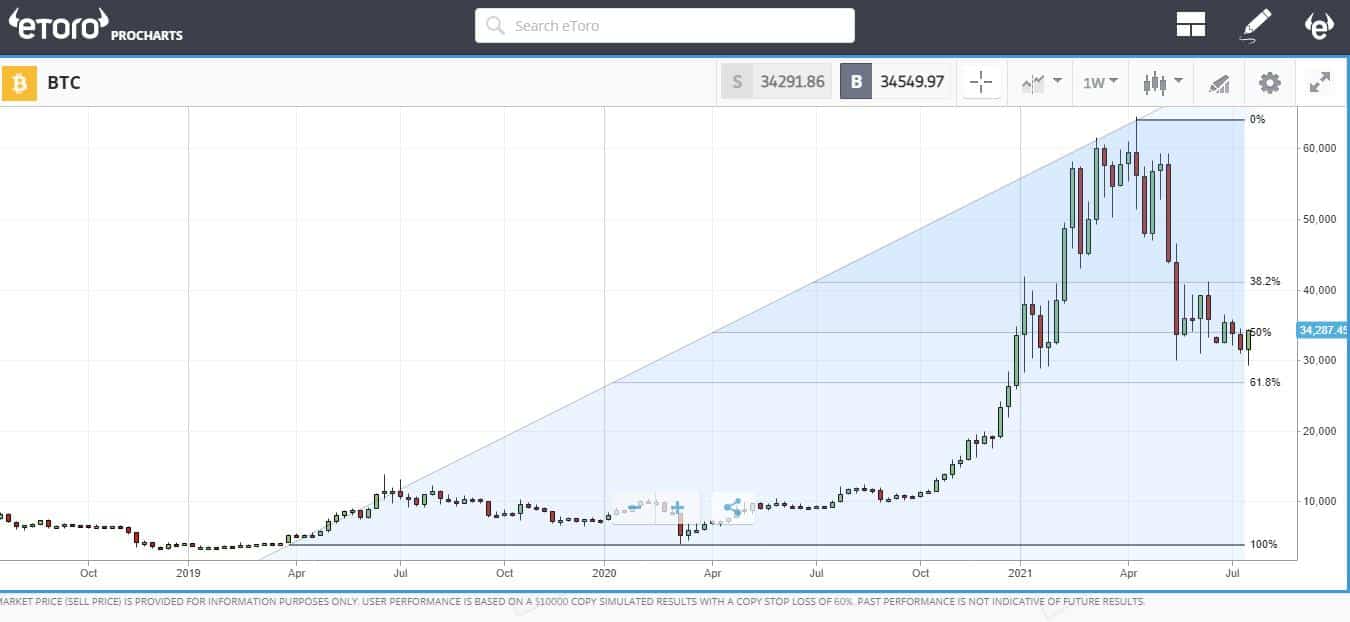 Source: eToro
From a long-term perspective, the weekly chart of previous Bitcoin pricing behaviour illustrates the 50% retracement of gains, which actually had their beginnings back in 2019. The floor was revisited in April a year ago, but the ascent from that point was nothing but remarkable, especially during a global pandemic and economic uncertainty. The lesson was once again that BTC can be a wise store of value and a hedge against fiat currency dilution, as central banks in developed economies commenced expanding their respective money supplies to combat COVID-19 impacts.
Has the Bitcoin bloodletting ended?
On the short-term front, the good news is that Bitcoin did not pierce the 61.8% Fibonacci line. It has stabilized to a degree about the 50% parallel, but the question is for how long? Scott Minerd, the chief investment officer for Guggenheim Partners, resides in the pessimistic camp: "The standard bear market for Bitcoin has been an 80% retracement. And given all the uncertainty and the new competition from new coins and everything else, I think that there's more downside to go."
Analysts are presently searching for clues to what might happen next for the King of Crypto. Investor sentiment has always driven price behaviour, typically an overreaction to events in the press related to regulation, acceptance, and the possibility of a BTC exchange-traded fund in the US. The present reading on the widely heralded 'Fear and Greed Index' for Bitcoin remains firmly planted in 'Fear' territory, but short-term technicals may be positive.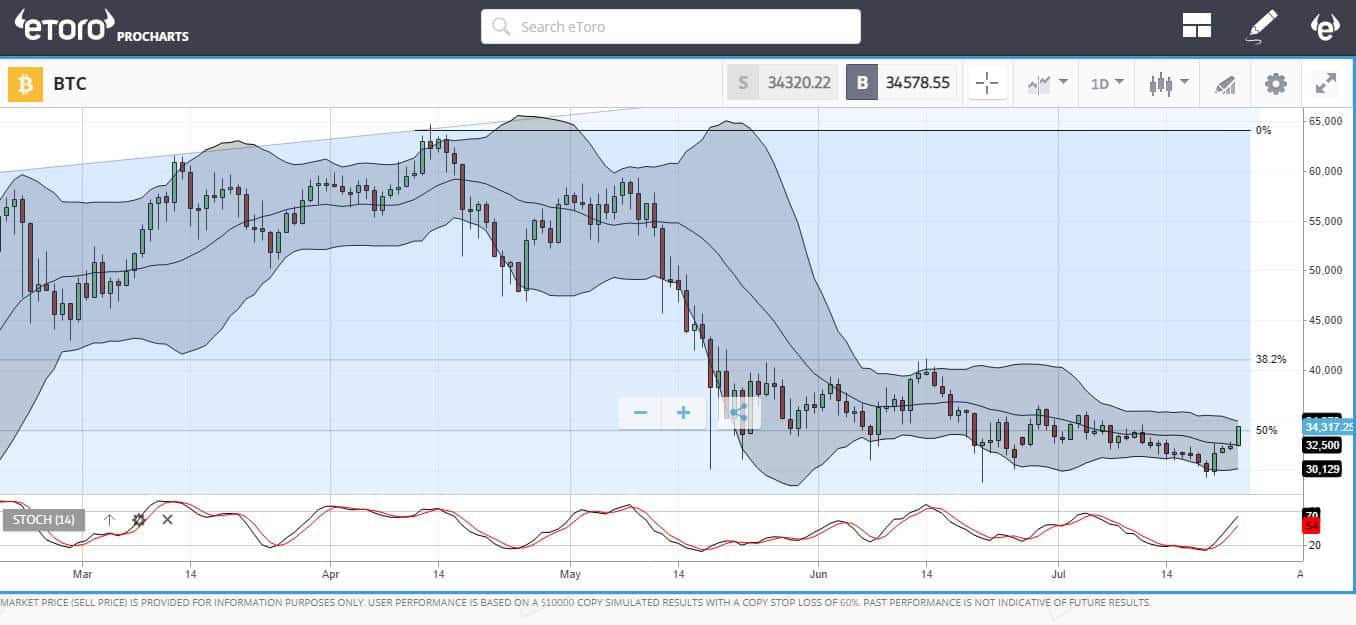 Source: eToro
From late June until now, technicians believe that a 'Megaphone Bottom' is forming, depicted by the higher highs in early July, followed by lower lows. The recent bounce-back appears to be confirmation of this thinking related to a bullish reversal of a downtrend. There is, however, one caveat. This rare formation is typically accompanied with price volatility. The contracting Bollinger Bands would seem to suggest that volatility is waning, not increasing.
Concluding remarks
Bitcoin price behaviour continues to baffle the experts. Early price action today has moved BTC above $38,000 with $40,000 in its sights. Is the 'megaphone' beckoning investors to pick up the Bitcoin baton and run with it? Bitcoin prices have never been enamoured with technical prognostications, often reacting completely in the opposite direction. As always, let caution be your guide. The Bollinger Bands suggest that a breakout is imminent, but the direction of that breakout is uncertain.