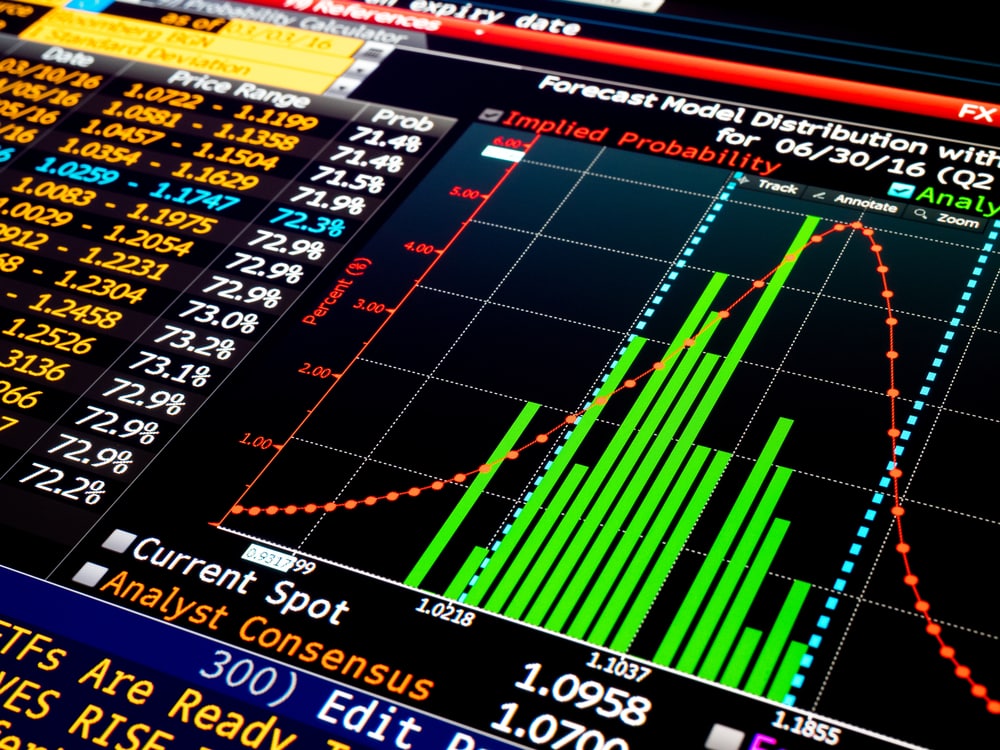 The tech-heavy Nasdaq has started another week in negative territory. Soon after European exchanges opened on Monday, the index was down 0.51% from Friday's close and is showing no immediate signs of breaking the downward trend.
Nasdaq Index – Hourly Chart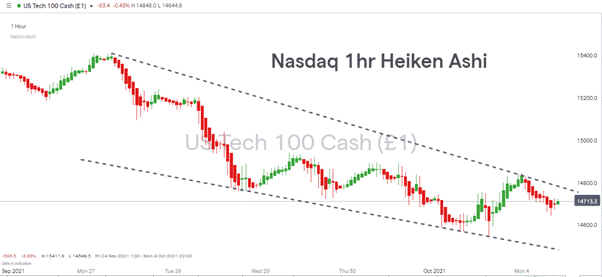 Source: IG
The flattening of the upper resistance line offers some hope to the bulls, but the Heiken Ashi candles are yet to indicate a turn in momentum.
Nasdaq Index – Hourly Chart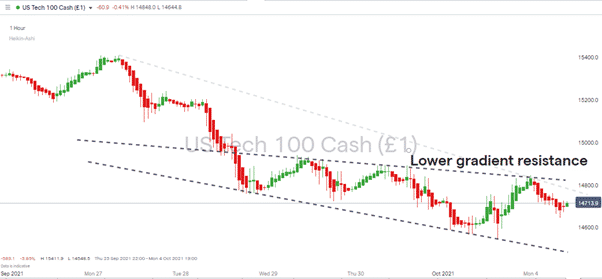 Source: IG
With flagship global indices and US investors getting jittery, one market neutral strategy has come back into the limelight. As the below table shows, in the week between the 27th of September and the 4th of October, a range of risk on currencies and stock indices lost ground. Sterling was down almost 1% against the US dollar, and the S&P 500 is down 2.78%. Still down on the week but fighting against the tide was the FTSE 100 index.
Forex Traders Technical Analysis
Source: Forex Traders Technical Analysis
The FTSE's relative outperformance to its peer group stands out and is drawing the attention of investors. The price strength was helped by the fall in the pound's value – a lot of the member firms make profits outside the UK and report in GBP. But the idea that stocks on the UK's blue-chip index could be undervalued is gaining ground. It's not a relatively new idea but does appear to be forming a trend. The weekend's news that a private equity firm (CD&R) had won the auction for Morrison's, one of the UK's largest grocers, is sparking flashbacks to the mid-2000s when private equity firms stormed into the index and took a host of companies into private hands. The whole basis of secret equity operations is to spot undervalued firms to buy.
There have been more than 100 private equity deals in UK listed firms this year, with the value of the deals being more than £41.5bn. British household names that private equity firms have bought out since the start of the Covid pandemic include the supermarket Asda, the roadside assistance company AA, the infrastructure firm John Laing and the insurer LV.
For investors, the premiums paid on target firms could provide a nice boost to returns with the broader market losing steam. Alternatively, a long FTSE and short in another index pairs trade could offer a market neutral means to trade the relative strength of the two markets.
S&P 500 vs FTSE 100 – Hourly Price Chart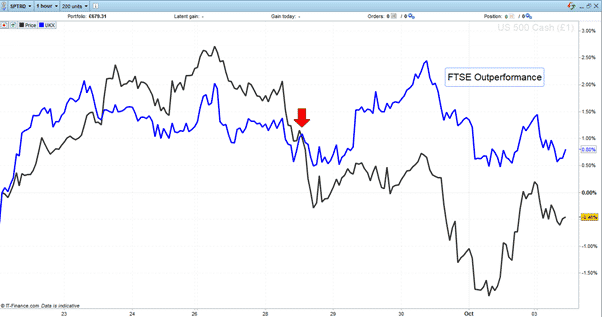 Source: IG
If you have been the victim of a scam, suspect fraudulent behaviour, or want to know more about this topic, please contact us at [email protected]