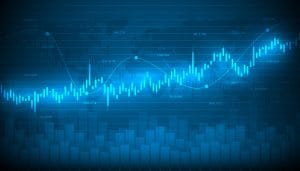 The US dollar started to suffer in the foreign exchange markets on Tuesday and early on Wednesday.
It had seen a number of strong performances in recent days following a global move away from risk.
However, it now appears that traders are a little more satisfied with the idea of risk – especially given that US President Donald Trump has indicated that peace in the trade battle with China could be on the cards.
There's currently a deadline in place of the very start of March for both the US and China to come to some sort of trade agreement.
He said that he could envisage allowing this to "slide for a little while" in the event that the two nations were about to strike the agreement when the deadline arrived.
As a result of the move back towards risk, the dollar index, which measures how well the greenback is performing in comparison to six other international currencies, went up by a much smaller figure than its rises in recent days had shown.
It rose 0.1% to the 96.811 level.
There's still plenty scheduled in on the economic calendar for this week.
At 1.30pm GMT today (Wednesday), there'll be a significant American consumer price index release covering the month of January. It's expected that this will show a year on year drop from 2.2% to 2.1%.
The US monthly budget statement covering the month of December is also out today, this time at 7pm GMT.
Tomorrow will see a series of trade balance releases from China – all of which are likely to be scrutinised given its role in the ongoing trade battles with the US.
January's year on year export data will be out, for example, and this is expected to show a year on year change from -4.4% to -3.2%.
Over in Europe, French unemployment figures from the fourth quarter of last year are expected at 6.30am GMT.
Preliminary German gross domestic product figures for the fourth quarter of last year will be out at 7am GMT. Quarter on quarter, this is expected to change from -0.2% to +0.1%.
Europe-wide preliminary gross domestic product figures for the same quarter are expected later in the day at 10am GMT. Year on year, these are expected to remain at 1.2%.
American retail sales data for December is due at 1.30pm GMT, and this is expected to remain the same at 0.2% month on month.
A speech from central banker Christopher Kent, Assistant Governor (Economic) at Australia's Reserve Bank, is expected at 8.30pm GMT.
Friday, meanwhile, will see China's consumer price index for January come out at 1.30am GMT. This is expected to show a slight year on year rise from 1.9% to 2%.
British retail sales information for the month of January is expected at 9.30am GMT. Year on year, this is forecast to show a rise from 3% to 3.4%.
Those interested in the ongoing worries over European interest rates, meanwhile, may be interested to follow the speech of European Central Bank's Executive Board member Benoît Cœuré when he speaks at 1pm GMT.