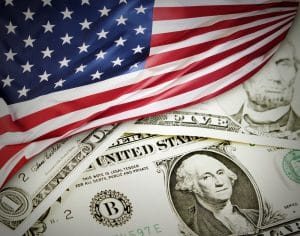 Risk continued to be avoided in the foreign exchange markets this week after worries about global economic performance meant traders flocked to the US dollar.
The dollar, often described as a safe haven during times of trouble, even managed to outperform two other currencies also known as safe havens.
It rose above the Swiss franc, for example, and reached 1.0040. It also rose above the Japanese yen, reaching 110.37 in that pair.
The US dollar index, which tracks the value of the greenback in comparison to six other major global currencies, managed to hold its high position of 97.06 – although the previous day it had gone up by 0.45%.
However, other leading worldwide currencies were down. The euro fell to $1.1272, following a loss of around 0.5% across the course of yesterday. This was due in part to continued pessimism surrounding European economic growth prospects as well as the view that interest rate rises are not on the horizon for the bloc.
The British pound managed to rise a little against the dollar to the $1.2857 mark, but this was a largely insignificant move compared to its previous day when it lost 0.75%.
It's a busy week ahead on the foreign exchange markets, and there's plenty for traders to keep an eye out for.
Today sees two speeches from leaders of major central banks. The Bank of England's governor Mark Carney will speak at 1pm GMT, while the Federal Reserve's Chair Jerome Powell will speak at 5.45pm GMT.
Also, today, there will be job openings data covering the month of December out of the US. This is expected to arrive at 3pm GMT and is forecast to see a change from 6,888,000 to 6,900,000.
Early in the hours of Wednesday, there will be an interest rate announcement from the Reserve Bank of New Zealand, which is widely expected to hold rates at their current level of 1.75%.
Industrial production figures will come out of the European Union at 10am GMT and are expected to show a shift from -1.7% to -0.4%.
Looking ahead to Thursday, British housing price balance statistics for January will be out just after midnight GMT. These are expected to show a shift from -19% to -20%.
Preliminary German gross domestic product information for the fourth quarter of last year is expected at 7am GMT. This is due to show a change from -0.2% to +0.1%.
Continuing jobless claims data from the US covering the week of February 1st is expected at 1.30pm GMT. It is forecast that this metric will show a rise from 1,736,000 to 1,740,000.
However, initial jobless claims, the other key metric released at the same time and this time covering the following week, is expected to show a drop from 234,000 to 228,000.
The day will come to a close with a speech from the Reserve Bank of Australia's Assistant Governor (Economic), Christopher Kent.
It will end with information on foreign investment in Japanese stocks and overall foreign bond investment in Japan, both of which are out at 11.50pm GMT and cover the week beginning February 1st.