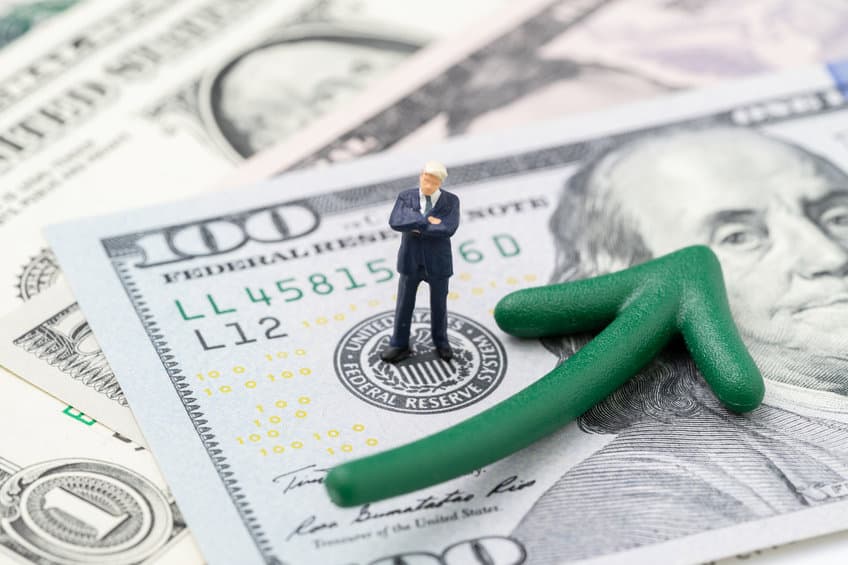 Wednesday's inflation data out of the US was billed as a significant milestone for the markets. It didn't disappoint, and the good news for investors is that at first glance, the actual numbers matched the forecasts of most analysts. The market reaction has so far been in line with what might be expected. Put another way, the numbers weren't as bad as they could have been, and investors aren't panicking.
The Consumer Price Index report hints that inflation might have peaked. July saw price growth slow from its June highs. Dallas Federal Reserve President, Robert Kaplan, was speaking with CNBC when he said:
"The inflation story is more about isolated components, rather than general increases in prices, and even those components are showing signs of peaking … As we dig into the numbers, inflation is above where it has been but is showing signs of rolling over and returning to more comfortable levels."
Source: CNBC
Response to the CPI data – Equity Markets
Wednesday's report is good news for equities. The US Federal Reserve can let their loose monetary policy run a little hotter for a little longer, and that means that the current situation of rock bottom interest rates and a monthly purchase of $120bn of bonds doesn't need to change. Digging into the reaction of the equities markets, there is one surprise. On the back of Wednesday's news, the cyclical stocks of the Dow Jones Index outperformed the growth stock heavy Nasdaq index. This is an anomaly worth watching. It could just be a short-term price divergence, but Dow over Nasdaq performance is what was seen in the first half of 2021. It reflected a rotation into more inflation-proof stocks, so the news that inflation looks to have peaked should have triggered a reversal, not a continuation.
DJIA – Wall Street Index – Hourly & Daily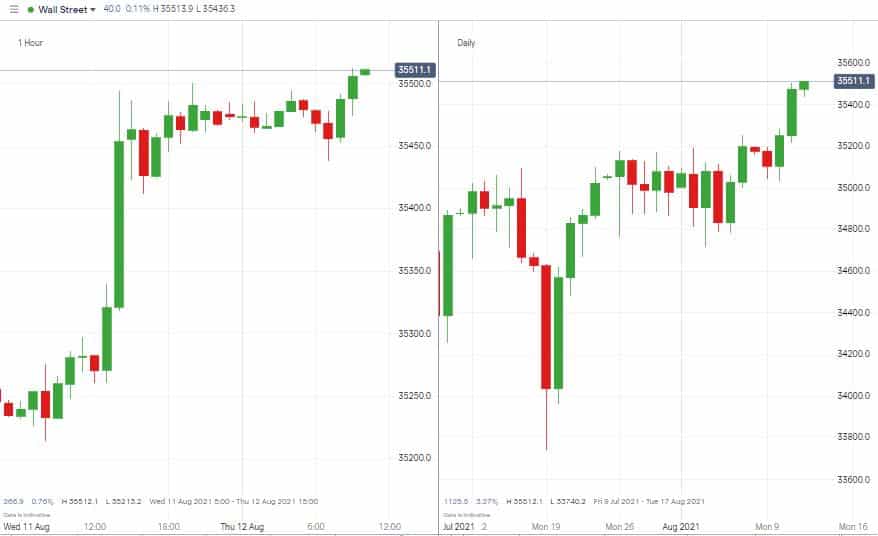 Source: IG
Response to the CPI data – Forex Markets
A reduced chance of higher US interest rates took some of the shine off the US dollar's recent rally. This textbook reaction saw the USD Basket Index fall 32 basis points in value, from 93.12 to 92.83, but things could have been worse for fans of the greenback. It has since stabilised at the 92.82 support level, and if that holds, then so does the long-term upward trend.
USD Basket Index Daily Chart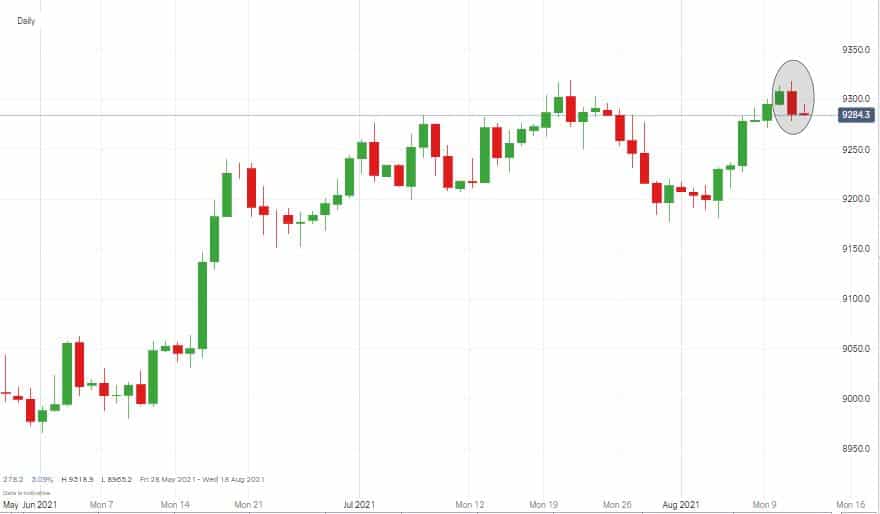 Source: IG
USD Basket Index Hourly Chart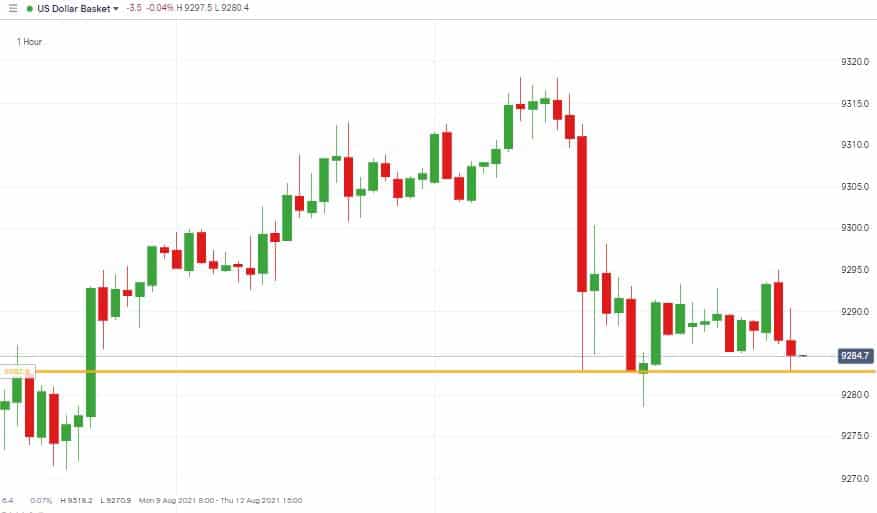 Source: IG
What next for inflation?
The inflation threat has not passed, and on a yearly basis, price rises are at the highest they've been for 13 years. The dovish policies of the Fed will have to change at some point, and Jerome Powell has even outlined a calendar for that happening. Inflation is being interpreted as the factor which might break the comforting hand provided by the Fed to the markets, but even if prices were stagnant, that break has to come at some point.
If you want to know more about this topic, please contact us at [email protected]