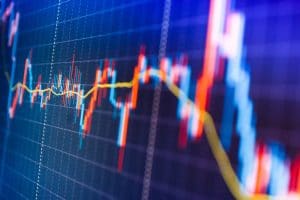 The Japanese yen was the main casualty in the foreign exchange markets as trading kicked off this week.
The currency, which tends to perform well when the global appetite for risk among investors is low, saw its fortunes dip as risk sentiment rose.
This change in risk attitudes was fuelled by a number of developments, including statistics out last week which appeared to reveal a surge in Chinese economic performance.
For the yen, this renewed desire for risk spelled problems. The US dollar was at 112.02 in the USD/JPY pair, which is very close to its annual high point of 112.135 which it reached back in March.
Around the world, the euro was rising steadily over time and reached $1.1312 in the EUR/USD pair.
In the UK, the pound continued to perform as it has in recent days. It remained at $1.3080 in the GBP/USD pair, thanks to a perceived reduction in the risk of a no deal Brexit taking place.
The Australian dollar was a beneficiary of the increased risk sentiment, standing at $0.7176 in the AUD/USD pair.
Now that a new forex trading week is underway, it's time to assess what the economic calendar holds over the coming days.
Today (Monday) there will be a number of speeches from central bankers around the world. At 4pm GMT, for example, Jonathan Haskel, a Monetary Policy Committee member at the Bank of England, will speak.
This will be followed by a speech from Charles L. Evans, President and CEO of the Federal Reserve Bank of Chicago in the US, at 5pm GMT.
Into Tuesday, there'll also be a speech from Eric Rosengren, President and CEO of the Federal Reserve Bank of Boston in the US, right at midnight.
The Reserve Bank of Australia is expected to release minutes of its recent meeting at 1.30am GMT.
There are plenty of data releases scheduled for Tuesday as well.
These include the average earnings (excluding bonus) metric covering February, released by National Statistics in the UK. This is due at 8.30am GMT and is expected to remain steady on a three months to the year basis at 3.4%.
A German economic sentiment survey published by ZEW will be out at 9am GMT covering the month of April. This is expected to show a change from -3.6 to +0.8.
Later in the day, the New Zealand consumer price index for the first quarter of the year will be out at 10.45pm GMT. This is expected to show a year on year change from 1.9% to 1.8%.
Imports and exports data will be out of Japan at 11.50pm GMT. The overall merchandise trade balance for March is expected to show a change from 334.9 billion yen to 310 billion yen.
On Wednesday, there'll be a Chinese gross domestic product data release covering the first quarter of 2019 at 2am GMT. Year on year, this is expected to show a shift from 6.4% to 6.3%.